Physical Description: Almost a pink hue; water, honey, and more than a few drops of blood, the color of her hair. Lips the suggestive pink color that made your mind immediately go to the wrong place when pouting; though they are often glamoured to be a candy apple red. Similar colored eye shadow, and small red hearts on her cheeks could also show, or maybe not, depending on her mood, or prey. Five foot, nothing with a body that made it hard to remember her face. The Gods she was descended from had always been beautiful, and she was no exception despite her mixed lineage. Cerulean flowing water, longing to escape, such were her eyes, and her heart.
Personality: Naive, perhaps even to a fault. She never minded, it was the way she always was and always would be. Mortals were so mutable, but Echo...? Would forever sound the same noise she always had. The light harp string of freedom, that resonated and drew her forward. To spread her freedom even further, it was the only thing that could satisfy her. Though technically a pixie and wont to mischief as such, "Rokket" is one of the High Pixies and her particular form of mischief tends to be lethal, especially due to the nature of her bloodline.
Equipment+Abilities: Miss Rhorer inherited the Spear of Lugh, carved from the Sacred Tree in Otherworld in the days of the Tuatha De's height. It is said that "Lugh had no need to wield the spear himself, as it was alive and thirsted so for blood that only by steeping its head in a sleeping-draught could it be kept at rest. When battle was near, it was drawn out; then it roared and struggled against its thongs, fire flashed from it, and it tore through the ranks of the enemy once slipped from the leash, never tired of slaying. The spear was said to be impossible to overcome, and with the thought of a single word it could be made to never miss and with another to return." While not ALL the legends were true, the spear obeys her commands even from a distance and can change shape, into many different weapons if needed or even an Golem like creature that Echo can breathe life into; it is bonded to her, she can manifest or dismiss it at will, and as such it cannot be taken from her as long as she lives. Her heritage also affords her increased strength, stamina, and speed creating a deadly ballet. All members of the tribe are also taught Magic which responds instinctively, a result of their fickle heritage. She was also instructed in the art of the perfect throw (thrown from the foot in a standing position) with Gae Bulg, but the spear has since been lost to her.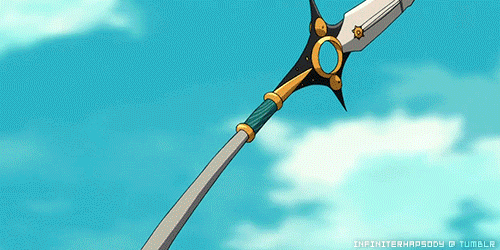 Historical Background: The Tuatha De Danann (Tribe of Gods) were revered as veritable Gods, Goddesses, Kings, Queens, Heroes, and Fallen Angels, and more recently fairies. Lugh, worshiped as God of the Sun and Sky, had explained to his daughter before disappearing; that their line began Noah of the Ark, the boy's father was worried about his son being fathered by one of the Grigori, and his mother was a goddess. The boy is then taught magic by angels, so that he may counteract the Grigori within him. From this divine blood did their people first draw their strength, however it was only refined in that time. It is said Lugh's mother was born of Balor the Smiter; which the Sun God later slays for his tyranny, signalling him being mightier. Lugh was called by many names, but when he left and became Sir Lancelot, Rokket never saw him again. She had heard rumors he had been jumped and killed by various other members of the Tribe of the Gods, after he had their father executed. Though, Rokket knows it's not so easy to kill a God, and sometimes she swears she gets visions of him.
Being alone in Otherworld; frankly hurt Echo to her very core. She longed to escape, but what could a single lost child do? It took thousands of tries, coming to mortals in their dreams, leaving notes, destroying minds in her quest to escape. Then, one day, entirely by accident, she found a young man step into the Otherworld. He gestured with one hand for her to step through, and she hesitated for a moment, watching the lights and strange sounds from Earth. For once, she was no longer certain about wanting to leave, she conjured a flower, giving it to the man before stepping through, to her new life. She knew Lugh had sent this man to free her, and couldn't squander the gift