Picture: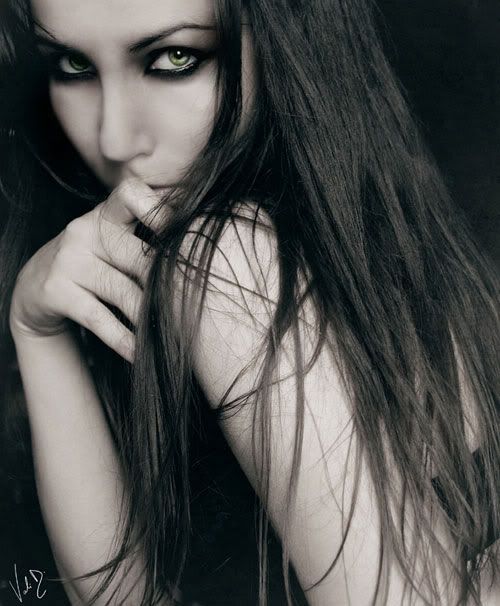 Name:
Edei (Pronounced Eee-Dee) Delanore
Age:
24
Gender:
Female
Eye color:
Brown
Hair color:
Green
Height:
124
Weight:
5'9"
Appearance:
Edei is a soldier through and through. She carries herself proudly with her shoulders back, head high and well-toned physique always seemingly ready for action. Her gait is composed of long strides and she likes to meet things head-on both physically and emotionally. She usually wears black, fitted clothing and if it is cold enough for a jacket then she has on her worn leather jacket that has seen years of use. Other than that, she is usually well-armed carrying two
Desert Eagle pistols
and an assortment of knives.
Personality:
She enjoys many things in life, despite her past but anything that pushes her limits, either physically or otherwise, tends to be the most enjoyable. One would think that because of her father she would dread failing but instead she just learns to push harder, think faster and perform better than she did the last time. That is the only way to succeed. To anyone outside of a select few, she might seem standoffish and she really only opens up to people that have her respect.
Power:
Aerokinesis. Though not technically a hardcore offensive power, Edei has learned through years of training to augment her military grade fighting skills with her manipulation of wind and pressure. She can either protect herself by tweaking the air pressure around herself to form a shield or she can throw people small or great distances by lobbing air currents at them.
Bio:
Edei comes from a military family which isn't surprising, if you've met her. Her father was a SEAL and since Edei was his only offspring she was subjected to his disciplinary techniques. He set a daily itinerary for her which she had to follow or punishment followed, usually in the form of some sort of physical penance or later in life... Hand to hand combat against her old man. When her powers were first discovered, her schedule changed to the following. 0500: Wake up, 0530: Breakfast, 0545: Morning chores, 0630: Morning Workout/Practice, 0730-01530: School, 1600: Homework, 1700: Afternoon Practice/Workout, 1800: Dinner, 1830: Evening Chores, 1900: Night Workout/Practice, 2100: Lights out.
Her mother on the other hand was a quiet, behind the scenes woman that was devoted so completely to her husband that she never questioned his methods. One time, Edei found her mother sewing in the living room and poured her heart out about how troubled she felt with their lifestyle. Her mother proceeded to slap her and tell her never to question her father, or life, again. She never did and since that day she has been molded into the perfect soldier. Adept at hand to hand combat and weapons use as well as having her powers augment her fighting style.
Because of her upbringing, she is ambitious but not overly so and performs better when she has someone in authority give her tasks to complete. Sadly, her childhood has also seemingly stripped her of sympathy and other like emotions, leaving behind someone that is ruthless and will get the job done at any cost.