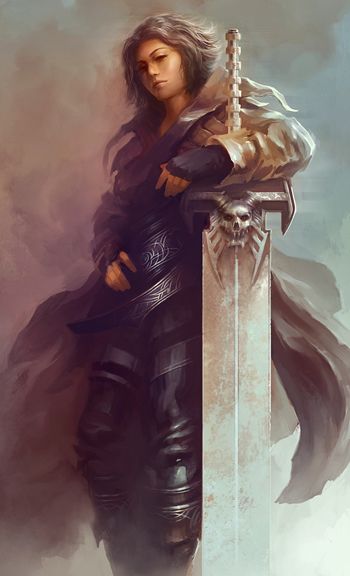 Art does not belong to me.
Age:
20
Gender:
Female
Race:
Human
Ethnicity:
Madevan
Height:
6'1"
Weight:
170 lbs
Appearance:
Enda is a tall, strongly built young woman. Though she's as packed as most of the male knights she served with, one can still see the semblance of an attractive, and perhaps, at one time, delicate lady. She has a set of bright olive eyes and deep tanned skin, carrying a myriad of scars from previous battles and a difficult time as a squire.
Enda's apparel usually consists of dark, regal armors, to softer, lighter leather armors.
Equipment:
A large, claymore-esque sword given to her after graduating from squire to knight. The sword has a very clear, sharp blade that is made from an ore by the name of neelamite that is found only in the Madevan mines. It has the ability to draw in energy and release it at the wielder's will. This includes various spirits, wraith, and elementals. Enda has named it Devoro.

The following spirits she keeps stored are as follows:

-Anka, flame elemental of Darien, the desert land of Sozo, Enda's homeland. The flame that Anka unleashes can be manipulated in many diverse ways.

-Bahuta, multiple small wraith that make up one being. They come in the form of small white wisps, and though they are useless on their own, they are incredibly powerful in great numbers. Enough of them in one area can bare down an impressive weight upon a target or area. They can also suffocate or run over an enemy. They can be used to shield the user, as well.