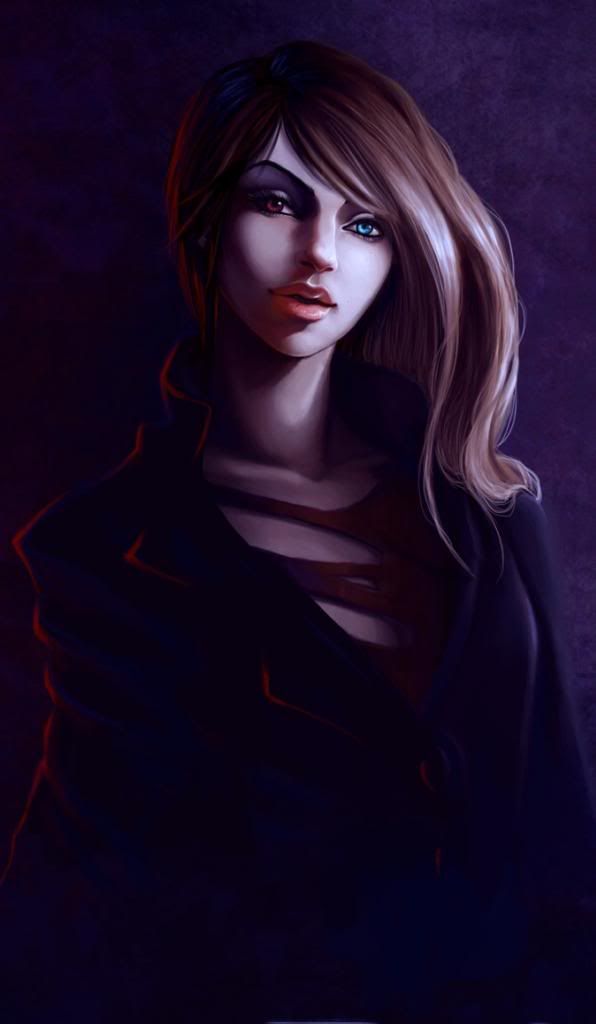 Don't underestimate her, respect her and the Gae Ceann or it's your funeral. She likes to get things done the old fashion way, by absolutely beating the crap out of those who decide not to cooperate. Follow the rules or face her. Although she is not at the rank to really be the one who carries out punishments, she'll make sure someone else does.
With Evianna's sweet, candy blood red and intense black, Harley Davidson Duo Glide, she feels unstoppable. Of course she knows her limits and how far she can go. But when she rides her baby swiftly and dominantly, a rush of adrenalin can't help but fill her body. She loves the rush. The risk. And the danger.
She's a man eating shapeshifter who will skin you alive and wear your skin in order to shift into what ever the hell the creature is she skinned. Once shapeshifting into the creature, she does not have the same abilities and personal skills as that creature, it's basically an illusion to trick anyone into thinking she is what she appears to be. Wearing your skin as clothing. It's rare for her to want to shapeshift into any kind of human mainly because they're her food source. Of course she is capable of eating other food like a human is capable of eating another human alive, she too could eat human food if she wanted to. Would most likely taste like complete crap though.
To put it bluntly. A man eater, literally, who may from time to time wear the skin of her victims to get her own way.
The Gae Ceann leather jacket is 100% stark black pig leather, with a brown furry inside, usually with a furry collar like a winter coat but that's completely optional, along with sleeves. Her badge on the left front of the jacket usually has the nickname of the wearer, along with the rank and how many years they've served in the Gae Ceann. To the right is 'Gae Ceann' in bright green, switch to the back and you've got a large gothic type 'Gae Ceann' and a large vibrant green skull underneath that with an ajar open jaw. Under that, 'Brother of the Night' or 'Sister of the Night'.
Winchester Model 71: Round, tapered 24" barrel with half magazine tube, Acid loaded shotgun shells and 12 gauge.
Harley Davidson: Duo Glide, candy blood red, black and white motorcycle.
Skinning Knife: Brass hilt and Duralumin butt cap and leather handle. YUKON SKINNER
Close Combat: Her close combat is a mixture of Krav Maga with suplexes, headbutts, and jumping knees. It's rather swift and brutal.
Duel Pistols: M9, 9mm, 15 rounds. Light, easy to maintain.
Abilities: Her body regenerates quickly and heals wounds fast. She can also move quite quickly, faster than any normal human.


"Touch my bike and I'll skin you alive"