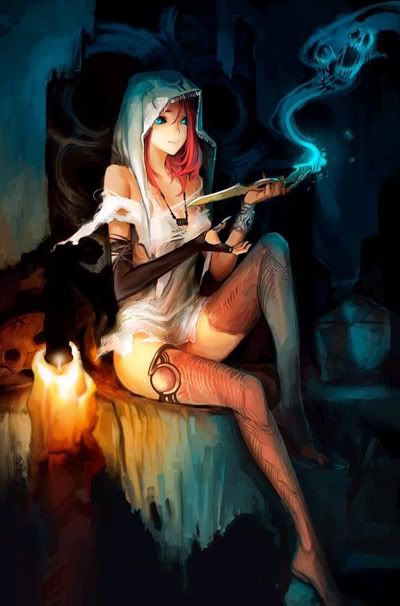 Feila Ragatran

Age:
Unknown, possibly from her late teens to her early twenties.
Species:
Ragatran witch, a highly magical human with certain perks.
Appearance:
Since Ragatran witches take great care and are very conscious of their appearance, Feila has preened and picked herself from the day she was able to. Her hair, straight as a fence and vibrant orange (which will change) it drops down her back, usually too long for her patience to handle. She never cuts it, however.
Also, the Ragatran witches are not vein only for their beauty...their pride can be centered on terrifying or disturbing who they choose, as well. Their concentration is making an obvious statement with their appearance.
Feila, of course, went in the footsteps of her great grandmother and chose the route of attraction, though she favored thought of looking deadly at the same time, which is why one of Feila's hands have claws on them. A dark copper color, made of the bits and pieces from Gaunt's old Gauntlet.
Her body is slim and slight, though her legs are shapely. She usually wears very stylish clothing, such as a ripped hoodie with a pointed end that has a pendant upon it. Her eyes are a vibrant blue.
Equipment/Weapons:
The claws that she fashioned from her Grandfathers Gauntlet, the coppery tips slightly curled to allow more damage.
The bangles and bracelets that hand from her arms and legs, allowing her to channel magic more easily.
Perks and Spells:
Mana Sphere:

Using the pendants, bracelets, and anklets attached to her legs and hands, she can shoot out powerful blue and orange bursts of magic that explode on contact. Their size varies on power. She can fire many at once.


Gravity Point:

Rather than using a boring old shield, Fei uses gravity points, which are small points of influence that hover around her. If some attack or object is thrown her way, the spell will influence its gravity.


The Necromancer's Curse:

It is debated which grandparent imbued her with this one, though Fei herself speculates it was an experiment between both. The curse does not allow Fei to die easily so long as she has enough magical power. Her body is supported by magic, not by her own physical strength. Even if her skin is melted from her bones, the magical energy should be able to keep her alive, and even running. This same spell enhances her strength, speed, and reflexes, as well.


Hemomancy:

The ability to manipulate blood- more specifically her own.
These inherited from her Great Grandfather, Gaunt
Gosmort:

Similar to Gaunt's "Dark Hound" summoning spell, Fei digs her hands into the dirt and drags out two doglike corpses. These, however, are a much different creature. They have unusually long legs, a tail tipped with a barb, and a head that splits into three sections, lined with teeth. They can walk on walls and are quick runners.


Rise:

Summons undead soldiers, most of them skeletons. The demonic souls within them can be ripped out to roam freely and cause spiritual damage, as opposed to physical damage.


Schnookums

: A fusion of demons and undead bodies, converged to make a very large, frightening minion that Fei calls "Schnookums."[/i]
Inherited from her Great Grandmother, Leilani Daya.
Defying Gravity:

A spell that can cause Fei to jump from great heights, and perform many acrobatic tricks with ease.


Illusionary Double:

Causes Fei to create an illusionary double


Glamour

Allows Fei to disguise herself using illusions of the eye.