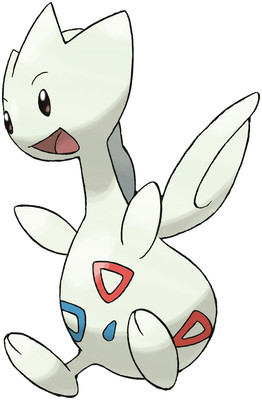 Gambit
█

= 10 base stat points
HEALTH
█ █ █ █ █
█ █ █ █ █
Pokemon:
Togetic
ATTACK
█ █ █ █
█ █ █ █ █ █
Type:
Fairy/Flying
DEFENSE
█ █ █ █ █ █ █ █
█ █
Gender:
Male
SPECIAL ATTACK
█ █ █ █ █ █ █ █
█ █
Nature:
Relaxed
SPECIAL DEFENSE
█ █ █ █ █ █ █ █ █ █
Level:
65
SPEED
█ █ █ █
█ █ █ █ █ █
Personality: Gambit enjoys acting like a sage sometimes. Even though he isn't the leader of Team Vitality, he certainly is the brain of their operation. Often coming up with excessive strategies and over-the-top plans, he likes to do it for the sport of battling and treats his job of being a Crimson Guild member like a hobby to him. He doesn't really have a moral code so much as he likes to spout off knowledge to help his friends and take down his enemies. He just happens to fall on the good side. Despite his statistical analysis of a situation, he often prefers to leave things to chance which surprisingly works well for him.
Strengths: Gambit is a really smart Pokemon. As to where he got this knowledge and experience, no one knows. But he knows how to apply it. He'll rarely be fooled.
Gambit is a very calm and collected individual. In a fight, he's not very high octane as a lot of his teammates can get. He's a strategist, after all.
Gambit is super lucky. Setting brains aside, he can really pull off the right move for the right situation. If there's even a small chance of it working, he takes it and turns it into a roll in his favor.
Weaknesses: Gambit is naive. Not only is he the youngest member of Team Vitality, he is one of the youngest members of the Crimson Guild. He doesn't have a grasp or clear defined concept of why they fight and what they fight for yet.
Gambit often underestimates a situation. His rationale is that anything can be solved, often leading to him undervaluing the enemy of not taking in the full gravity of the situation.
Gambit truly believes himself to be invincible. He has yet to be knocked out in battle and takes this as well as his semi-legendary status to ultimately decide he is strong and capable. And for the most part, he is. But he's not unbeatable.
Moveset:
Metronome- (Normal-Type) A completely random move. The user waggles a finger and stimulates its brain into randomly using nearly any move.
Magical Leaf- (Grass-Type) A damage dealing Special Attack. The user scatters curious leaves that chase the target. This attack will not miss.
Fly- (Flying-Type) A damage dealing Physical Attack. The user soars, then strikes its target on the second turn. It can also be used for flying to any familiar town.
Fairy Wind- (Fairy-Type) A damage dealing Special Attack. The user stirs up a fairy wind and strikes the target with it.
Ancient Power- (Rock-Type) A damage dealing Special Attack. The user attacks with a prehistoric power. It may also raise all the user's stats at once.
Wish- (Normal-Type) A non-damage dealing Status move. One turn after this move is used, the target's HP is restored by half the user's maximum HP.