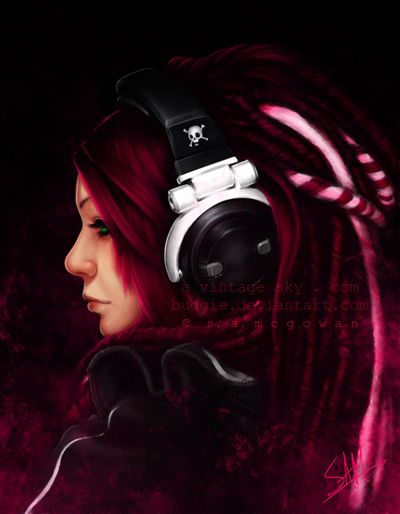 The Withered Lotus
Giselle, once a bright, vibrant girl with long red hair and stunning eyes, has now become a mere ghost of what she used to be. Her skin, before a dark tan, has turned to a sickly pallid that almost seems translucent. Her hair, which in the past was thick and long and natural, has become a shocking, unattractive red, too much in contrast with her skin. It has also thinned out, and clings closely to her head. Even her eyes; how cheerful and lovely they were.
Now swimming with fear, bitterness, and malice.
Age:
22
Birth Date:
February 9th
Species:
Human
Race:
Caucasian
Nationality:
Terran
Place of Birth:
Alternate Earth, New York Haven
Current Residence:
Wing City
Eye Color:
Green
Height:
5'6"
Weight:
113 lbs
Position:
Former Combatant
Hoverbike:
Equipment:
The cuffs on her hands, made of hard metal, with programming and gears that are visible underneath the bits of plastic on the devices. On the backs of them are broad screens with many graphs and charts that constantly flux and change. On the other side of the cuffs, that lead to the inside of her wrists, are small tube-like holes that dig into her wrists and lead to a vein. They are access tubes for needles, when the small A.I that follow her need to inject her with drugs when the haunting of her torture bother her.


The aforementioned A.I that follow her. They are hovering spherical machines with three bright optics and many little mechanics, one of which are the needles that they can deploy to flood Giselle's veins with .


The shock collar. In a time that the serum might fail, this is used so that Giselle cannot come to harm another person in her sudden bursts of insanity. This is a last resort, as such harsh treatment causes her to shrink back into the days of her torture.