Age: 25
Sex: Female
Race: Human
Ethnicity: Hispanic
Alignment: Neutral
From: Columbia
Resides in: N/A
Born: November 26
Sign: Sagittarius
Blood type: A
Height: 173cm
Weight: 45 kg
Hair Color: Green
Eye Color: Hazel
Phrase: "It is best to face your fears than to hide from them."
Personality: Gwendolyn is quite secretive about her past, she hardly talks about herself. Her love for animals reveals a soft side of her. However, her aggressive impulses in a fight reveal that she can easily become deadly. Without realizing it, she finds herself making childish antics to strangers; she is a drifter looking for something better to do than the day before. Emotions tend to change without warning.
Appearance: Her skin is fairly dark, based on her ethnicity. The clothing she wears is out of this world, composed of a strange material--taking place of white, grey, yellow, and navy tones. A layered long sleeved shirt, put together and tied down against her back, pants and boots that are usually hidden by a light grey cloak. Most of her blades are on her lower outer thighs, guns are strapped near the hip.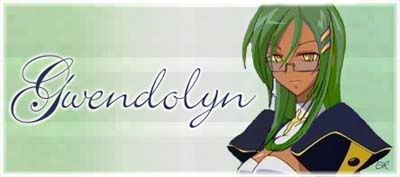 History: Gwendolyn has a 6 year old son. Even though there is a longer extent of her history she never speaks about it to anyone.
Weapons:
Hibben Cord Grip Throwing Knives(x2 sets)
This version of the popular original Hibben throwing knives features high tensile nylon cord wrapped around the handles. They are perfectly balanced, which assures uniform rotation when thrown properly.
Blade Material: 420 J2 stainless steel.
Handle Material: 420 J2 stainless steel with a high tensile cord wrap.
Sheath: Black nylon belt sheath.
Overall Length: 6-1/4",
Blade Length: 3-1/8",
Blade Thickness: 1/8".
UC947 Hibben Cord Grip
Thrower 2: Overall Length: 8-5/8",
Blade Length: 4-1/4",
Blade Thickness: 3/16".
Hibben Cord Grip Thrower Triple Set: Includes three UC946s a sheath that holds them all.
Batwing Dagger
A batwing style fighter is certainly no exception. The titanium liners have been file-worked and heat colored, bringing bright hues to the knife. Dovetailed bolsters. Excellent design and a great feel in the hand. Because the balance point is in the middle of the bolster, the knife fits squarely in your hand for a sure grip.
Weight: 6.2oz
Blade Length: 4.75"
Total Length: 8.75"
Blade Thickness: 0.13"
Blade Width: 1.02"
Style: Bat Wing Fighter
Blade: "Firestorm" Damascus with a lacquer finish forged from 1084 & 15N20
Bolster: Same as blade
Handle: Carmel/blue mammoth ivory bark
GLOCK Model 37
The full size model G37 is designed around a magazine that holds ten plus one (10+1) rounds of potent .45 G.A.P. ammunition in a package that fits the hand of almost any shooter. GLOCK has created a compact cartridge of legendary power in the proven GLOCK design.
Specifications:
- Action: Safe Action (Constant double action mode)
- Caliber: .45 GLOCK
- Sights: Fixed
- Slide length: 7.32 in, 186 mm
- Height (incl. magazine): 5.43 in, 138 mm
- Width: 1.18 in, 30 mm
- Barrel axis height: 1.26 in, 32 mm
- Length between sights: 6.49 in, 165 mm
- Barrel length: 4.49 in, 114 mm
- Barrel rifling: Octagonal profile, Right hand twist
- Length of barrel twist: 15.75 in, 400 mm
- Magazine capacity: 10
- Mass (weight) Empty, without magazine: 22.19 oz, 629 g
- Mass (weight) With full magazine: 31.71 oz, 899 g
- Trigger pull (standard): 5.5 lbs, 2.5 kg
- Trigger travel for discharge: 0.5 in, 12.5 mm
- Number of safeties: 3
Weight: 3.3 pounds.
Dimensions: 7" (W) x 2" (H) x 9" (D)
Titanium Revolver
The compact 5 shot self-defense favorite built on a hammer-forged frame +P Rated for Duty Use! The Total Titanium models make for a lighter sturdier package, even when confidently packing extra powerful .38 Special +P ammunition.
Specifications:
- Model: 85SHC
- Caliber: .38 SPL +P RATED
- Capacity: 5
- Barrel Length: 2"
- Porting: No
- Action: Double Action/Single Action
- Finish: Shadow Gray Titanium
- Grips: Rubber
- Weight: 17 oz
- Construction: Titanium
- Frame: Small
- Front Sight: Fixed
- Rear Sight: Fixed
- Trigger Type: Smooth
- Length: 6-1/2''
- Width: 1.346"
- Height: 4.28"
- Rate of Twist: 1:16"
- Grooves: 5
- Safety: Transfer Bar
Weight: 1.7 pounds.
Dimensions: 6.5" (W) x 2" (H) x 9.75" (D)
Armor:
Angelique bullet-proof bracers
They are sewed directly onto a pair of thick heavy leather pieces that are attached to a titanium plate; it runs vertically up the inside of the arm, and are worn laced up. Angel winged cloth hides the bullet-proof alloy as an exterior. They are used whenever Gwendolyn finds herself defenseless, using her forearms against blades and bullets.
Fighting Style: N/A. Gwendolyn relies on her reflexes and instincts.
Elemental Attributes:
Wind Manipulation
Water Manipulation
Holy Manifestation- The ability to cure, and use Angelique attributes.