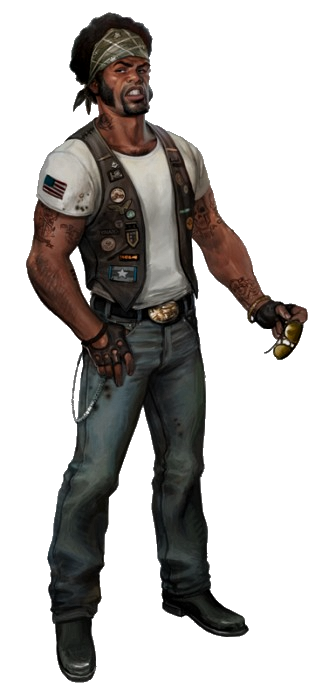 "Friend, if you've got flak with us, you've got flak with me. You feel me?"

There was once a man with an extravagant drinking problem, and one day that man ran out of money to pay for all his vices and he called up the devil himself to solve his problem, offering him his soul to pay for an infinite tab at his favorite pub; Drunk Jack's.
Hark tricks the devil by making him climb a tree, once the devil was in the branches, the drunk carved a cross underneath, preventing him from climbing down. The devil laughs and offers a counter-deal, in exchange for removing the cross, he'll forget about the debt. Hark takes this deal with much chagrin, natural suspicious of the truthfulness of a deal with the devil.
He was right to be suspicous, for as soon as he smudged the cross, the devil tore open his rib-cage and placed a lost spirit inside, forever stopping him from passing on and turning him into an ebony lantern for the rest of his days.
Hark drives an old 1988 model
RD 350 HT
. The motorcycle's lights have been removed and there is a lantern painted on the fueltank.