Name
Heleine Äte Arin
Age
Apparent: Fourteen
Actual: Ninety-something
Maturity Level: Naïve and childish.
Gender
Female
Species
Immortalised Human
Physical Description
Hair - Blonde; Eyes - Gold; Height - 5'1'' (155cm); Weight - 95lb (43kg); Skin Tone - Medium Light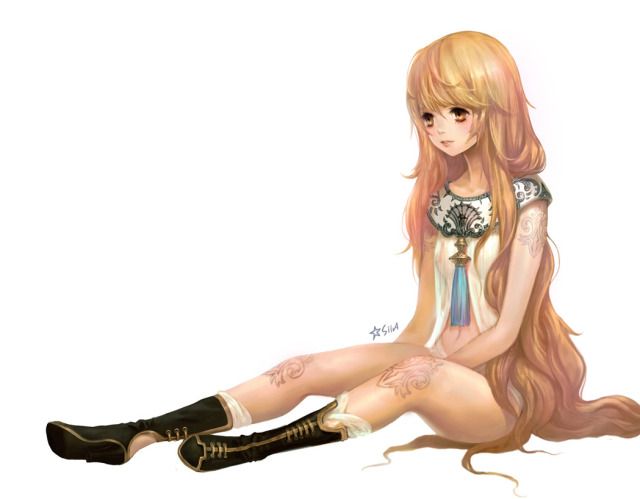 (Reference for hair/body type)
Arin stands at 5'1, small even for a girl her age. She's light on her feet and quick, by no means frail but nowhere near strong, either. In terms of build, she's rather average, given her age and size, though she's notably flexible and quick on her feet. She has close to zero upper body strength and sometimes struggles with heavy doors. She has a diminutive, non-threatening appearance and a friendly face well-suited with a smile.
Arin's hair is long and blonde with a gentle wave to it despite the fact that it's naturally straight. She tends to keep it in a single braid down her back, covered up by the hooded black cloak she wears over everything. Her eyes, though once a milky blue, are now golden with the Water of Life. Her blood is dark, almost black, and her veins aren't too hard to see through her skin. For this reason, she tends to wear oversized clothing that covers her hands and as much skin as possible (hence the cloak). She doesn't see her legs as much of a problem, though, as the skin's a bit thicker than it is on her hands.
Beneath the cloak, Arin wears a deep blue turtleneck dress that hangs just above her knees and a pair of thin black boots. She doesn't seem to get cold too easily, so her clothing isn't much of a problem— though she'll generally wear loose clothes so as to conceal her movements.
Over her shoulder, Arin carries a brown leather satchel filled with her travel necessities: a canteen, some food, and a short dagger in case of an emergency. Additionally, she has a matchbook, some empty shells, gunpowder, wax string, and assorted explosives.
On the surface, Arin always appears to be somewhat cheerful. When she's not in a good mood, it's easy to tell, as her emotions are readable like words scrawled straight on her face. Her body language is very exaggerated, and she tends to talk with her hands and move while she speaks. When she sits down, she finds it hard to sit 'normally' in a chair and will usually either sit on her knees or sit sideways if there are arms on the chair. She has a quick, light body well-suited for climbing and exploration.
Abilities
-
Regeneration
: Arin is able to heal and regenerate extremely quickly from any flesh wounds, though the areas she heals are still more susceptible to further damage for about a day. To regenerate herself, Arin needs to either sleep or go into deep meditation; while she can heal herself awake, it causes great pain to her until her internal forces can spread the pain to those around her.
-
Transfer
: Arin can additionally transfer any wound on her body to another; however, she is unable to control who the wound goes to. It can be transferred to any one person within twenty feet, and this person will generally be the one Arin has the strongest bond with, so she tries not to use it. If there is no one within twenty feet, the wound will be inflicted again on Arin herself.
-
Immortality
: Having been cursed by elf-water, Arin is unable to die or be killed permanently by any means other than poison or burning. She ages normally, albeit slowly, and is reborn at the age she was immortalised (twelve) every time her body dies. If her body is destroyed, it will wither away to ashes before forming a new one.
-
Fireflies
: Even as a human, Arin was able to create small fireflies from her skin. These fireflies life short, explosive lives— the tiny creatures fly for a few moments before creating a moderately powerful explosion. Creating the creatures saps Arin's concentration, so she usually can't fly more than ten at once and can only detonate two or three at a time.
Personality
Alignment: Chaotic Good
Arin is usually in a good mood, if not an energetic one. She can usually be found climbing or exploring, as she has an insatiable love for learning, which can lead her to be quite nosy sometimes. She's not a fan of tradition and social norms and can be rude, at times, especially around enforcers of the law and royalty. She believes very strongly in equality and can't stand to see unfair treatment of others.
While Arin is a kind and happy person, it's easy to shatter her mood. She gives up easily and gets distracted often and is discouraged at almost any setback. Her usual approach to insurmountable challenges is to curl up into a ball and cry, and, when in a bad mood, she can become petty, immature, and vindictive. She's also prone to disappear.
Normally, even, Arin is rash and childish and puts her desires and hopes before anything else. Despite her age, she's very naïve, common sense-wise; however, she has strange wisdom about other things, especially in areas concerning romance and mathematics.
(I'm leaving this personality as a WIP, as she's likely to develop as she's played.)
(History is also TBD, at this point in time.)