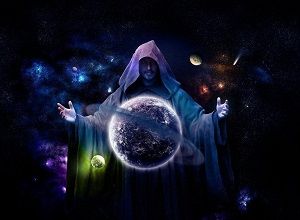 GENERAL INFO
Full name:
– Heralding 'Dragon Tamer' Rymesis
Alias/Nicknames:
– Herald or Dragon Tamer
Gender:
- Male
Species/Race:
– Ancient Mage
Birth Date:
- Unknown
Age:
– About 4000 yrs. Looks 30
Descendent(of):
– Ancient Dragon Tamers
Current Residence:
– Oakwood Landing
Job/Profession:
– Arcane Wizardry and Professor of The Arts Of Mage-Hood
Title:
– Professor, Arcane Mage, Tamer
Allegiance/Alignment/Clan(s):
- None
APPEARANCE
Height:
– 6'7
Weight:
- 210 lbs
Build:
– Lean muscled
Eye Color:
– Purple w/Swirling Tendrils Of Gold (Gunmetal Grey When in Battle Form)
Hair Color:
– Shoulder Length Slicked Back Blue Hair (Dismal Grey When in Battle Form)
Handedness:
– Left (Ambidextrous When in Battle Form)
Skin Shade/Color:
– White (tanned)
Scars/Tattoos/Piercings:
- None
Description:
– Heralding has the appearance of a man in between 25 and 30. HE is very tall and usually lumbers over everyone, standing at 6'7. Heralding has a charged air about him, as if anyone who gets close, might be incinerated in minutes if they stay in his presence long enough. Remaining a very aloof type of person, Heralding travels far and wide in search of arcane knowledge, artifacts, books and spells. No matter the place. He is restless and riley, always looking for having in mind the next part of the plans that he has for the day. Heralding often wears an enormous blue cloak that hides his leanly muscled figure. The blue cloak is that of foreign magical material, forged in a purely diving and magical place, far away at the center of the universe. His cloak has runes, enchantments, foreign languages, spells, and symbols constantly shifting through the material. It is noticeable if you look hard enough. He walks in a gait that is very controlled and directed, but shows lack of grace, due to the swishing of his cloak.
BATTLE FORM/OUTFIT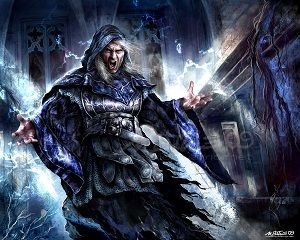 Alternative Look:
– Battle Form is the form that is called upon by Heralding when he needs to use his full power. Heralding locks away access to most of his spells and casts them only in this form. This is a reserved armour, and outfit that is release when Heralding feels the need to take on legions of soldiers, or a particularly difficult task. The chainmail underneath the leather and cords/belts that cover his torso, were forged by Hephaestus, allowing for all fire based spells and attacks to be nullified. The extending sleeves, cloak and hood were enchanted and forged by the Cyclopes who reside in the Poseidon's Forges, which allow for absorption of all water based spells or magical casts (they're also waterproof, and keeps a insulation). The boots that he wears were forged by the Sky Forges in Zeus's Palace (They allow automatic grounding of all electrical currents, magical of otherwise, without conscience effort).
MENTALITY
Sexuality/Preference:
– Straight/Prefers Women
Sanity:
– Sane But Sometimes Aloof
Friends:
– Nexus Ver Leth, Sheesha, Zii, Tierge Di Grun
Likes:
– Intricately complex spells
Dislikes:
– Simple Tasks
Hobbies:
– Creating New Spells, and Discovering Forgotten Ones
Personality:
– Heralding is an unusually diligent student of all things magical, but hates to travel by foot. He is very uncaring about those he doesn't consider a friend, or doesn't find interesting. Heralding will teleport everywhere using arcane portals. He absolutely personifies lazy when he isn't entertained, or studying. Heralding drop favors the way bugs drop from a bright electric lantern, if you can keep him from being bored. Extremely aloof, Heralding hardly listens to anyone who isn't talking on the same intellectual level as him, or at least providing comedy relief. Heralding is extremely loyal, cordial, respectful and downright likeable…if you can manage his friendship.
EQUIPMENT
Weapons:
– None But His Magic
Accessories:
– Everything he needs is in a pocket dimesion.
FIGHTING STYLE(S)
General/Preferred Style:
– Magically induced incineration
Hand-to-Hand:
– Ancient Wushu
Weapons Style:
– You name it, he doesn't care unless it involves an enchanted weapon.
STYLES OF MAGIC
Chant Magic:
- Chant of Blizzards Fear – Summons a fiery storm in the sky that rains icy shards of fire-ice. This is a chant that takes 10 seconds to cast and requires a 2 day cool down for reuse.
- Chant of Warlocks Summon – Summons any three specific trolls from a troll dimension. They are marked specifically for him, if one dies, they are release into Nirvana. This chant takes 4 seconds to cast, and needs a 12 hour cool down before reuse.
- Chant of Constant Cast – Regenerates magical reserves at a rate that cuts cool down and speeds of cast by 50%. This chant takes 20 seconds to cast, and requires a one week cool down regardless of the effect of the cast itself.
- Chant of Required Sacrifice – Allows for immediate casting of all types, but requires one happy memory to do so. This takes 5 seconds to chant, and requires a 7 hour cool down time.
Rune Magic:
- Rune of Greater Binding – Binding rune that keeps a person from moving a specific limb for 60 – 240 seconds
- Rune of True Despair – Knocks a person into Limbo for 3 minutes
- Rune of Assimilation – Regenerates anything it touches to 110% of its original specs and looks
- Rune of Black Electrum – Creates a Black Stormy Field of 600 ft. radius that paralysis everyone who is hit but the raining black lightning. The lightning strikes randomly 13 strikes every 5 seconds. Lasts for as long as Heralding wants
(More To Be Listed)
Elemental Magic:
- Dark Electrical Affinity
- Dark Fire Affinity
(Will list attacks as I develop character)
Psychic Magic:
- Telekinesis
- Mind Reading
Conjuring Magic:
–
- Tamed Beast Conjure – Any tamed beast from the current dimension Heralding resides in, can be conjured to his vicinity. Beasts from another dimension can only be conjured if contracted. Heralding has contracts with the Troll Dimension, the Dragon Dimension, and the Rabbit Dimension (often conjures Jackal-Rabbits).
Enchantment Magic:
- Everlasting Enchant – (Only Applicable To Weapons) he can take off or apply any single enchantment to weapons
Space/Time Magic:
- Portaling – Portals through Space and Time (Usually forward)
- Dimensional Travel – Walks through dimensions freely, the tax of which is a starving pain 6 hours after that last for 30 intense minutes
- Time/Space Cancellation and Nullification - Can cancel of nullify time/space magic indefinitely withing a specified zone and radius...can only be used once every 3 months.
Arcane Magic:
-
(To Be Listed)
HISTORY
Relationship Status:
– None
Family:
– Reside Elsewhere
Known Languages:
– Terran, Demonic, Italian, Latin, Angelic, Seraphim, English, Runic, Dragoone, Bulk Beastian, German, Mayan, Deadric, Nordic
Personal History/Background:
– After having travelled for so long across the universe searching magical knowledge, he decided to settle down and learn the language of the dragons (Dragoone). The perfect place to do this was in a kingdom named aptly after its very first Emperor, the Nexuim Kingdom (pronounced Nex-oom). They were teeming dragons that were migrating from a nearby continent called Forloth. Those dragons were said to once reside in place called Skyrim, which was on an entirely different planet. That intrigued Heralding, he had never before then heard on dragons traveling through universes. This was a very interesting piece of lore he intended to explore once he learned to speak to the elder dragons of the Nexuim Kingdom. Heralding had lodged up in an enchanted shack (of his making) outside of the village. He went to meet the Emperor of that time, which was about 500 years before he befriended Nexus Ver Leth. The Emperor of that time was named Regryth Normic Ver San, who had reigned for 120 years. He was around 160 years old, looked about 30. Apparently, according to Regryth, they were descended of an ancient angelic race that had an affinity for everything electrical. After a brief discussion about his mission and stay over dinner with the emperor, Heralding was allowed to stay on the outskirts, and granted a teaching license for the largest academy in the Nexuim Kingdom. He would later be given the title of Duke of Mages, as well as Dragon Tamer, after 500 years of raising wizards for the kingdom and taming dragons. He would learn the Dragoone language in 27 years of talking to the dragons in their main and 39 different dialects. He would also raise Nexus Ver Leth when his Uncle (the current emperor) asks him too. Nexus would grow up to become a fine young lad, and Heralding would have followed him into the Landing that is now owned by his prodigy Nexus. The Landing was formerly a friend of Heralding's, but was given to him when his friend decided to leave. Heralding had no need for it, so he gave is to Nexus. But the Landing resided on Terra, which was an entire galaxy away. Heralding portals Nexus and himself over and set up a village/town. Nexus resides there, and Heralding is between there and the Nexuim Kingdom.