Houpetorlivaij atual form
http://images.wikia.com/non-aliencreatures/images/5/5f/Blackdragon.jpg
Houpetorlivaij as David Trapspringer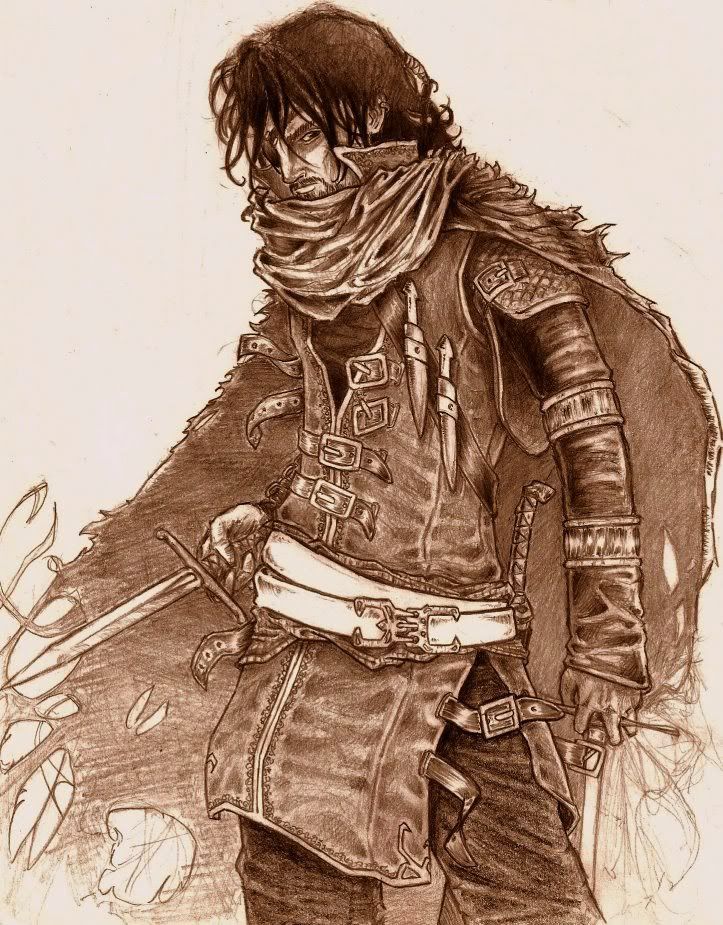 Alternate Names:
David Trapspringer, Elio the Wise, John Stalwart, Cardinia Shipwrite, and of course Houpetorlivaij
Nicknames:
Depending on who he is playing as he could have any nickname.
Titles/Honorifics:
Master Thief of Gaia and the Honored keeper of the Secret Path
Gender:
Houpetorlivaij is of course male but changes his shape constantly to suit his needs and to keep those around him confused and unknowing of his true origins.
Main Species:
Black Dragon
Houpetorlivaij's Age:
327 years old.
Personas
-David Trapspringer, the leader of this large band of thieves and cutthroats. David is intelligent and always considers the obstacles that are sitting in his path to be just minor details. 'Opportunities insufficiently guarded. Victimless crimes.' is just one of the many things that David might say when coming across the perfect heist and of course it is true. David stands roughly around 6'2" with dark hair and wears an eye patch his attire is always dark in color and yet very fitting of a noble at times.
-Elio the Wise is a female wood elf who works within the guild halls as historian and lore keeper. Elio can be said to be a tad tall for her race by only a few inches but she has never any room to complain as her outlook on life is simple; "if it is in the way, remove it. If it happens to be useful and you destroyed it then repair it."
-John Stalwart is a half-ork male that stands roughly around 7'2" and always seems to be in a rather foul mood.
-Cardinia Shipwrite is a female hill dwarf that has found wealth in the markets above to be rather nice considering she always seems to make some kind of profit. For those who are not apart of the guild of theives they will find that Cardinia is a good source of information if they can meet her prices.
Education:
Houpetorlivaij is very well educated and when he was younger he always seemed to escape from his swampy home in search of knowledge and the coin to bring himself up higher in the world. Houpetorlivaij attended a general college under the guise of a young man with great ambitions for a city and then moved on to take up another role to help his understanding of the world around him.
Languages:
Draconic, Dwarven, Common, Elven, Gnome, Ork, undercommon, drow sign.
voice
Dragons voice.
http://www.youtube.com/watch?v=CohY_CMI8yg
Current Residance:
Skyfall Citadel Sewer
Previous Residance:
Swamplands
Family/Relatives:
None.
Religion(s)/Beliefs:
Follower of Taimat
Using low, moderately low, average, moderately high, and high
-This will be filled out soon.
Personality and Other Characteristics:
Overall Personality:
Depending on who he is playing as Houpetorlivaij is considered to be the greatest actor. When playing as David he is calm, calculating and patient and knows when to pull out and were to put the next chess piece on the board. As Elio he speaks only to those who have earned the respect needed to get anything from her as she is the quiet intellectual who remains working and hidden. John the half orc is the toughest of the personas and is not afraid to get a blow in every once in awhile to prove a point that everyone else is weak. Are the dwarf, Cardina, is calculating and is always willing to make more of a profit than she would have originally had received.
Prized Possession (Emotional/Personal Value):Prized Possession (Material Value):Most Outspoken About:Least Outspoken About:Positive Characteristics:Negative Characteristics:Aptitudes:
Equipment and Personal Belongings
Main/Usual Outfit:Secondary Outfit:Armor:Jewelry:Accessories:Primary Weapon:Secondary Weapon:Side Weapons (Throwing knives, chains, and etc.):
Racial Traits and Abilities