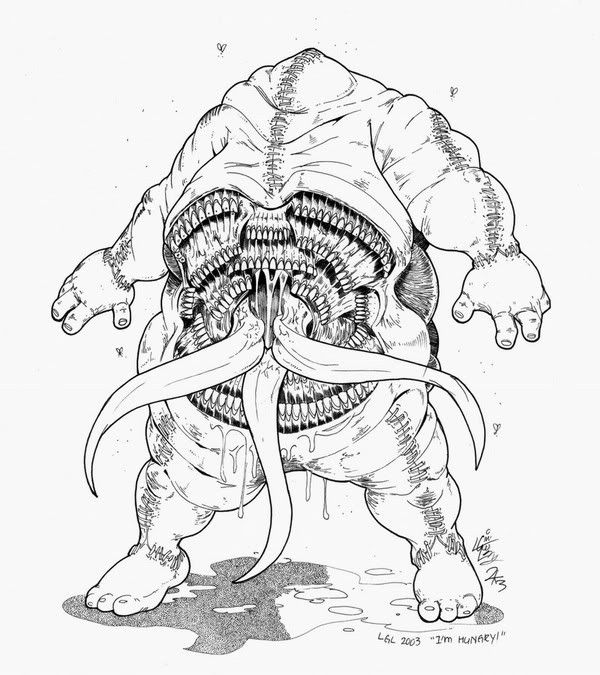 Hunger is what hunger does: Eat. He is the essence of the act of eating, essentially nothing more than a huge, dripping mouth, with crude arms and legs sloppily attached to help move him from one meal to the next. With three rough tongues and 150 chopping teeth, anything entering his giant maw will be destroyed beyond recognition on contact. His appetite is insatiable, his stomach infinitely large and hardy to accustom his never-ending meal. There is nothing he cannot digest, no thing that can harm him through his mouth, and no restrictions on his diet. He will partake of that which he can, without a thought, without hesitation. Everything is just another bite, another morsel, to him.
Destructive overbite and pretty smile aside, Hunger's crudely stitched, pillowy body is slow and awkward, built like a deformed bear. He has strength, fueled by his massive intake, but rarely uses it to actually destroy. His muscles are slow to contract, a simple step forward with his stubby legs make taking a second or more, let alone the time it takes to lift something over his head. His mouth is capable of moving rather quickly, however, and his long tongues can be like sandpaper whips if he gets angry.
Hunger is blind, and primarily uses a decent sense of hearing and super-acute scent/taste nodes behind his teeth to get around. These nodes, sensitive in a way like nothing else in the Universe, can detect one part scent in 200 billion parts air. This could cause him great pain if it weren't for the fact that absolutely everything smells delicious to him, like a favorite food being cooked with the lid off, making your mouth water in delicious anticipation... all the time.