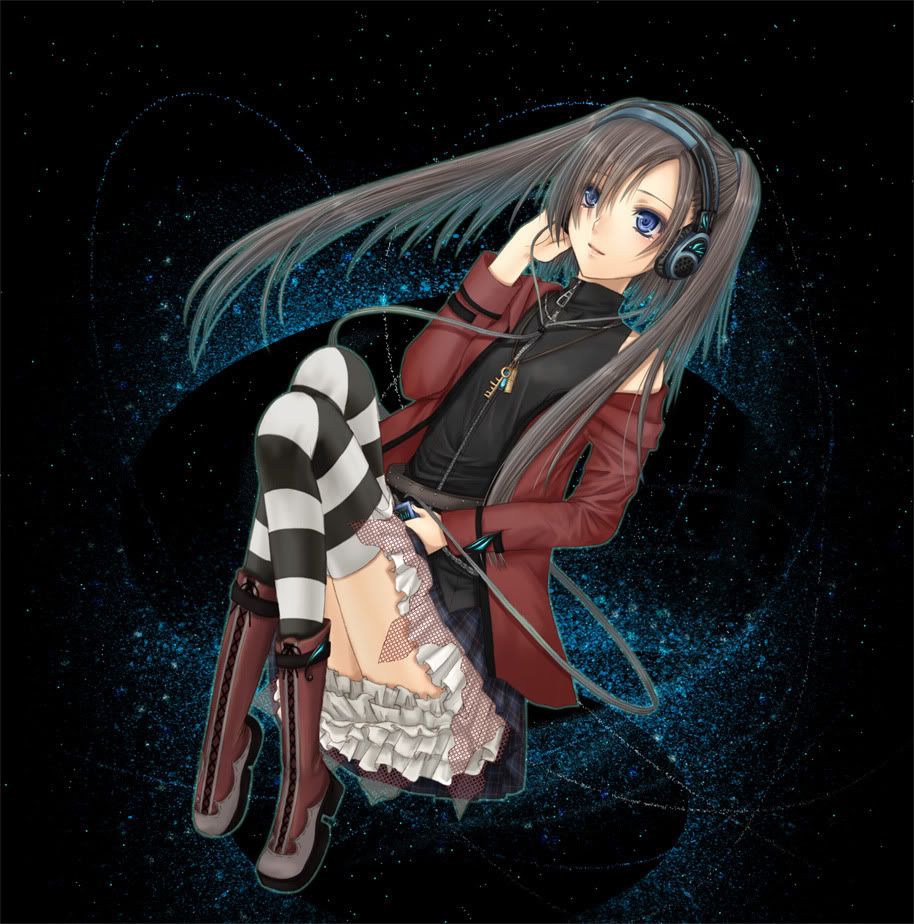 Full Name:
Jasmine Danrien
Nicknames:
Icey
Preferred Names:
Ice, Icey.
Aliases:
None
Titles/Honorifics:
None
Gender:
Female
Main Species:
Human
Sub Species:
Witch?
Apparent Age:
18
Actual Age:
16
Birth Date:
February 11 1994
Birth Place:
Earth
Zodiac Sign:
Aquarius/Dog
Sexual Orientation/Preference:
Bisexual
Marital Status:
Single??
Skin Color/Shade:
Slightly tanned
Markings/Scars:
A scar on her shoulder that is made out in a swirly design
Tattoos/Piercings:
Only her ears.
Height:
5'3
Weight:
110 pounds
Physical Condition:
Very good. But getting worse from stress.
Body Build:
Sporty and slimier.
Disabilities:
Her ankles are weaker for how many times she has rolled and twisted them.
Psychological Condition:
Good. Even if the professionals think otherwise.
Handedness:
Pretty good. Because of her basket ball playing.
Eye Color:
Bright blue
Eye Wear:
Glasses sometimes. Or contacts.
Hair Color:
Dyed brown
Hair Style/Length:
Hip length
Hair Wear:
Nothing maybe a hat sometimes.
Education:
High school
Languages:
English
Voice Wave:
~
Main Occupation:
Life guard
Side Occupation:
Odd jobs
Current Residence:
A apartment a bit away form the bar.
Previous Residence:
Earth
Current Affiliations:
None
Former Affiliations:
None
Family/Relatives:
All alive. All on earth.
Religion(s)/Beliefs:
Was a forced Christan. But she is a atheist now that people aren't nagging her.
Using low, moderately low, average, moderately high, and high
Intelligence:
Average
Spiritual:
Average
Magic Resistance:
Moderately high
Stamina:
Moderately low
Energy:
High
Endurance:
Moderately low
Speed:
High
Strength:
Moderately high
Combat:
Average
Technique:
Average
Personality and Other Characteristics
Overall Personality:
A shy person that is inwardly worried what people think of her. Even if she acts indifferent.
Public Behavior:
Shy until she knows someone.
Behavior with Friends:
Hyper and not afraid to say what she thinks. Out going and playful.
Behavior with Family:
N/A
Behavior with Lovers:
N/A
Behavior with Enemies:
Outwardly hateful towards them. Ignoring them until she finds out how to get back at them.
Likes:
Candy and being with friends. She likes nothing better.
Hobbies:
Drawing. Listening to music. New one trying to watch fights or get into them herself.
Interests:
Anythings she doesn't know already.
Dislikes:
Spicy foods. And people that try to hurt her or her friends. People that think they are all that or stuck up.
Goals/Ambitions:
Get drunk. Try pot/Done. Sky diving
Life's Ambition:Superstitions:Fears:
Hates bugs.
Biggest Fear:
Of someone she cares about dying.
Morals:
She can't kill someone. Ever. Even if she wanted to with all her heart. ?
Prized Possession (Emotional/Personal Value):
Her Psp Or Dragon
Prized Possession (Material Value):
N/A
Most Outspoken About:
Anything that is brought up that she has an opinion about.
Least Outspoken About:
Herself or her family.
Positive Characteristics:
A at heart happy girl. You just need to help her open up.
Negative Characteristics:
She is pretty hot headed. And has a thing for listening to her music to loud.
Aptitudes:
N/A
Equipment and Personal Belongings
Main/Usual Outfit:
The one in the picture.
Secondary Outfit:
The one in her old picture. (See the bottom of the profile)
Armor:
None
Jewelry:
An ice crystal jewel that was given to her y Ka-Ryuu.
Accessories:
Nothing.
Primary Weapon:
Coming soon.
Secondary Weapon:
Coming soon.
Side Weapons (Throwing knives, chains, and etc.):
Coming soon.
Racial Traits and Abilities
Newly found ability that if she shes someone do something she can copy the action perfectly. Unless its something like a stronger magic spell etc. Other than this current one there are no others that prove to be of any danger.
Whist hanging out with Ka-Ryuu he was under assassination attempt and was trying to help him. Her being her promised to kill him anyway she could. If she might be able to that is.
Upon recently hanging out with Ka-Ryuu he got her a small dragon egg. After having it cling to her hand for about 2 days it hatched into a small baby ice dragon. She named it...
After a while finding that she had become to known for her own good. She decided to change her look. To her anyway she was getting tired of white and green. Always keep on your toes. Old look...
http://th07.deviantart.net/fs71/PRE/f/2 ... c6bef2.png