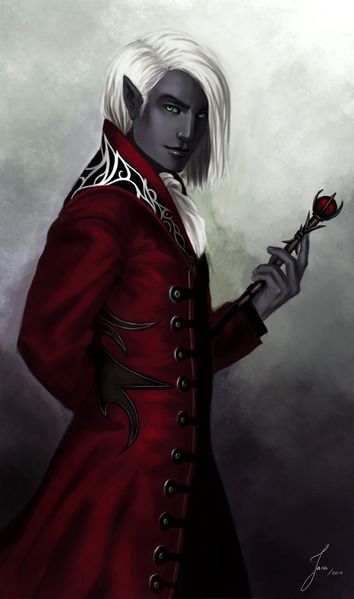 GENERAL INFO
Full name:
– My name is Istzyr Baenval.
Alias/Nicknames:
– The Pretender or Houseless One have been used many of times before as Aliases and even being called The Shroud has come up once or twice but when it comes down to nicknames one in particular has followed me to the grave and back, Emerald.
Gender:
– I am very much a male.
Species/Race:
– I am a Drow first and foremost and shall never forget my beginnings but to the surprise of my peers in the field of research I have chosen I now walk among the dead and drink from my victims' blood like the vampire I truly am.
Age:
- As to this day I am roughly 23 years within my undeath for the 159 I have lived while walking with the living.
Current Residence:
- I travel, mostly, however I find that I spend most of my time resting in a small dimensional rift that a dear friend created for me when my plight and aversion to light became a bit extreme.
Job/Profession:
– Some would say that I am a procurer of fine art but that would insinuate that I steal and pilfer what is not rightfully mine. I would more like to think of it as a constantly evolving business arrangement. In truth I only took up the 'traders' lifestyle so that I could see the world instead of staying down in a dark oppressive cavern were the only fresh air one can get is death itself.
Title:
- Lord Istzyr of Silken Inn.
Allegiance/Alignment/Clan(s):
– Whoever or whatever suits me I suppose. If someone asked me what my moral alignment was I would have to say that I am True Evil. I have no clan to call my own.
APPEARANCE
Height:
– I am 5'7"
Weight:
- 212 pounds
Build:
- Light yet muscular.
Eye Color:
- Emerald Green.
Hair Color:
- Silver White.
Handedness:
- Ambidextrous.
Skin Shade/Color:
- Ebony.
Scars/Tattoos/Piercings:
- I have several scars that run down my back from the days before my rebirth if that is what you want to know. I do not have any tattoos or piercings as lucky as I may be.
MENTALITY
Sexuality/Preference:
- I am not one to turn away from love or affection but I am one to deny it to others or even completely ignore them if I see fit.
Sanity:
- Sanity is only relevant for those who are asking. I am completely sane when it comes down to it.
Friends:
- None at the moment.
Likes:
- I am a being of fine and exceptional tastes and as such only the best of the best will do. What I do not know when it comes down to those nice things I take exceptional pride in it.
Dislikes:
– Low quality items and poor company are my only dislikes. I assure you if you mix the two of those I would have to correct that little problem.
Hobbies:
- Reading of course but what kind of man would I be if that was all I took up. I am a painter at heart and have commissioned many portraits over the years before I finished off my subjects in a bloody mess of heat and passion.
EQUIPMENT
Weapons:
– Lame De Mort- Not a simple tool used for farming for those who actually can claim that they have seen the dreaded scythe but a weapon of such fear that it was named for not only its versatility but its cutting edge. Lame De Mort when used in the hands of its owner at first appears to be nothing more than a pair of thin metallic wings that sit respectively on any creature of the nights back but this is only a ruse as they are as sharp as any weapon. Lame De Mort grants the ability to control all bladed weapons that its wielder throws allowing them to stay in the air and even stay in one place if it is willed. The wings that the scythe provides allows its master to fly.
-Valse sans effusion de sang- Not many can claim to have control of the power of their own blood as a weapon but Istzyr was blessed with this rather unique and deadly ability. Along with his minor manipulation of the shadows around him this drow can create real after images of himself and even use his blood like it was a deadly acid or to create portals or solid masses.
-Griffes du Démon- Istzyr normally does not show them but he does have razor sharp claws that have been known to extend up to three feet at the most. His nails are as sharp as diamonds and with his vampiric strength he has shattered many a thing in the past and present.
-Le charme morts- It is said that vampires have the ability to subtily manipulate the mind into believing something else. This is no different when a simple smile is given and those who it was directed towards have a sudden change of heart. This is a passive ability and is always active though not all are affected by the will of a vampire in the same manner as others.
Combat Attire:
– The only form of Combat Attire I own is what I am wearing right at this bloody moment.
Accessories:
– Besides all of my wealth I have acquired over the years there is not much to say that is noticeable. However if I find something I will be sure to let you know.
Miscellaneous:
– Nothing at the moment of course.