Name: Iviri Tac Rixy
Age: Eleven, Probably. He does not know his age, since he was born and raised in a lab. Is the fifth youngest "brother".
Appearance: (See image)
Nicknames: Tac, Scardy Cat, Subject IX (Eight Clone)
History: Iviri was actually taken from an orphanage as a baby and utilized as a test subject to develop weapons using people with superpowers or other supernatural abilities as those weapons. And it was not just the painful bad kind, but the dark ones too. The experiments involved Iviri being opened up again and again, as one of the "Core Subjects" in their attempts to implant more powers and abilities into him. This hurt him extremely, but over time he got more powerful.
Originally, the scientists had taken Iviri because of his unique ability known as "Adaptability", which made him genetically able to accept and utilize all foreign tissue. However, he was not the only subject it turned out. One day, Subject XIII, the one who came after him, caused large scale destruction. This new power caused a huge amount of damage that let him escape, and caused the release of many other test subjects as well. What was surprising is that they all shared white hair and red eyes, and even their facial features were similar if not the same. Additionally, all had bar codes planted on them, mostly in the same place, under the left eye. Add then, they soon learned. Iviri, the youngest of them all and the one who released them all, was actually a clone using implanted memories from the first subject, and he was subject thirteen. The youngest of the clones. Iviri himself was the fifth youngest, Subject IX, and was under the same circumstances.
Outraged, the subjects wiped out the scientists, and then escaped into the world. They sort of keep in touch, but they often also lose track of each other. Supposedly, there is one brother however that is tracking all of them, because he was given a supernatural ability to do so.
Personality: Iviri is a bit odd, in that while all Rixy Brother's have hard to determine personalities, his might be even more erratic then all the others (including Ixian). Even though he tends to get scared easily, wants to run away from fights rather then actually fight, when he actually enters "Combat" mode he can behave...unusually sharp. Furthermore, his battle sense seems to always be active and is very high. However, otherwise he is a shy, timid boy who might just be odd. However, his tactical mind is astonishing for this personality...which gave him the nickname "Tac".
Supernatural Abilities:
Adaptability: Iviri's body is capable of utilizing and absorbing all foreign tissue without issue, regardless of the source. It may also hold other effects, but this was the main one utilized.
Superior Physical Specs: Nuff Said.
Lie Detector: Can sense when he is lied to. Cannot sense a lie when they don't know though. (Basically, when someone tells a lie but they themselves don't know its a lie and believes they are telling the truth)
Spirit Guardian: Replica: While it has a large combat form, it also has a small form that should not be underestimated. Replica can analyze and replicate an oppoenents powers, abilities, weaponry, and so forth using internal energy that is considered unknown, but may be called "Trion". It can also fire lasers, fly, hack into things, and has various abilities like radar and such. Replica can even duplicate himself.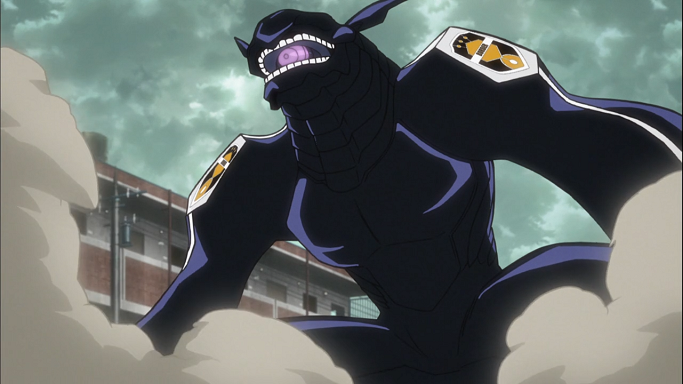 Trion Abilities: Iviri was given a ridiculously large amount of Trion Trigger Abilities...however, while all these abilities pull from a different energy pool as his Spirit Guardian, they all do come from the same energy pool. He might have many options, but that does not mean he is all powerful.
Trion Body: Can substitute his real body for a Trion Body, which means you have to take him out twice. But the Trion Body will be harder to defeat.
Shooter Cube: Summons a Cube of Trion, which can be used to fire Asteroid, Meteora, Viper, or Hound. Can also have combinations of the two, at the cost of more energy being used.
Gunner Pistols and Assault Rifle: Can summon these weapons at will to fire Trion bullets made of Asteroid, Meteora, Viper, or Hound.
Asteroid: Fires powerful shots at enemies, extremely powerful. Can break through barriers.
Meteora: Fires explosive shots, that deal large area damage. Can damage barriers.
Viper: Allows him to fire shots through pre-projected paths, letting them curve to however he set them.
Hound: Fires shots that track the targets, and chases after them. Vigorously.
Scorpion: A blade which can bend, and actually can come out of any part of his body. It is highly adaptable, but not good for blocking.
Shield: A shield he can deploy, although his only real defensive ability, it is sufficient at dealing with most things.
Ibis: The only sniper rifle he can summon, can fire explosive shots that break through barriers, armor, and pretty much anything.
Grasshopper: Lets him put a platform of energy in the air and boosts him in the direction he set.
Regenerative Aura: Lets him heal himself, and all those nearby.