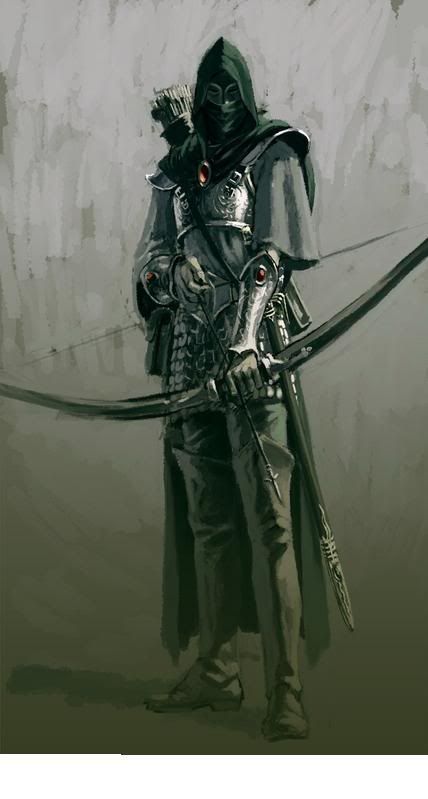 Full Name:
Izzin inid'Hurznar
Aliases:
None.
Titles/Honorifics:
House Slayer, Shadow Walker
House Name:
Rilynarn
Gender:
Male
Main Species:
Drow/Szarkai or pronounced (zhark-eye)is a drow with a lack of pigmentation. Basically an Albino Drow.
Sub Species:
None.
Age:
127 years old.
Skin Color/Shade:
Almost a grey in color.
Eye Color:
Green
Hair Color/Style:
Light Platinum and cropped.
Height:
5 feet tall.
Weight:
121 pounds.
Personality and Other Characteristics:
Overall Personality:
Like many of his kind cruelty is not always that far behind and destruction of others around him cannot be located far behind aswell however these are only the qualities that he shares with some of his brothers and sisters who make their homes within the darkness. It could be said that this Drow, though different by skin color alone, takes his time with his targets and makes sure he knows all angles are filled in before striking as to do so only shows how sloppy one person can be. When in the company of 'friends' or even allies that he has grown to trust over the years he does not always fill in all of the answers for them right away and hopes but more expects them to figure it out before the night is over.
Equipment and Personal Belongings
Armour:
Light weight materials that are sturdy enough to take a blow or two from a sword or missile from an archer but flexible to allow full movement with ease.
Cloths.:
Can be seen wearing an enchanted Vest, Vest of Resistance, which appears to be a ellegantly styled white leather vest edged with silver piping with silver buttons. The vest is enchanted to help whoever is wearing it resist most diseases or mind effecting spells and help out with traps that could put an end to Izzin though it does look good on him. Sitting upon his right bicep is a silver band that seems to appear to be a snake eating its own tale. The pants he wears white pants with a pair of boots.
Accessories:Primary Weapon:
The primary weapons of this assassin are his blades ,bow, and poison. Though many would expect that making a kill would be easy as just sneaking up behind your enemy and plunging a dagger right into his or her spine there is an art to it all. All weapons are normally used depending on the situation. The use of these weapons include a bow with two quivers of 20 arrows, 10 daggers, 2 short swords, and a single longsword.