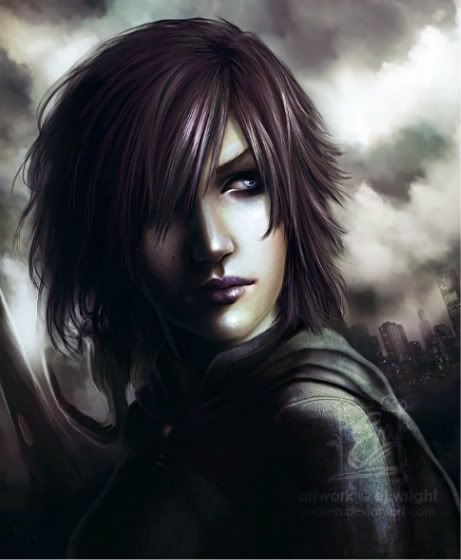 by Imaliea of deviantart.
Name:
Kaelin Tiernan
Nickname(s):
Kael
Age:
26
Race:
Human (Vampire)
Significant Relations:
The Lessard Family
Height:
5' 7"
Weight:
134 lbs
Physical Description:
A pale woman, Kaelin's dark red-brown hair contrasts sharply with her fair skin, falling in largely unstyled tresses down to just above her shoulders. Her long fringe falls over her eyes naturally, but is kept brushed aside by the application of hairspray, which also serves to keep her hair in its perpetually-messy look. Her eyes are a silvery blue, and most often hold a pensive and suspicious expression within them. Considered by most to be beautiful, Kaelin makes little effort to exaggerate this, using little makeup or other cosmetics beyond the basics. Fond of dark clothing and multiple layers, Kaelin's personality is somewhat reflected in her dress sense - gloomy and concealing.
Personality:
An advocate of rainy days and nighttime strolls, Kaelin is far from the most traditionally cheerful person one might encounter - but in her own way, she is happy with her life. She has few friends, but those she has are close to her, and though she is estranged from her strictly Christian family, that suits her just fine. She spends most of her time alone and enjoys it, has no romantic interests or the drive to find them, and overall has a great deal of non-conventional ways of finding pleasure. Amongst the more normal of her favourite activities are reading, yoga, martial arts, rambling and music. Less conventional hobbies would include punching preachers in the face, defacing holy texts and people-watching. Difficult to genuinely offend, but easy to provoke into being somewhat offensive, Kaelin's friends are used to her condescending, irritable rants - there is little genuine bad feeling behind them, but they are commonplace. Though not a total sociopath, Kaelin has acquired something of a numbness to other peoples' emotions - or at least a lack of care for them - after overexposure over the years. She doesn't care who she hurts if they aren't close to her, and has little morality beyond that which directly affects her and her associates.
Skills and Talents:
Skilled fighter - both hand to hand and wielding a stave.
Usually extremely calm, despite outward appearances.
Musical, can play: violin, flute, piano.
Highly flexible from extensive yoga training.
Abilities:
Innate:



Psychic - Kaelin is a telepath and empath. She can read the thoughts and emotions of those around her. Before being turned, Kaelin could only detect surface thoughts alongside emotions, and had no extensive control over her psychic abilities beyond 'on and off'. Since her turning however, she is now able to directly communicate via thought, and read minds for thoughts that aren't necessarily right on the surface. She cannot read the mind of someone deliberately shutting her out, but as most do not have the training to do so, it is usually easy for her to extract information if she so desires.
Vampiric:
Augmented senses: Enhancement of the physical senses. Vision, hearing, taste, smell and touch are typically augmented well beyond the human spectrum.
Augmented physique: Enhancement of the physical form. Strength, reflexes and speed are greatly augmented well beyond the human spectrum. Both durable and strong, they're well equipped to take as much as they give.
Shapeshifting: The ability to assume alternate forms of one or all of wolf, bat or rat.
Regeneration: Enhanced regenerative capabilities permit recovering of most mundane wounds almost instantaneously. More severe wounds can be taxing, and those inflicted by supernatural means are the most difficult to regenerate.
Resistances: Due to their undead nature and the lack of a need for a functional circulatory or nervous system, those of the Lessard lines share a strong resistance to cold and electricity.

Domination: A result of her psychic potential, the inherent seductive powers of the vampire have been drastically amplified within Kaelin to direct mental manipulation. Via sheer force of will, she can subvert victims into carrying out her wishes or providing her with information she cannot extract by more conventional psychic means. She can also combine this ability with her empathy to assert emotions over a target, from fear to joy to hatred. This is much easier if Kaelin herself is feeling the emotion at the time, or if the subject is already feeling it and merely having it amplified.

Clairvoyance: Linked into her psychic abilities, Kaelin's 'clairvoyance' is limited to something of a sixth sense. She is near impossible to sneak up on, and can see most attacks coming before they are even fully initiated.
Brief History:
Kaelin's childhood began largely normally. She was raised in a Christian family, and for the first eight years of her life soaked up Christian values like a sponge. However, at eight, her psychic powers began to manifest - at first her parents dismissed her uncanny insight into their thoughts as a 'parent-child thing', but it soon became obvious it was more than that. Distraught that their daughter was 'possessed by the devil' they sought help - not from psychiatric professionals of course, but from the clergy. Their local priest decided she was possessed, and set about an exorcism, but of course, this failed. After two years of quack treatments and insane diagnoses, her parents gave in, and committed her to care. Left abandoned in an orphanage, Kaelin learned to resent the holy book and the religion that had turned her parents against her, and also learned to use her powers to her advantage - predicting the movements of the resident 'tough kids', learning the weaknesses of the carers to earn their adoration, and manipulating both adults and children without so much as a thought that it might be wrong.
When she was eventually fostered, it was to a kindly middle-aged woman who lived alone - no other families were willing to take her, with her quirks and 'unnatural' perceptiveness that she so blatantly advertised in every interview, but this woman did so. In truth, she herself was a 'psychic' - not in the literal sense, but a fortune teller; someone who believed so strongly in ESP that they actually thought they could do it, despite having no ability. Kaelin quickly ascertained this truth, but decided it would not benefit her to point it out. She was raised somewhat unconventionally through her teen years, leading to her attitude of being something of a loner. Her oddities, towards the end of her education, led to her being something of a mystery to the other students, and though she was largely left alone, she made some 'friends' who found her exotic and intriguing.
Whilst not completely messed up by her childhood, there's no denying that Kaelin is abormal in more ways than simply her abilities. Sociopathic tendencies, virulent hatred for religion and an obsession with other peoples' lives remain as artefacts of her younger days.