SEKKENDOU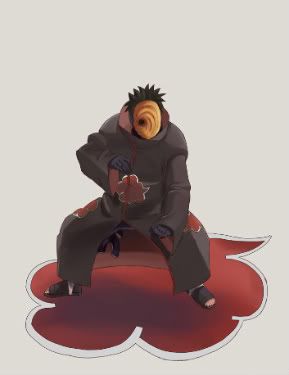 ¬General

Namesake: Kataki Hyuuga
Callsign: Sekkendou
Age: Unknown
Derivation: Konohagakure no Sato


Current Locale: Genesaris
Affilitation: Akatsuki


Goal(s): Near Kage lvl Jonin--[sup]current[/sup]; World Domination[sup]ultimate[/sup]
Profession: Terrorist--Shinobi
Rank: S-Class Criminal, Missing Nin

¬Explanation.

Release(s):


Katon
Fuuton
Kekkei Genkai:[sup]Dōjutsu[/sup]
Byakugan - "Evil Eye", "All Seeing White Eye".
Height: 5'11"
Weight: 150 lbs. (without the armor)
Hair Color: Black
Eye Color: White[sup]Pupils visible when Byakugan activated[/sup]
Complexion: Pale

¬Personality.
-- Secretive.
-- Arrogant to a degree.
-- Sadistic.



¬Equipment.
Artist: ~gothkakashi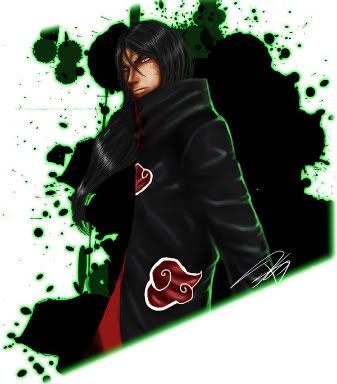 Headwear:
• Mask
Upper body:
• Black Shinobi Jacket
• Akatsuki Cloud Cloak
Armaments
• Left & Right Hand: Gloves
Lower body:
• Black Shinobi Drawstring Pants
• Shin Guards
Feet:
• Black Tabi

¬Weaponry

Primary Handle: Seizon
Type: Katana
Blade Length: 31"
Overall Length: 46"
Features: Black Handle

Secondary Handle: N/A
Type: --.
Blade Length: --
Overall Length: --
Features: --.

Accessories:
• Akatsuki Ring[sup]

Gyoku

[/sup]


¬Known Abilities
[sup]Hyuuga Clan Kekkei Genkai[/sup]




Byakugan-

Mastered[sup](Dōjutsu)[/sup]


• Juuken Ryuu - Gentle Fist Style[sup]

Taijutsu

[/sup]
• Hakke Hyakunijuuhachishou - Eight Divination Signs, One-Hundred and Twenty-Eight Palms of the Hand
• Hakkeshou Kaiten - Eight Divination Palms of the Hand, Heavenly Spin
• Hakke Hasangeki - Eight Divination Signs Destructive Mountain Fist
• 360° Sight Radius - 2,000m = 1.2miles
• Tunnel Vision - 20km = 12.4miles



Basic Skills-


• Bikou Ninjutsu - Shadowing Stealth Technique
• Bunshin no Jutsu - Clone Technique
• Henge no Jutsu - Transformation Technique
• Kawarimi no Jutsu - Change of Body Stance Technique
• Nawanuke no Jutsu - Escaping Skill
• Kinobori no Waza - Act of Tree Climbing
• Suimen Hokou no Waza - Act of Water Surface Walking
• Shunshin no Jutsu - Body Flicker Technique



Ninjutsu

-[sup]Katon & Fuuton[/sup]
• [sup]Katon[/sup]Gouryuuka no Jutsu - Great Dragon Fire Technique
• [sup]Katon[/sup]Dai Endan - Great Fireball
• [sup]Katon[/sup]Karyuu Endan - Fire Dragon Flame Projectile
• [sup]Fuuton[/sup]Senpuu Sai - Whirlwind Cut
• [sup]Fuuton[/sup]Kazegaeshi - Wind Return
• [sup]Fuuton[/sup]Tajuu Tatsumaki - Multiple Tornados
• [sup]Fuuton+Katon[/sup]Sanjuu Tatsumaki Inferuno - Tri-Tornado Inferno
• [sup]Non-Elemental[/sup]Tajuu Kage Bunshin no Jutsu - Multiple Shadow Clone Technique




Genjutsu-


• Kokuangyou no Jutsu - Journey into Black Darkness Technique
• Raigen Raikouchuu - Lightning Illusion Lightning Flash Pillar



Other Skills-


• Senjutsu - The Sage Arts
• Akatsuki Astral Projection Technique
• Can cover great distances in a short period of time.[sup]Method Unknown[/sup]



Fantasy Skills-

[sup]Additional abilities to fit the Fantasy realm[/sup]
• Byakugan
-In the fantasy setting due to the Byakugans capabilities of seeing chakra, 360° view, tunnel vision, and deciphering chakra types. It relates to the capability of seeing a wide variety of magic and energy in the same turn. Chakra and mana are essentially the same.
•
•

¬fable.
[sup]Information provided via Valucre Terrorist Database[/sup]
*This list of abilities does not represent the total summation of the characters abilities, these are however his most frequently used jutsu. Also some abilities are not usable in certain fight settings. Adjustments will be spoken of before the fight with Kataki.