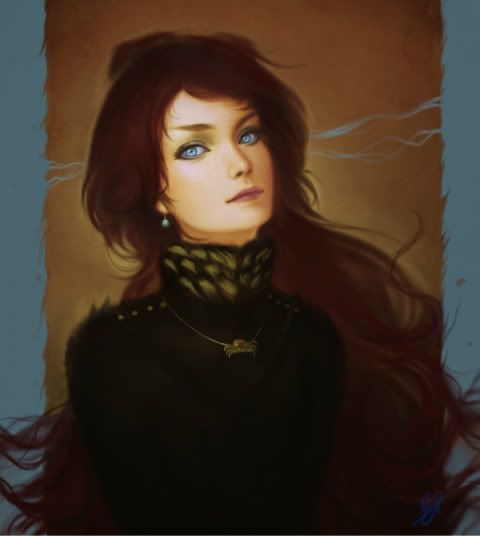 ©2011 *Wynniemaru of deviantart
Name:
Katherine Greyson
Age:
31
Race:
Human
Occupation:
Author (ex-journalist)
Personality:
Calm and collected, Katherine is as mature as her age suggests. In comparison to many of the more impulsive or eager trainers, Katherine is decidedly reserved. Her career prior to now has taken her down a very different path to trainers, and though she has enjoyed many battles and collected a notable number of pokemon to raise, battling competitively has never been her priority. Down-to-earth compared to most, Katherine also sports a sharp wit, the key feature that makes her writing so popular. Despite her ability to snark, she is usually kind and sporting as far as trainers go, having no qualms with helping out other trainers whether competition or not, giving them tips and training with them if she has time on the road. Though she can occasionally seem condescending to the more self-confident trainers, those who she meets almost always remember her fondly.
History:
Katherine received her first pokemon when she was ten, as with most children - a vulpix. She spent the majority of her teenage years focusing on education over adventure, raised by her mother to value the arts and intellect alongside the world where pokemon seemed to be everything. When she graduated, though, her immediate move was to satisfy the urge for travel she had thus far been unable to. Packing up her bags, she and her vulpix set off to explore Kanto, her home region. Gathering a team as she traveled, Katherine started to write about her adventures a few weeks in, and on a whim sent the humorously composed pieces into a regional newspaper. Surprisingly for her, they were a hit, and she was contracted to produce the little snippets every week, providing a humorous look on the life of a nomadic trainer.
Over ten years, Katherine traveled from Kanto, to Johto, to Hoenn, to Sinnoh - all the while documenting her experiences as observational comedy. Last year, she published her writings as a novel, sewing together her haphazard wanderings into a coherent sequence of events. Selling extremely well, Katherine has enough money now to dedicate herself more fully to being a trainer, and has decided to try her hand at the league challenge.
Pokemon (in order of acquisition - only six carried at once):
Kanto:
Ninetails (Whisp - after her flighty nature when she first met her) - ♀ - lvl 65 - Flamethrower, Confuse Ray, Zen Headbutt, Double-Team, Fire Blast, Quick Attack
Alakazam (James - just a chosen name) - ♂ - lvl 53- Psychic, Recover, Hypnosis, Drain Punch, Psybeam, Shadow Ball
Steelix (Norman - just a chosen name) - ♂ - lvl 45 - Iron Tail, Earthquake, Crunch, Dragon Pulse, Stone Edge, Dragonbreath
Umbreon (Fade) - ♂ - lvl 60 - Dark Pulse, Faint Attack, Psychic, Protect, Moonlight, Double Edge
Raichu (Gordon - after 'Flash' Gordon, because lightning) - ♂ - lvl 55 - Thunder, Agility, ThunderPunch, Rain Dance, Double Team, Quick Attack
Vileplume (Petal - after her appearance) - ♀ - lvl 46 - Petal Dance, Sludge Bomb, Giga Drain, Flash, Toxic, Magical Leaf
Gengar (Gary - chosen name) - ♂ - lvl 44 - Substitute, Nasty Plot, Shadow Ball, Psychic, Perish Song, Psybeam
Johto:
Noctowl (Tae - after Katherine's grandad) - ♂ - lvl 52 - Fly, Shadow Ball, Zen Headbutt, Mirror Move, Air Slash, Roost
Heracross (Cray - chosen name) - ♂ - lvl 45 - Megahorn, Reversal, Harden, Focus Blast, Close Combat, Strength
Delcatty (Miria - chosen name) - ♀ - lvl 34 - Attract, Double Team, Fake Tears, Hyper Beam, Double Edge, Faint Attack
Hoenn:
Milotic (Aria - chosen name) - ♀ - lvl 41 - Hydro Pump, Scald, Magic Coat, Dragon Pulse, Ice Beam, Dive
Flygon (Toothless - after the dragon from How to Train Your Dragon, ironically from when he was a Trapinch) - ♂ - lvl 46 - Dragon Claw, Earthquake, Fly, Dig, Hyper Beam, Dragon Tail
Aggron (Tory - derived from 'taurus' the starsign due to his 'hardheadedness'. Literally.) - ♂ - lvl 47 - Iron Head, Stone Edge, Iron Defense, Dragon Pulse, Heavy Slam, Protect
Sinnoh:
Lucario (Chan - after Jackie Chan) - ♂ - lvl 55 - Force Palm, Dragon Pulse, Aura Sphere, Close Combat, Extremespeed, Swords Dance
Unova:
Leavanny (Rosa - from 'rose', due to appearance) - ♀ - lvl 36 - Razor Leaf, X-Scissor, Sword's Dance, Bug Bite, Solar Beam, Sunny Day
Cinccino (Paris - after Paris Hilton due to his fashionista appearance) - ♂ - lvl 34 - Swift, Sing, Hyper Voice, Slam, Captivate, Echoed Voice
Braviary (Sam - after Samwise Gamgee from Lord of the Rings, for his bravery) - ♂ - lvl 53 - Fly, Crush Claw, Whirlwind, Tailwind, Sky Drop, Aerial Ace
Typical Team: Ninetails (Whisp), Umbreon (Vee), Noctowl (Tae), Cloyster (Jay), Raichu (Gordon), Roserade (Petal)