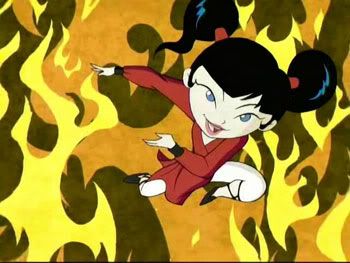 Kimiko, when in her Xiaolin Dragon outfit, wears a short red kimono with sandals that strap around her calves ending an inch below the knees, and has black hair pulled back in ponytails with blue eyes.
Kimiko has other outfits she uses when she goes out in public, however.
This is an outfit Kimiko once wore when she went home to the electronics company her father owns. It consists of her having black hair being pulled back into a ponytail with clips holding her bangs back and a lime green T-shirt with a small skull on it with a long-sleeved grey-and-black shirt on underneath it, as well as a black skirt with tight black pants underneath it and black boots.
This outfit Kimiko once wore on a trip to get a Shen Gong Wu. It consists of her hair--again, being black--being pulled back into long pigtails and she wears a rather dark purple hoodie with an olive green skirt and a pair of mismatching tall leather boots.