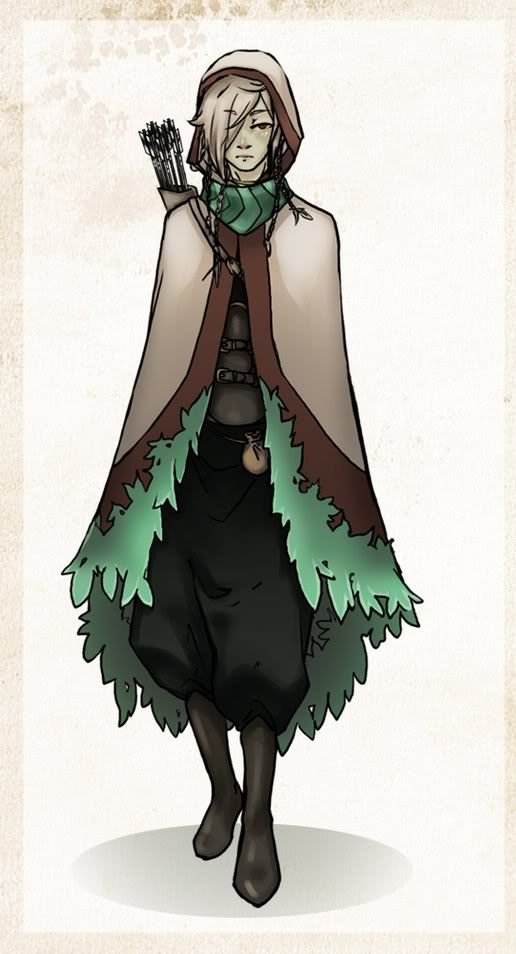 Name: Koufan Nefolos
Age: 46
Height: 5' 2"
Weight: 138 lbs
Race: Alneh
Class: Cloak
Hair color: Pale grey
Eye color: Maroon, flecks of gold.
Skin tone: Pale Olive
Gender: Male
Journal Entry 372:
I have begun my training with the Cloaks. At first, I was surprised to learn how easy it was to be accepted. Then I saw the rest of those who were joining with me. They all shared a variation of my skin color, the olive within us pointing us out for the job we were born into. Not that I would complain about the job. The Godking needs me to be a blade at his disposal, an ear to hear his enemies' plans, and a shield for his Ambassadors. Tomorrow both I and the class I have come with shall truly begin to become shadows. To become what our Godking needs.
Journal Entry 1865:
I'm changing. No longer am I the pudgy, semi-spoiled noble child I arrived as. I have become hardened, toughened. Though I have missed my family these last few years, I know that they do not mourn for me. They know that this is my place, that the Godking needs me more than they do. It is that thought that keeps me sane. All around me, I have seen the death of men and women no older than myself, each at the hands of someone they might have once found friendship with. I care not for them, though. They are too weak to serve the Godking, thus the ending of their lives serves to make our people, the Alneh, stronger.
Journal Entry 2794:
They come at me, each of them with the single dagger given upon entry to the Cloaks. We all have those blades, one for each other we kill. Though we only ever use the one we first got, the collection grows with each kill made. I have more than twenty-five now, each bearing the blood of it's owner forever stained upon the steel. And still they come. They see me rising faster, just like Zi, and try to maim and kill me, to remove me as the threat I have become to them. Their blood stains my hands, turning black and flaking away as the years pass. I only hope that my skill is enough to please my Godking.
Journal Entry 4729:
I've done it. I have joined the folds of the Cloaks in full. My hands are still bloody from our final test, still warm from the heat of battle, and I feel more alive than ever. I have seen the sun again, the first time this year, and in it's light I slaughtered those I once trained beside. As always, I do not weep for their deaths. I thank them for helping to make ours a stronger people, a people more devoted to the Godking. In only a few weeks, I shall begin my new life, among the family that I have made. But I shall never relax, for there will always be daggers at my back.