~--~Portrait.~--~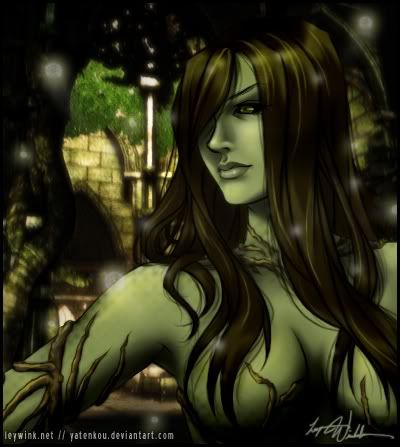 ~--~Basic info~--~
Name: Wither
Alias: Witherfang. Lady of the forest, Goddess of nature
Race: High level Djinn.
Sexuality: Bisexual
Marital status: Single.
Religion: Reincarnation
Class: Elemental.
Vocation: Queen of the trees, elves, syvish (Giant sentient spiders.) and werewolves.
Alignment Neutral.
Personality: Passionate, kind hearted, optimistic, wise yet stern at times.
~--~Physical info.~--~
Height: 5' 1"
Weight: 120
Hair style: Long
Hair color: Black.
Skin condition: Radiant
Skin color: Jade.
Eye color: Jet black or yellow.
Body type: Slender
Physical condition: Excellent
Scars: None
Tattoo: None
Piercing: None
-~--~Stats~--~
Strength- 60%
Dexterity- 68%
Endurance- 71%
Wisdom- 91%
Intelligence- 93%
Speed-62%
Luck- 84%
~--~Powers/abilities~--~
Photosynthesis (Active)
Beast tongue. (Active)
Soil teleport. (Inactive)
Nature manipulation (Active)
Living plant. (Inactive)
Wither (Inactive)
Bark skin. (Inactive)
Heal disease. (Inactive.)
Heal wounds. (Inactive)
Paralyze. (Inactive)
Poison touch. (Inactive)
Poison smog. (Inactive)
Acid arrow. (Inactive.)
Acid wave. (Inactive)
Summon Bear. (Inactive)
Summon wolf (Inactive.)
Summon giant spider. (inactive)
Summon Werewolf. (Inactive.)
Summon tree. (Inactive.)
Tree of healing. (inactive.)