General Information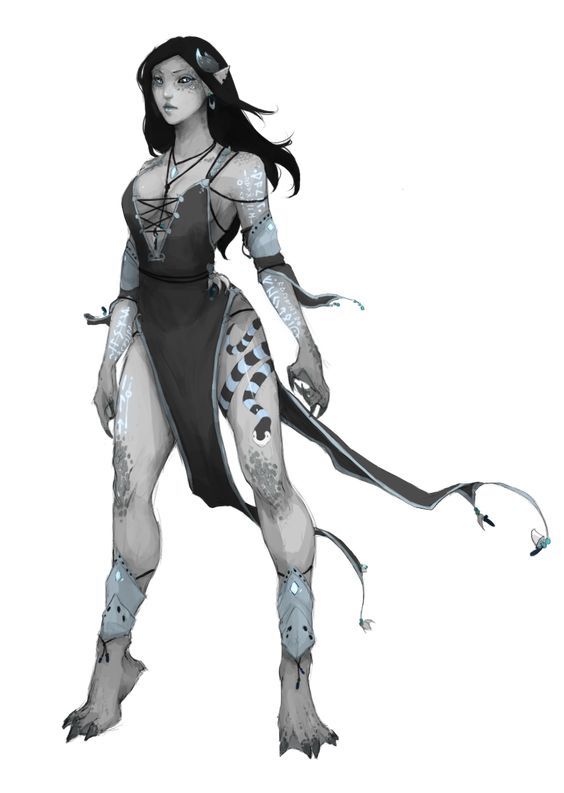 Name: Leandra Olkoye
Preferred Name: Leah (Pronounced Lee-Yuh)
Age: Unknown
Race: Were-Leopard of Heath's Home World
Height: 5'8
Profession: Business Relations and Negotiator/Mage/Scout/Pilot
Appearance
Eye Color: White Pupils and Silver Irises
Clothing: She normally wears an outfit meant to give flexibility and speed, so the lighter gear of whatever is necessary.. This changes constantly according to planet and locations of interest. You can see her chilling on the ship with her tribe outfit above.
Extra: She can cast various spells concerning the wind and healing. Her specialty is light refraction. Her arms and body is tatted with permanent buffs, debuffs, and reserve spells for emergencies. They have limited uses and take up to a week to recharge. These were granted to her by her tribe chieftain, and some were earned through combat and exploration of many worlds and sorcerer libraries.
Other: She has a passion for learning spells, studying magic, studying new elements or exploration to find business opportunities concerning any of the latter. She also is an expert diver, and an organization freak.
Personality: Tends to have a bit of a high strung nature, when things are done, she will make sure they get done. Her demeanor is always short and concise. The less needed to be said, the better. Action is more appropriate for many many things. But she is decidedly friendlier towards other were-folk or those deemed family.