The Legion of Shadows
Shadowlings/Commanders
These are the rarest of all of Draco's underlings, and answer to him only. They were created from smaller parts of Draco's own pure power, making them extremely capable. So far, only four have ever been documented. They are identified by their proud stature, and their red and black military uniforms adorned with medals of all kinds. They are much more passive than anything else in Draco's Legion; preferring to let the dirty work do itself rather than doing it themselves. Though they do so with the utmost efficiency.
Commandos
The newest addition to Draco's Legion, Commandos were the toughest soldiers before their ...conscription... into the Legion. Draco actively searches for those worthy to be part of his Commando batallion. These men and women are silent in every sense of the word. They are physically incapable of speech or vocal noises, they move with the utmost efficiency, and are very adept at remaining undetected. They can be seen wielding any assortment of weapons from blades to guns to even blunt objects or nothing at all. They are easily identifiable by their all black armor with red visors.
Screaming Minotaur
These behemoths are the shock troops of Draco's forces. True to their name, they scream at the top of their lungs the entire time they're in combat. The origin of what is making them scream in such a way is known only to Draco, and to them: Being under Draco's influence is like having their souls torn from their body one flake of spiritual essence at a time; and the pain is unbearable. They stand at about ten feet in height and weigh a solid two tons of pure muscle. They range from no armor or cloth at all to fully suited knights, and almost always wield ungodly axes with chipped and rusting blades, so that even a glancing blow will weaken someone from the sickness gained from touching the rusted metal. These are the most easily identifiable due to their size and sound.
Shadows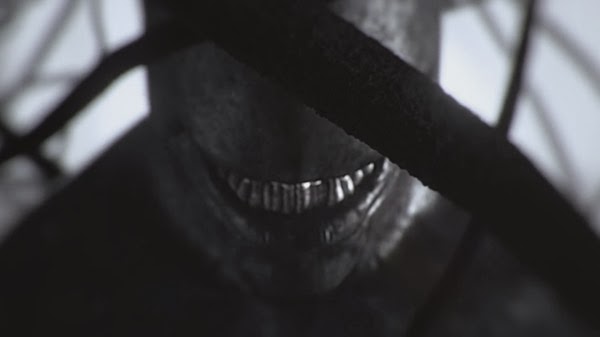 The most numerous, and arguably the most terrifying of Draco's Legion are the simple Shadows. The captured souls of those foolish enough to face Draco and his Legion are more than likely going to join the rank. The unholy beasts fight with every part of their body, and come in three variations: Slashers, Trappers, and Bashers. These basic troops are always accompanied by grabbing Tendrils that appear from the shadows they also spawn from to grab unsuspecting victims and drag them into the abyss after shaking and beating the fight out of them. From the Abyss, they are conscripted.
Slashers
Slashers are the weakest and most numerous of the three types. They are characterized by their long slender bodies, and long, bladed fingers and toes as well as sharp teeth.
Trappers
Trappers are quite rare among Shadows, in the fact that they only appear in order to intimidate an enemy into staying where the rest of the Legion can easilly get to them. It is not uncommon for groups of these Shadows to trap unsuspecting "conscriptees" inside of buildings, where the rest of the Legion can close in. Characterized easiest by their long flowing cloaks that spread out to block any route of escape.
Bashers
Bashers are the heavy hitters of the Shadows, and are often seen wearing armor over their imposing bodies, and carrying shields much like a Roman cohort. True to their name and size, it is their job to pound any resistance out of their enemies by force with whatever they can find. A pipe, a stick, their shields their bare hands, and in rare occurrences, each-other. Identifiable by their imposing stature of seven feet tall; usually wearing some sort of metal armor.
Hounds
Contrary to their names, the Hounds of Draco's Legion are not canines. Well, not explicitly. The term Hound is given to whatever Abomination the Abyss can churn out after absorbing enough single body parts or souls unfit to be soldiers. Abominations consisting of any number of parts assembled in a way to be functional. Easily identifiable due to the fact that many demons even quiver at the sight of them.
The Air-Fleet of the Abyss.
The Drakon Class
The Drakon class is named for the ancestors to the Dragons: The Drakons. Meant to embody true, unyielding power, this airship serves as Draco's Flagship, and as such, is nigh indestructible. Powered by Draco's own essence, it requires no fuel, crewed by the Legion, it requires no food, so everything can be focused towards defense and armament. Sporting 20 forty-inch barrels in five turrets, two forwards and three aft, the ship-to-ship capabilities of the Drakon Class should never be scoffed at. It also sports countless 12-inch gun emplacements acting as dual-purpose secondary batteries. The Drakon also is equipped with numerous auto-cannons of various sizes to aid in point defense. Every single main battery and secondary gun battery fires Corrupted Lightfire shells, which render anything touched by the blasts infertile, decays everything like acid, and can punch through magical barriers with just one salvo. Each gun reloads once every minute and thirty seconds while each secondary gun takes thirty seconds to reload.