Song: Blood of the Rose by The Dear Hunter
http://www.youtube.com/watch?v=lh91NFMiCvg
Name
Lessica Legis
Other Names(s)
The Clockwork Maiden
Maid of the Frost
Ms. Legis of the Siber
Appearance
Apparent Age - 19
Actual Age - Who cares? She doesn't. Why count the years? Why not the decades, or the days? She knows her birthdate, but it's in the obsolete Siber date system, anyway.
Lessica is tall, at 5'7, and she has a tendency to wear heeled boots. She always dresses neatly and sharply in plain black pants and a white blouse— she's very businesslike in her appearance. She seems to lack color— her hair is moon-white, as is her skin. Though she's beautiful, she always has a blank or a slightly irritated look about her. She carries herself with the grace and chill of an ice queen. She has a relatively straight figure, with graceful arms and legs and a slender waist. Her breasts are slightly smaller than average, and she doesn't care to show them off.
She has small wrists and long-fingered hands covered in burn scars and small cuts— though almost any sort of blemish is extremely noticeable on her body with skin as pale as hers— but she does her best to cover them up as often as she can with soft black gloves. They're well-worn and somewhat beaten, but she loves them anyway even if they are a bit imperfect.
Lessica's eyes are somewhat strange; they're a dark grey-green, but they can appear almost black in the right lighting, stark against the rest of her body. She almost never wears color, so the contrast is high. Her eyes are always placid and expressionless, in part because she, as a spirit, has no will to control that aspect of her projection.
When Lessica is weakened, she will first turn even paler before fading to a black, translucent fog. Without her body, her voice is metallic and hollow; however, she doesn't speak much in a weakened state because she's often spending most of her energy trying to keep herself from disappearing permanently. She has a weak body, preferring to focus most of her power in her mind. She can still, however, climb quite well and is somewhat flexible. She has strong hands from using hand tools so often.
Her skin is delicate and burns, marks, scratches, and is otherwise injured easily. She can expend some of her energy to work towards regenerating her damaged body parts, but she doesn't like to, preferring instead to devote everything she has to her mind.
Personality
Alignment: True neutral (Borderline neutral evil, if only for selfishness and lack of empathy— she has no real will to
do
evil [or good, for that matter], but her actions can end up that way.)
To put it in blunt English, Lessica is the spirit of systems; however, her job is, in reality, much more complex than that. She is the force that drives everything that
works
, from clockwork to mathematics. Everything that
does
, she, in some way, gives life to. She has a fondness for destruction and breaking things apart to play with their functions. Ironically, she enjoys building and creation when she's angry, as it calms her down. She's very orderly and composed at all times and will micromanage to the point that she forgets to take care of herself. As a spirit, she takes her job very seriously, and she stresses herself to the point that migraines are a common occurrence in her day-to-day life.
Lessica is incredibly intelligent and observant, though her attention is almost always taken by something or other— she never seems to smile, and when she does, it's forced. She leans toward the mechanical, manipulative side because she has trouble understanding emotions and tends to filter every person she meets into her own system. She sees every object as part of a greater scheme and has no issues seeing the "big picture" of things; however, even though it's a vital part of her domain, her overworked mind can often skip over a detail or two. She seems as though she's constantly overtaxed, though it's just, at times, her naturally irritable personality.
Lessica is an intense person, and she's extremely serious, often becoming so absorbed in a problem or a puzzle that she'll lose track of everything else. At times, she has trouble understanding sarcasm. She has no concept of "right" and "wrong," tending to do only what fits the pattern best. She has incredible pattern-recognition skills and doesn't believe in a natural way of things. Her mind is governed by rules and logic alone. She is also gifted in terms of mechanics and engineering, and she's never without a handful of spare parts to create anything from tiny mechanical bugs to massive machines of war.
Though she is a great lover of mystery, Lessica abhors both prophecy and vagueness. She believes in absolute impermanence and can be, at times, a nihilist— to say nothing of her pessimism. She is pragmatic by nature and doesn't much care for tradition, formality, and superstition and is prone to disparage anyone who does. She is eloquent and precise in her wording when she speaks, and she values body language as much as she does the spoken word. Held in the highest regards, however, are books. She enjoys reading and is never without some form of literature on her person
Lessica suffers from a sort of constant boredom, which she can mostly fill with her tinkering and her reading. Because of this, dhe can be impatient and rash, at times, even though she knows she should slow down and calculate her moves. She will willingly lead others down the path with the highest risk simply because she wonders what might happen.
She also has an obsessive-compulsive streak to her; she can also become very controlling when she thinks things are being done wrong. She can't stand those who she perceives as mentally slower than herself (read: most people), so she's often in a bad mood when in a room with too many people. In conversation, she tends to ask too many questions, as she likes to know everything she can. She's a veritable encyclopedia of information and is always out to find more.
Gender
Female
Jewelery/Piercings
Lessica wears an amulet of ticking clockwork and silver. Every piece has a function, though few know what sort of device the throne itself actually is. It's rumoured to be a machine built by Lessica herself to turn back the flow of time, but Lessica has never said a word about it. The silver accents are engraved with an ancient code with which Lessica writes almost all her personal notes. It is one of the hardest codes in existence to crack, as there seems to be no comprehensible pattern, yet she can read back verbatim every word she ever wrote. At times, she'll spend hours reading the inscriptions on her amulet, lost in thought and silence.
Equipment/Abilities
None; systems are complex, so no one piece of equipment is really ever needed to do her job. If it counts, she usually keeps a monkey wrench in her shirt. She's highly intelligent and has learned a lot over the course of her lifetime, so she's extremely resourceful and knowledgeable but generally weak, physically.
Symbols
Clockwork. She's never without a gear or two.
Also, the following, the alchemical symbol for antimony. Even she's not sure why she chose it: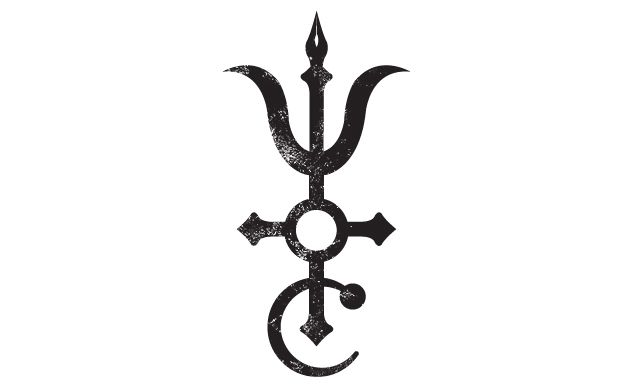 Sample Quotes
"Nothing happens by chance."
"The odds will never turn in your favor— the odds are nothing when faced with reality."
"You mean nothing to me just as well as I mean nothing to you."
"We're both living, breathing bodies, so we might as well use the few things we
do
have."
Other
She has no sensation in her right hand, though she still has control over it. She's just taken to using her left even though it's not her dominant hand. She has a number of nerve problems and can even lose control of certain parts of her body, though generally not for prolonged periods of time unless she's extremely overtaxed.