Celinka 'Marchosias' Reese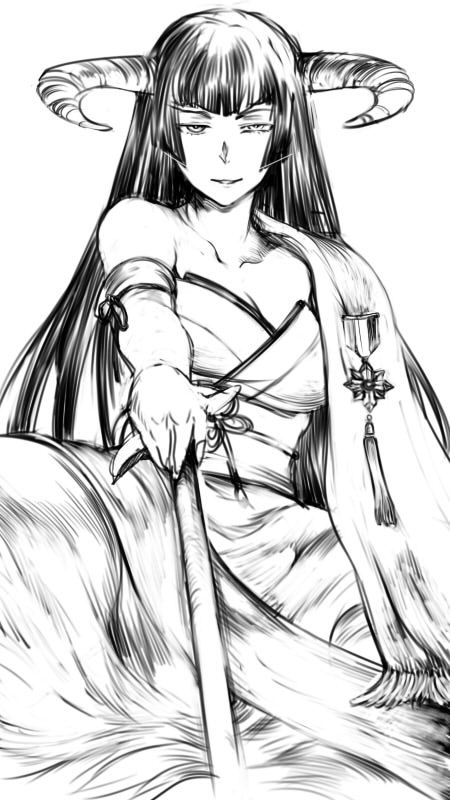 [url]-Insert Name Here- 's Theme[/url]
-
-
-
Name: The Creature true name is
Marchosias
and 'She' seems to be a well known Marquis of Hell|Hades, commanding thirty legions of Demon(s) and an Angel who
had
strived to return to Heaven with the other Non-Fallen. Sadly this Goal ended up in many frivolous attempts which all failed, eventually the Marquis had finally given up and accepted her Fate, it was her own fault for falling to temptation or the desire to be with the one she 'Loved'. Eventually she had taken on the name
Celinka
and tossed aside the name she possessed while being an Angel.
Ah. My name..? I was formerly known as Marchosias, a Patron Angel of Heaven who had fell in love with Silvanis. I've even sinned gravely to insure I join him in Hell, and oh have I sinned. *Grins* Now I go by Celinka, a name that had grown on me the more and more others call me in.
-
-
-
Age: Uncertain|Ambiguous, she firmly believes she has been around for just as long as any other Angel or Celtic, a guestament is seven thousand onward..? She had remembered waiting one thousand and two hundred years in Hell hoping she could eventually return to Heaven with the Non-Fallen, waiting for a supposed Window for her to escape the bowels of Hell but that never seemed to come, rather she sooner found a window to escape Hell and her giving into the initial temptation of tormenting Humanity, to think she waited that long to escape into Heaven with no sure sign, yet she escaped Hell and into the Mortal Plain within two years. The Body she resides in is one she had 'borrowed' from a Priestess, mind you she put up quite a fight but she in the end was no match for the Hellish Beast known as
Marchosias
. She spent her years on Earth|Mortal Realm tormenting mortals and having them turn against each other, even dragging those whom had Sold their Soul to Lucifer in a form that had been mistaken for the Modern 'Hell Hound'.
I'm so old I have more rings then an Old Oak Tree- oh Goodness now that was horrible cheesy, I wonder if 'he will' want to take a bite out of me... duhuhuhu..
-
-
-
Species: A 'Fallen One', An Angel who had Sinned and was cast into the Fiery (Metaphorically Speaking) Pits of Hell|Hades and was forgotten as time continued to roll on without her, though she now reside(s) in Hell she is still an Angel even though she wouldn't hesitate to rip ones throat out or use their precious little 'Brat' as a Human Meat Shield- or as a chew toy? She still possess her Wing(s) which she often uses to trick Human(s) into thinking she's a Non-Falling and having them pulled into Hell.
I like seeing the faces of the Priest(s) whom I managed to trick into thinking I'm one of the Lord(s) own, especially when I drag the into Hell.
-
-
-
Personality: Loyal, this is all one needs to describe how
Celinka
is. She has proudly albeit in the manner of some 'Lap Dog' served under the 'Higher Up(s)', and the 'Almighty' itself, carrying out their whim without so much as questioning it. However, when it came to orders she prioritized
Silvanis
's over the remainder, it didn't matter how Trivial they where and if the ones where of Importance and given by the 'Almighty' itself, she'd rush to the Man(s) aid without so much as looking back- this odd mannerism was the reason upon being cast into Hell or Sinning in order to join
Silvanis
she took on the form of a 'Hell Hound', as a mockery towards her obsessive loyalty toward her Masters or the one she cared for more then anything. However her time in Hell did open her eyes up, and free her from the shackles of servitude even if she waited over a thousands years for a moment to escape.
Eventually, the twisted inferno or realm changed her- though she still retained her loyalties she found herself gaining a 'face', a personality of sorts. The Woman gradually gave up on escaping|returning to her Master(s) and accepted her Fate, finding some sick enjoyment in tormenting others or the damned and eventually began to crawl her way up the rankings, slowly going from a Tormented Soul, to a Pawn and eventually earning as spot as Marquis, she is currently eying the spot 'Gaap' a Prince and 'President' of Hell currently holds. The Woman is now a sadistic and twisted existence, though she retains a form of a Hound she is known as the 'Queen of the Hell Hounds' and the 'Mother of Cerberus'- she takes pride in the suffering of others, and dragging their pitiful souls into the pits of Hell, tainting those who are Pure and turning others against another- be it friends, lovers or even family. However, her love for the newly named
Joshe
- it stronger then ever as it seemed the two.. well to cut to the chase are now in a relation, a delicious interesting one.
Ah. That Man, to think I was nothing more then a 'lapdog' to becoming a soon to be Dutches of Hell. Though I've been so distracted by Joshe... consider yourself lucky Gaap.
-
-
-
History: