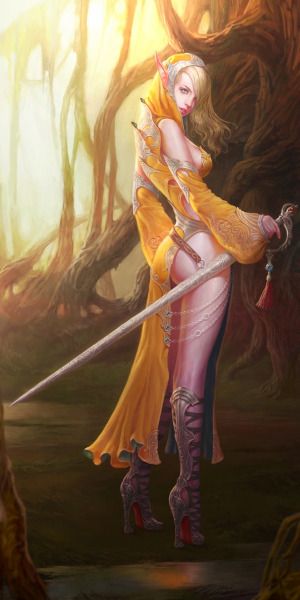 Name
: Maree Erd Lumariale. "Awe in Light of the Stars".
Age
: Three Thousand Six Hundred and Fifty Five Years
Gender
: Female
Race
: Full-Elvish
House
: En Lighte
Class
: Holy Cleric
Marriage Status
: Maree is bonded to Al'Kaera though, he himself has not undergone the rights of marriage for his own culture. This is a powerful ceremony as to where if Al'Kaera were to die, the death would drag Maree with him.
Alliance
: Chaotic Good.
Staff
: Lore has been passed through the En Lighte Elves for generations upon generations. The staff shifts forms from each owner and will shift once more growing in power as the elf within it's ownership bond themselves with a life mate. It is the mark of royalty within the En Lighte and only the most powerful of the race is graced with it's presence. It will hum songs to either soothe the bearer or warn of an evil presence near it's carrier. It can also draw the carrier to evil in a teleportation spell if there is good cause. The carrier of Lore may choose to have it reveled or not by summoning, though not all times does it appear.
Disadvantages
Spells
: Maree can only cast one spell per person and up to three people. The spells only last up to three turns depending on how much magick is needed. The more complex the spell, the more draining it is on her.
Lore
: The staff can take her wherever it wishes at any given time, even forcing her to leave at a critical moment.
Dark Magick
: Since Maree is a Holy Cleric, her weakness and opposite is anything considered dark or evil.
Bonding
: If Maree bonds to another creature, if they die, she will die as well with them as their souls are intertwined.
*Note: There are a lot of personality disadvantages concerning her past and the history of her people, but I'd rather not get into all of that.
Personality
Maree is a quiet elf most times and observes what there is around her. But if there is a reason, she shall speak on curiosity if something were to pique that specific side of her personality. She is not afraid of anything as death is just the cycle of life that much continue on in the world, and she has lived for quite a long time. "All things must come to an end, as do all Lore's of my people so that a better and more wise ruler shall come behind me."
For now, Maree is a Wanderer. A Learner. A Teacher.