Name
Michelle Faraday Sinclair
(Goes by Faraday)
Age
Seventeen
Gender
Female
Abilities
- Shadow Evasion: Faraday can slip into the shadows at any time provided there are some. While inside the shadows, she is untouchable (except through magic) and cannot touch anything.
- Limited pyrokinesis - She can move it and manipulate it, but she can't create it.
Physical Appearance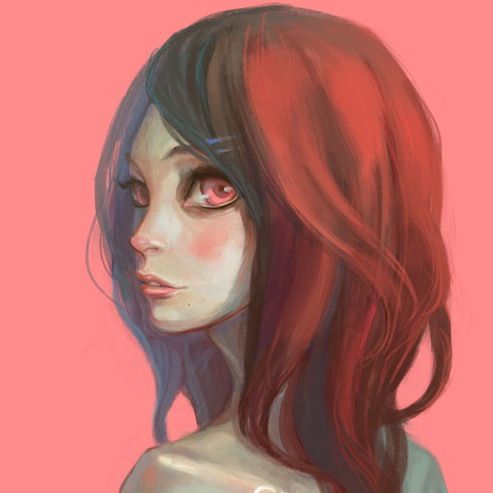 Faraday is tall, at 5'9 even without her hated heels, and keeps her red hair cropped and restrained at all times with either a headband or a handful of bobby pins. Though she's hardly a fan of fashion, she does her best to keep her appearance up if only for the same of manipulating others. She's pretty, if not flat-chested, with a well-formed face, milky skin, and a smattering of freckles to compliment her delicate features. Her limbs are long and spindly. She looks weak, and she is, but she's noticeably good with her hands. Her fingers are long and tapered, though she has a tendency to cover them with gloves to keep the scars and burns out of sight. When not being forced by her father and other societal expectations to wear dresses and carry useless clutches, she dresses in well-fitting turtlenecks and white pants. She seems to dislike color altogether even though emerald green suits her hazel eyes well.
Bio/History
Faraday was never expected to become what she did. A child born to a marriage between an old-money heiress and an enterprising young businessman, her childhood years often left her abandoned in the hands of the house staff. Even they, however, could hardly keep the curious toddler contained; Faraday discovered her love for science at the age of three after disemboweling a bird to "find out how it worked." Faraday has always had a fascination for the mechanics of the world, and, having always had everything from business connections to radioactive materials at her fingertips, she could never take no for an answer. How could she, when she had been able to just take what she wanted?
Faraday had discovered her power to slip into the shadows at the age of six, though even her hyper-analytical mind never understood it until ten. The seeming supernaturality of it all has always plagued her, and to this day it bothers her not knowing the exact mechanics of her own body. She can use her ability, and she has, to her hearts content never knowing how it works. To Faraday, a girl seemingly without emotions and certainly without regret, this is a capital sin.
Still, she knows her abilities are an irreplaceable tool in getting what she wants. Funding for an engineering project? Why bother asking when she could just have it? With no one having the will or wit to reprimand the girl, Faraday has grown from a misguided, eerie little girl into a cunning and fearsome young woman. Having gained enough social skills from wandering her fathers' ballrooms and conferences as a child, she knows how to blend in even when all she wants is to be alone. She knows how to play emotions, fatal flaws so foreign to her. She knows how to mold her voice into something soft and sweet yet sticky like butterscotch, to entrap men with her seemingly endless wit. When it all winds down, however, Faraday needs nothing more than her self-built basement laboratory and something to build. She's grown to be surprisingly reliant— perhaps due to her inherent hatred for these logic-less people she can't ever understand— for a girl who's never been a day without the possibility of her every whim being fulfilled. Though she's brilliant enough to know not to be spoiled, she stops at nothing to serve herself and her projects.
Faraday doesn't take no for an answer. That's why she lit the fire— and couldn't stop smirking until the flames began to lick her fingertips.
Notes+Extras
Faraday's fortés lie mostly in engineering, robotics, and artificial intelligence. While she's brilliant at mathematics and had made significant advances in artificial intelligence theory, she's not particularly knowledgeable about history and is actually quite sheltered and unaware of the world around her. She publishes her papers under the pseudonym Michael Z. Faraday.
Faraday has an unhealthy obsession with fire and is never without a lighter.
Likes:
- Fire
- Science
- Mystery
Dislikes:
- People who are full of themselves
- Motherly people
- Emotional responses