Short and fiery, this Caprus fighter is a bundle of.. something, alright. She'd barely reach a human warrior's chest, but she's awfully filled out... Healthy-looking, curvy and considerably muscled, this one-horned wayfarer is actually more goat than unicorn. She has brown skin, dark freckles spanning across her nose and cheeks, and the top of her chest. Her eyes are angular and moss-green, staring out from under bold eyebrows. She wears shackles on her wrists and ankles, some with twisted, broken bits of chain link still attached, signifying that she's likely made an unlawful escape. But she wears them proudly, it seems, because it wouldn't be too hard for a blacksmith to help her out.
Though her diminutive height could throw you off, her face ages her at somewhere past two decades. Her wild, kinky, curly black hair is for the most part pulled back in a huge ponytail, and the same hair trails from her tail and rings her split hooves. She wears a heavy belt at her wide hips, with a pouch and a dagger. With her at all times is her staff, which she uses to cast fire magics. Whenever she uses them, her hair turns bright orange, and feels warm to the touch.
There's one last bit of physicality worth mentioning, but uh.... Well. That's private.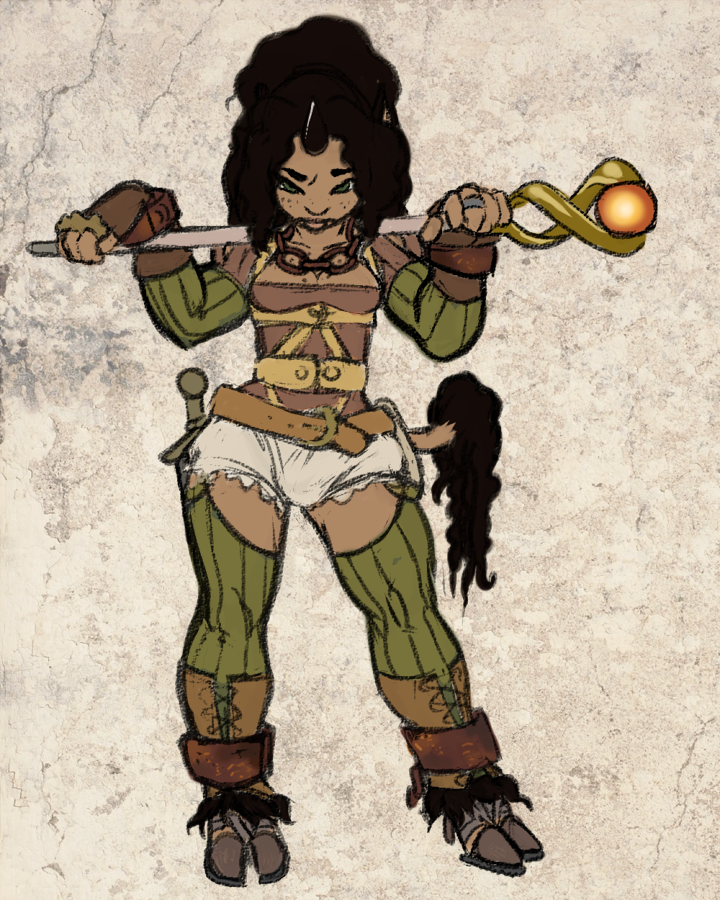 (NSFW pic available but it's ZOMG FUTA you've been warned )