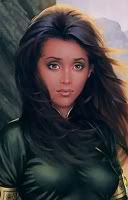 Sourced from Photobucket. Not mine.
Died: 6th June 2010.
Resurrected: 28th July 2010.
Standing
Basics
Full Name:
Natalie Oldburn
Age:
Twenty-nine
Birthplace:
Kireae, Hilrean, Galtien
Current Location:
Aelora
Titles, Born or Earned:
Diviner
Species:
Human
Occupation:
Professor of Divination
Allegiances:
• Academy Celestia
• Patronus
Associations:
The Academy of Hilrean
Social
Parents:
Devria and Robert Oldburn; deceased
Siblings:
Liam Oldburn; living and residing in Wing City
---
Appearance:


• Five foot six; slim, almost fragile with angled features
• Short, russet curly hair
• Round brown eyes

She has a rather odd pale brown gem embedded in her chest just below her collarbone, scarred tissue the shape of a rose on her lower right arm and a tattoo of a key at the side of her left breast. However, all three are often hidden by the all-covering, practical robes that she favours.

Personality:
• Determined
• Intelligent
• Naive

Throughout everything, the one thing that has not changed about Natalie is the bright spark that takes her eyes when she gains the chance to learn. Reservations fall away in the face of knowledge; she would put herself through difficulty, if not danger too, to seek and impart such things to the world. She is consistently loyal to her friends and pledges, though often torn between the two in the conflict with the Orsa. Her judgement is not flawless, but her ability to make strong bonds with those she finds herself drawn to counters this somewhat, inspiring loyalty as well as giving it.

Natalie has somehow retained her modesty, though her generally pleasant and quiet nature has over time been replaced with a hardness that is difficult to overcome. Her willingness to trust outright has been fractured by continual betrayal, intentional or not.

Extraordinary Skills, Abilities, Flaws:
• Spellcasting
• Divination
• Lacks physical strength

Naturally gifted at Divination, Natalie possesses abilities that can allow her to access the minds of others in a non-violent (yet sometimes intrusive) manner, detect the presence of magical auras, scry and even predict events that will occur in the near future. Since coming to Terra, she has combined Divination ability and magic together to be able to teleport both herself and other people and objects.

General Spells
These are spells that Natalie has perfected in her own time to supplement her two areas of expertise. They are basic or situational spells, developed from personal experience or from study at the Academy from where she originates. Weaponry solely created from magic, energy discs that can be used to augment movement or unbalance a foe and a mage's staple offensive spell - magical projectiles.

Shielding
Natalie is a specialist when it comes to creating shields that can protect allies from various forms of assault, as well as restrict an enemy's movement or retaliate against attacks. Her most common example is an oval shield that forms around the target, following their movements and protecting them from all manners of physical and magical assaults, depending on the strength of the shield upon creation.

She is capable of replenishing a diminished shield with channelling, though it is generally more time efficient to simply replace it with another and able to dismiss a created shield within a moment, should a need arise.



Equipment:


• Two enchanted pouches that can hold a substantial amount. There is a third currently in the possession of Drakus Flavaar.
• A bag of multi-coloured crystals.

Beholder's Spectacle: An amulet which improves the power of mental magics and allows for telepathy and telekinesis. Allows the user to perform astral projection and separate their spirit from their body to look around (of course, this leaves the body vulnerable). [Description Written By Patch]

Focus Crystals: Through careful study and not so careful experimentation, she has figured out how to manipulate the crystals to bolster her own abilities. Each crystal has the ability to help Natalie focus her concentration on a particular school of magic when charged, generally able to withstand about four minor spells and two major spells before it needs to be re-imbued with magic.



Types of Focus Crystal:


Red bolsters the focus of offensive spells.
Blue bolsters the effectiveness of her healing spells.
White bolsters the focus of communication spells.
Clear bolsters the potency of Divination abilities and spells.
Black bolsters the capabilities of her shielding spells.

Biography:
Born in the country of Hilrean on Galtien as the eldest child and only daughter of a retired bard, Natalie's childhood was mostly uneventful but happy and filled with learning, particularly of a merchant variety. It was at the age of thirteen - a little later than most - when she first displayed signs that she was innately gifted with the power of manipulating magic energies, being immediately scouted to join the Academy; the school of magical learning that existed at least four days travel from her home town.

Despite her reservations, her family urged her to accept and so she travelled with great reluctance the distance to the place that would remain her home until she showed clear aptitude at displaying restraint in her casting and enough control over her magic that she was not a danger to society and a diplomat of the Academy itself.

It has been seven years since she has joined the school of magical learning but like many other magically able recruits, she has remained there as a scholar and always learning student to better herself in the magical arts, her research leading her down the route of Divination. It was one such experimental spell that led to her appearance in the Multiverse and although eager to get home, she was curious to learn about this place between all worlds that she has never heard of before.

Following recent events Natalie has taken up permanent residence in Gambit's Hotel, per personal circumstance and a desire to explore this world. Execution is also something always good to escape and most recently has been recruited to protect an artefact by an elven sorceress called Sylvire Nasazura. Since then, she has most notably lost the artefact to Orsa of Terminus and spent four days as the hostage of Nyx. She plans to reacquire her charge back and protect it fiercely. It is the least she can do to make up for her mistakes.

The severing of her left Achilles' tendon caused by Nyx left her for a time unable to walk, both out of physical inability and self-loathing. However after some soul-searching and heavy persuasion on the parts of Whisper and Kazura, she sought and found healing from Scarlet Dae. It was only a few days after this that Natalie was murdered by someone she trusted. Her resurrection by Whisper and Dallas and is not a decision she has made her peace with still but she realises that life, once brought back, simply goes on.

Her dedication to the Patronus had been solid since her revival; nearly all else fading in its wake until her brother was brought across from Galtien. Now she has responsibilities both voluntary and familiar and devotes herself to fulfilling them both.