NC7- Alpha
combat AI robot
____________________
____________________
Personal Information
____________________


Theme Song: soldiers- by Otherwise
Name: Alpha/Alphy
True Name: NC7- Alpha 01
Age:
no less than six months no more than a year
Age Appearance: N/A
Gender: Identifies as male
Race/Main: Artificial construct
Race/Sub: A.I
Sexual Orientation:
Artificial intelligence, this is not a thing (yet maybe)
Marital Status: singl
Birthplace:
Project: 'Nova Combat' orbital station
Date of Birth: NA
Religion(s)Beliefs:
that everything and everyone has the right and free will to make the choices that decide their fate.
Marking|Tattoos|Piercings:
A.I in a brand new combat robot
Height:
6ft
Weight:
400Kilos
Physical Condition:
ready for primary tests
Eye Color:
red strip in his helmet
Alignment:
Lawful neutral, abides by the commands given to him by the Directors of the project.
Occupation (Main):
test subject and soldier
Education:
all the information from the wider galactic net
Language(s):
all...may take a minute to cycle to the correct one
Current Residence:
N/A
Family/Relatives:
Prof. Jacob Anderson designed built and wrote Alpha,
Enemies:
none
Disabilities:
N/A
Personality:
NC7-Alpha or Alphy as his 'parent' came to call him, is a calm logical being, being an A.I his mind rapidly comes to conclusions, though things like butterflies,
and other beings, cats and animals catch his interest and he will attempt to catch, even running far after them, how this 'flaw' made it in, he nor the scientists know.
Fears:
permanent deactivation
Psychological Condition:
fully integrated and undamaged, wanders from mission parameters all to often

____________________

Equipment

____________________
Nova Combat Artificial Soldier
this would refer to the bodies the combat A.Is inhabit. Fashioned to look humanoid in nature these Droids are built from a mix of dense bullet resistant and reactive materials, all in all, the design and construction of these droids make for near indestructible troops, in the case of small arms fire, anything from an artillery shell or tank shells would do damage. known materials used in their construction, Adamantium, Reactonne- a carbon fibreous material that is flexible and hardens to a dense rigid plate to mitigate incoming damage. as being durable these droids are strong and dexterous with a reaction speed of 200th of a second, meaning it can see rifle flashes and move out the and into cover or activate shields, before the bullet has even left the chamber.
M95 high power Railgun
further W.I.P needed
this multi-use bull-pup designed railgun can be fire in semi-automatic, burst and full auto firing modes, with a fourty round mag as standard it fires its
ammunition out at mac-6, capable of laying waste to even the most heavily armoured foes. firing a 7.76x51mm adamantium spike as its standard ammunition from a 40 shot magazine as there are no casings for the spikes. These rifles can be configured in various calibres and forms, depending again on the preference of the A.I.
expandable shielding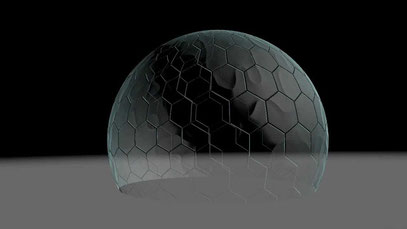 the shield systems of the Nova Combat droids have two settings for their shields, personal and Bubble, the personal mode is a low power highly protective shield capable of blocking both energy and solid projectile fire for sustained periods of time. the bubble shield mode locks the droid in place as they activate it, throwing up a high power shield that can block even orbital strikes, however this draws from the Droid's fusion batteries and the unit requires a 'reboot' for most systems resorting to a low power mode after use. that's if the shields are down.
Alpha's shield unit is a twin unit, meaning he has two, however this a very experimental set up.
two mono-molecular high frequency blades
striking and passing through even the toughest armours in the multiverse leaving only seared and glowing cuts in their wake. the blades work by exciting the very atomic structure and splitting the chains between those atoms cutting the victim in two with ease.
high powered rail-revolver
this is only a minimised version of the Rail weaponry standard to each droid, and come sin various styles, Alpha took to using a revolver variant, out of personal taste. Alpha's rail revolver fires a 44.cal equivalent adamantium spike at mac-4 per shot,
____________________
|Abilities|Traits|Racial|
____________________
integration
all NC droids are capable of integrating with almost every form of technology and that of their 'larger forms' fixing to and entering what is essentially a mechsuit.
Organic multi-layered encryption
each A.I comes with a encryption key that changes on a basis directed by the A.I's writer, Alpha's Encryptions change hourly and he can force a change whenever he so wishes, to ensure his actions and his will stays his own, the security also comes with a tracer. so he can hunt down anyone attempting to hack him.
____________________
Special Powers
____________________
____________________
Feats/Achievements List
____________________
____________________
History
____________________