GENERAL INFO
Full name:
– Nexus 'Death Lightning' Ver Leth
Alias/Nicknames:
– The General Nexus, Dragons Claw, Heart Of The Kingdom, Death Lightning, Shining Blade, True Soul, General Prince
Gender:
- Male
Species/Race:
– Seraphaem (Sub Species) of the Seraphim
Birth Date:
– Unknown
Age:
- 175 (human years)
Descendent(of):
- Seraphim Angels
Current Residence:
– Oakwood Landing
Job/Profession:
– Business co-owner, Keeping Justice
Title:
- Prince
Allegiance/Alignment/Clan(s):
– Ver San Clan
APPEARANCE
Height:
– 6'4
Weight:
– 213 lbs'
Build:
- Muscular
Eye Color:
– Sky Blue
Hair Color:
– Blonde (turns white/silver when in ancestral form)
Handedness:
– Ambidextrous (favours right)
Skin Shade/Color:
– White/Bronze
Scars/Tattoos/Piercings:
– Symbol tattoo of the family Ver San crest
Description:
– The Highest Ranking General of the Nexus Army. Stands 6'4 with bronze-like skin and sky blue eyes. Has blonde. Has a muscled tone to him, with wide shoulders, and a very regal and proper gait (walk). Usually wears his Dragon Duster Overcoat, with his Harbinger Armour set underneath. Carries his Temptium Grus Sword that has been modified and updated recently, via a raid he did on a laboratory with Sassin. He also wields two hidden daggers, the Megalos Pair, with him hidden inside his boots. Nexus is someone who is extremely attached to the look of his clan, which is why he tailored his Duster Overcoat to be black as the base colour, and has green streaks going down both sides of the arm sleeves. The coat was designed to match his swords green hue. The inside seam of the Overcoat is a very dark blue, that insulates against heat and cold. His boots are transformative to the terrain, and are a dark blue colour. The rest of Nexus' outfit is a very modern, sleek but regal armour set, called the Harbinger Armour set, which consists of a chainmail, with a padded shirt. The Nexuim Armour set, which is rarely used, transforms according the voltage output and frequencies, Nexus shoots into the outfit. This makes it transform into other outfits of choosing (limited choices). Usually being tight leather pants and a basic shirt. The Nexuim Armour Set consists of grieves, boots, modified chainmail, gauntlets, and gloves. All of which contain gold trim, with a basic black colouring. It fits in well with the Overcoat on top of it.
Ancestral Form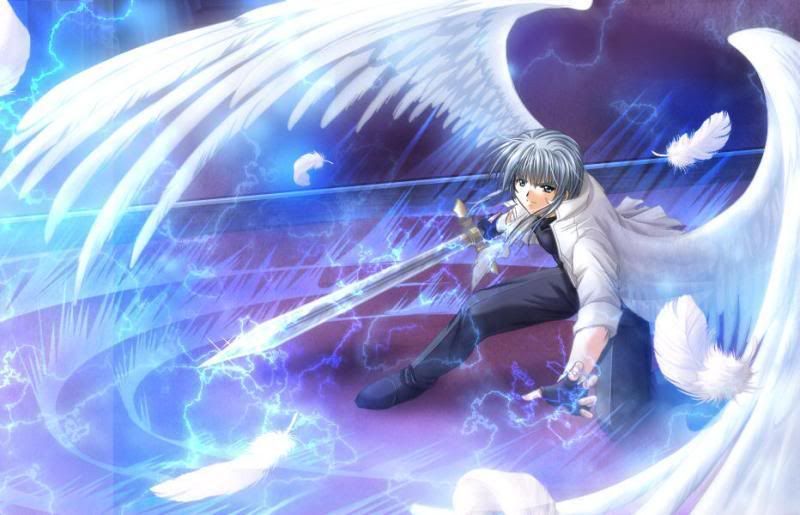 Description of Alt Look
This is a look that is only invoked when Nexus is provoke into anger, or severe emotional unstableness. Nexus' eyes begin to spark blue, as he transforms into the ancient look of his ancestors. This is a state of pure energy compatibility. Meaning, he can completely control any form or possible connection to electricity, current, voltage, and amperage. To a master, they could even jump start hearts that have recently stopped beating, but this ability is for the original Ancestors only. Nexus' great grandfather was known as the Undead King, for have said to be able to raise an army of recently killed warriors. Nexus' output and power doubles in this form, and he is able to spout his wings, that are white in colour and strong in nature. Nexus's hair dyes silvery white, and his sword glows blues permanently till he takes on his original form.
MENTALITY
Sexuality/Preference:
- Straight
Sanity:
– Sane, but too caring
Friends:
– Tierge Di Grun, Heralding Rymesis, Pet Baby Green-Horn Dragon, Zii, Sheesha, and a few others
Likes:
– Ham, Polishing Skills, Helping Others, Gazing at Flowers
Dislikes:
– Hate, Cheese, Bees
Hobbies:
– Crafting, Training, Training Dragons
Personality:
– A strategist of the highest order, he optimizes technique, logic, and speed effectively against all opponents. But always looks for the most efficient method within each moment and occasion. Very humorous, especially opens up when given his favourite drink, A Bloody Sailor (Whiskey, Captain Morgan, Raspberry Juice, ice, cherry...it's that simple for him). Generally friendly, always looking to learn and improve. Has a very fond, but battle-hardened aura. Usually helps those in need. He is extremely loyal towards those he cares about, and will do anything for those he loves. Since he is one to help, he tends to never back down from a challenge, not a person in need. Nexus is someone who is trained in the art of perception, but loses in the art of love. Whenever someone is trying to manipulate Nexus, he catches it, but when he falls for a woman, he falls pretty hard. He's better with it now, especially since having his heart broken recently. Nexus' heart, having been broken one too many times, has become cautious and slightly distant.
EQUIPMENT
Weapons:
1. Temptium Grus – A sword with the name "Striking Ice/Lightning". Which has the ability to cut through anything that 'needs' cutting (usually doesn't include people if it's without good cause), of course that's up to the user, also conducts a current for electrical discharges. Looks like a modified, hollowed out straight sword with a slightly curved tip. The inner working is Blue, and the outer blade is all white. It has a Blue/Green hue when charged, or unsheathed. The blade is made from a material that is able to vibrate at frequencies that can cut Stygian hell rock like butter when vibrating at maximum output (but has an awful back lash when at its maximum vibration rate).
2. Megalos Pairs - Pair of Daggers that has similar properties as Temptium Grus. These are meant to discharge irregular currents to nearby appliances and other grounds. Also acts as a direct ground for wayward charges, arcane or otherwise, when thrown into the ground or wielded properly.
Combat Attire:
–
1. Dragon Duster Overcoat - (Black and Green) This is made from dragon hide and moon ore. Can withstand bullets, and has perfect resistance to all elements of weather (some elemental magic resistance too). It can be penetrated by a celestial sword, or an arcane spell. Has a dark blue inside seam and colouring.
2. Nexuim Armour - Modified chain mail, boots, gauntlets, and padded shirt. This is royal armour, enchanted and infused with arcane spells, that is worn under his Duster Coat. Rarely wears it. Usually just wears his Harbinger set.
3. Harbinger Armour – Basic chain mail, and padded shirt, with modded combat boots for the Megalos Pair It has similar colors to his Duster Overcoat.
Accessories:
– None
Miscellaneous:
– Just the Megalos Pair
FIGHTING STYLE(S)
General/Preferred Style:
– Ver San Sword Style
Hand-to-Hand:
– Ver San Martial Arts
Weapons Style:
– Trianed in Several Different Styles from Ball and Chain to Spear
Special Abilities/Affinities:
– Lightning Affinity
STYLES OF MAGIC (Pending)
Chant Magic:
-
Rune Magic:
-
Elemental Magic:
-
Psychic Magic:
–
Conjuring Magic:
–
Enchantment Magic:
–
Space/Time Magic:
–
Arcane Magic:
-
HISTORY
Relationship Status:
– Possibly With Tawny
Family:
– Has a brother, a sister, a non-blood brother (best friend I suppose) a mother and father.
Known Languages:
– Native tounge, Dragon Speak, Italian, Mandarin, Terran and English
Personal History/Background:
– Soon to be added