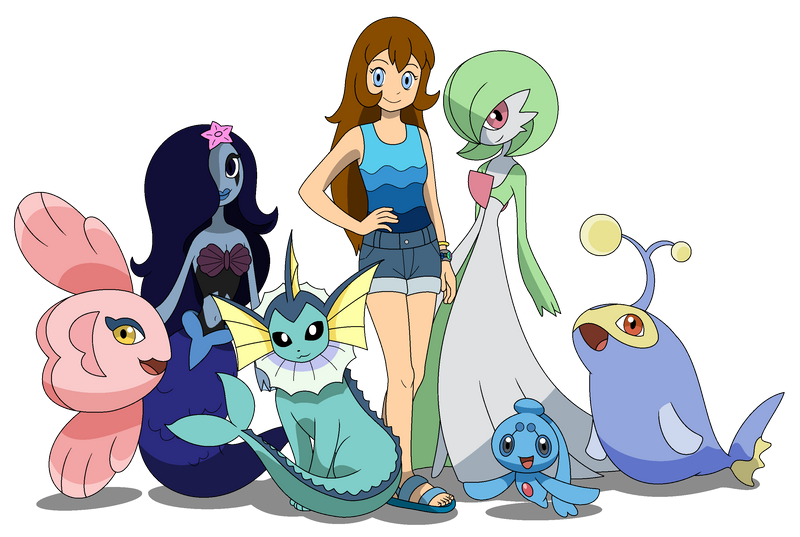 Nicole Porter
AGE: 18
BIRTHPLACE: Paloma City, Beya Region
Nicole is a fun-loving, curious, and slightly ditzy individual who dreams of exploring the worlds oceans and meeting tons of interesting Pokemon. She comes off as very confident although this sometimes gets her into some sticky situations but in the end, her smartness and clever thinking always gets her out of trouble.
Nicole is living her dream job as a marine biologist and because of this, she's an excellent swimmer and can hold her breath for up to 3 minutes. But despite this, Nicole still prefers to use her diving gear; consisting of her light blue dive fins and mask with mouthpiece attached, allowing her to breathe and speak, whenever she enters the water. She also adores exploration, curious about what the unknown has in store but most of the time, this curiosity tends to get her into trouble, especially in the water. When Nicole isn't swimming or diving, she likes to spend time at the beach with her friends and Pokemon, likes to eat (which seemed to rub off on her from a certain pink haired girl...), and is also a bit of a geek, reading books and manga about her favorite childhood cartoons and superheroes.
When at work, the girl does her best to stay on task and complete her assignments for her employers, sometimes leading to overworking herself and exhaustion.
Due to a childhood incident that almost took Nicole's life, she hates bug type Pokemon, breaking out into panic and even fainting when in the presence of one. She also hates dry weather due to her fondness of water, surprisingly quick to dehydration. Nicole also hates being isolated and lonely, having no one to interact with which is one reason why she prefers to have Aqua out of her ball at all times. And due to occasional childhood bullying, she's developed a sense of insecurity and self-consciousness, often times thinking of herself as a bad trainer and doubting her own abilities and strengths.
But because of all the friends she's made throughout her life, including her BFF from Unova: River Ronessmee, Nicole always greets each day and each new adventure with a positive attitude, ready to take on whatever life throws at the girl, her friends, and her Pokemon.
~~~~~~~~~~~~~~~~~~~~~~~~~~~~~~~~~~~~~~~~~~~~~~~~~~~~~~~~
MAIN POKEMON:
AQUA
Vaporeon
Water-Type
Abilities: Water Absorb, Hydration
Known Moves: Sand-Attack, Aqua Ring, Blizzard, Hydro Pump, Acid Armor, Hydro Burst
Special Z move: Hydro Vortex
Originally, she was a household pet, but ever since the field trip to explore the Beya Region, Aqua has become Nicole's most trusted Pokemon and she does her best to live up to the title, giving it her all in every battle. Being with the girl for the majority of her life, the two share a very powerful and unbreakable bond unlike any other. Through thick and thin, light and dark, they've faced whatever life has thrown at them head on. They consider each other as sisters and are almost always together. Just like her trainer, Aqua is filled with determination and confidence, willing to take any challenge head on but she can also be a bit childish, always yearning for playtime with Nicole and her teammates. Deep down, Aqua fears that Nicole might abandon her if she messes up but the girl is always there to reassure her friend that no matter what happens, they will always be sisters.
LUNA
Gardevoir
Psychic/Fairy-Type
Abilities: Synchronize, Trace, Telepathy
Known Moves: Double Team, Calm Mind, Dazzling Gleam, Moonblast, Psychic Surge, Warped Terrain
Even though she's Nicole's second Pokemon, Luna is actually the strongest member of the team with Aqua coming in second. Being the Gardevoir that she is, Luna is protective of her trainer and her friends, even putting her own life on the line if needed to. At first, Luna was ALWAYS on high alert but eventually, she learned how to relax and have fun. She is capable of using telepathy to communicate with her trainer as well as other human allies and thanks to her Gardevoirite necklace and the bond created with her trainer, Luna can summon the power to Mega Evolve into Mega Gardevoir or as Nicole tends to call her, Mega Luna
SPARKIE
Lanturn
Water/Electric-Type
Abilities: Volt Absorb, Illuminate, Water Absorb
Known Moves: Thunder Wave, Electro Ball, Confuse Ray, Discharge, Thunderbolt, Volt Switch
Special Z move: Gigavolt Havoc
A recent capture, Sparkie is very hyper and wild, seeming to always cause mischief for her trainer and teammates. She wasn't too keen on joining Nicole until she saw how well the girl was at battling. The Chinchou loves excitement and action to the point where she could actually pick a fight for no reason. Very rarely is she calm and also has a short fuse. While she may not be a very good water type, her electric attacks pack a punch in battle.
CORAL
Alomomola
Water-Type
Abilities: Healer, Hydration, Regenerator
Known Moves: Pound, Water Sport, Double Slap, Wake-Up Slap, Wish, Safeguard,
Special Z move: Hydro Vortex
Much like Luna, Coral is always worrying about her trainer's safety but more as a mother than a guardian angel. She first met Nicole when she saw her drowning in an underwater cavern and immediately brought her back to safety. Ever since, the Alomomola has stuck close to the girl, making sure she leaves every wreck and reef unharmed. As one would expect, she isn't a fighter and prefers to reason with enemies, but when nothing else will work, Coral shows little mercy for opponents. She cares for her trainer, teammates, and allies and will do all she can to protect them.
DEWDROP
Phione
Water-Type
Ability: Hydration
Known Moves: Bubble, Water Sport
The youngest and certainly the weakest of the bunch, Dewdrop was recently found as a mysterious egg in Unova who soon hatched, immediately seeing Nicole as her mother! Not too much is known yet about the baby Phione other than having a playful and curious nature. She also obviously doesn't know many attacks but just like for all Pokémon, the future has many things in store...
ARIA
Sirenota
Water/Dark-Type
Abilities: Dark Aura, Hydration, Queenly Majesty
Known Moves: Sing, Attract, Dark Pulse, Whirlpool, Water Pulse, Siren's Shriek
Special Z move: Black Hole Eclipse
At first, Aria was a Sirini that Nicole wasn't really expecting to meet so early in her journey but nowadays, she's glad they met. Aria uses her entrancing voice in battle to charm her opponents into letting their guard down before letting them have it with her signature Siren's Shriek move. Outside of battle, the water/dark-type uses her voice to get what she wants by charming her own trainer though her spoiled attitude mostly ends up backfiring in some way. Despite this, she enjoys Nicole's and her friend's company, having an audience to sing for. She adores singing and harmonizing as well as keeping her physical appearance in check.