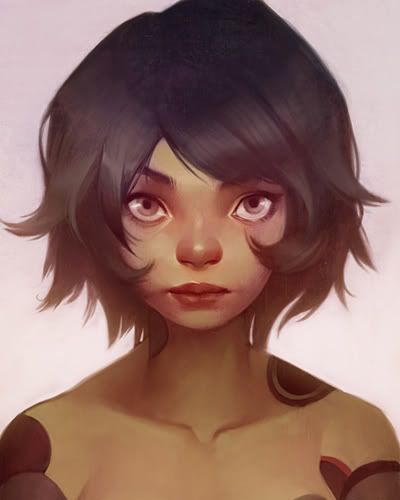 The image belongs to Loish on DA.
Age:
Unknown
Gender:
Female
Appearance:
With bobbed black hair and chocolate skin, Nikka is known as one of the smaller denizens of Wing City. She has large brown eyes and dark lips. She dresses plainly, but not poorly. It seems that the expression on her face rarely changes from a slightly worn, if alert expression, one not of joy nor sadness. Her eyes are often occupied, but looking anywhere else but at someone else's face. She is youthful in body, but, again, her eyes seem to betray it.
Weapons:
A slingshot.
Magic:
The Hounds
Eight summons that Nikka can create. Each hound has a different purpose, and though she uses magic to summon them, not all hounds are strictly of magic themselves.
Ghost Hound (Weimaraner) - Used as a tracker and a spy, the Ghost Hound can allow Nikka to see through its eyes. It can slip through solid objects and cause anomalies to occur. Though not the strongest of the hounds, this dog can pack a nasty bite.


Hell Hound (Rottweiler) - Though not literally from hell, the Hellhound, consumed by darkness, smoke, and fire, might as well have been the pet of Hades himself. One of the stronger hounds of the seven, this dog operates with offence only.


Ore Hound (Bull Terrier) - Like its name suggests, this dog can move and manipulate ore. It is one of the strongest hounds she has under her power.


Dart Hound (Borzois) A hound with a crossbow-esque weapon across its back, used to fire small projectiles, not dissimilar to arrowheads, from a distance of about a mile away. It has two modes, one for sniping, one for scatter shots with a machine gun.


Split Hound (Mudi) Also known as the Pack Hound, this dog has the ability to split itself into nine others, used to herd a target into a certain area or to swarm them.


Nightmare Hound (Doberman) Turns into the target's worst fear or into a grotesque monster.


Gale Hound (Husky) Like its name suggests, it can conjure horrible storms and control the storm effects, such as lightning.


Greyhound (Greyhound) A joke on Nikka's part, for it is the transport hound, a slick, large greyhound that can run vast distances swiftly.