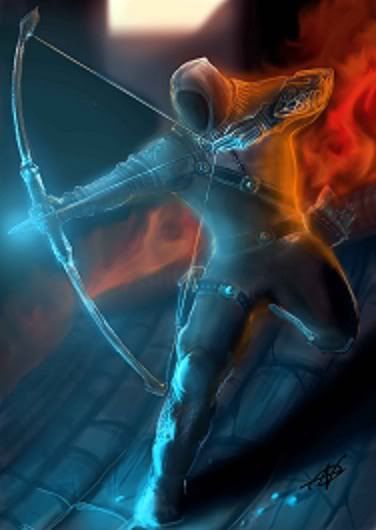 Name: Orion Draketh
Age:21
Race/Ethnicity: Human
Height: 6'0''
Weight: 175lbs
Natural Abilities: Orion possesses incredible skill with the bow. He owns many and had been taught how to use them since an early age.
Magical Abilities: Orion has enchanted his bow and can enchant his arrows to have different effects, such as: poison, shock, flame, frost, or corrupt.
Equipment: Orion always carries a bow and a matching quiver. He has many sets, ranging from Red Dragon to The Draconian Steel Compound Bow and Quiver. Along with his Bow and Quiver he has an enchantment book that he writes new enchantments in.
Personality: Orion is friendly and works well in groups, even a world class archer cannot survive a battle alone. He is not a leader however and often panics if given the leader role.
History: From a very young age Orion has learned how to use a bow. When he was seven his father died, leaving him the Family Fortune, but all Orion wanted was his family bow. When he learned that his mother had sold the bow to a trader to afford to move to Wing City. He was enraged by this and as soon as he was able he went on a quest to find his family bow. He learned after a three year quest that the bow had found its way back to Wing City. He arrived in Wing City shortly before the new year. Another tragedy befell him as soon as he arrived, his mother had died. Now, he is all alone in wing city and is looking for at least one friend.