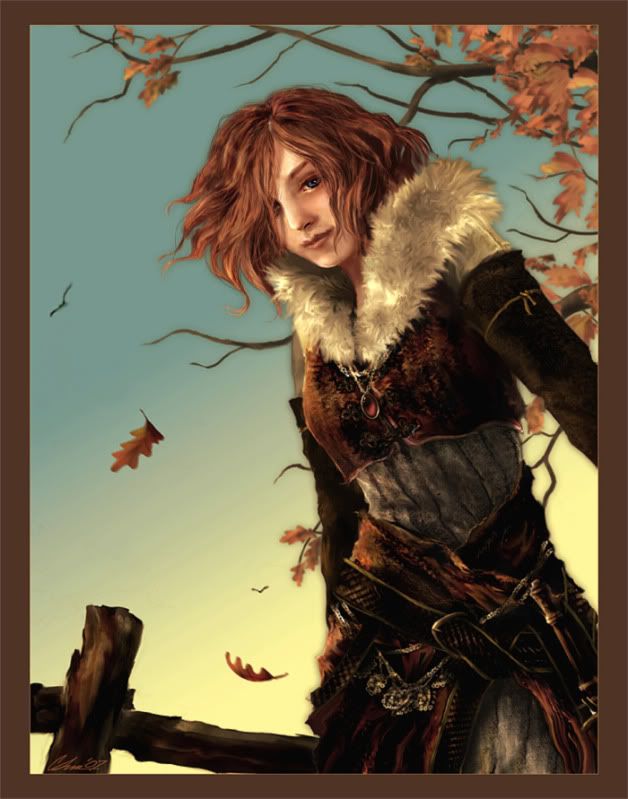 I take no credit for this image; sourced from Booru and edited by Tiko.
Name: Rhianna Thros.
Alias: Parlina
Title(s): Lady Princess - heir apparent to the throne of Orasis, despite being a bastard.
Age: Eighteen.
Gender: Female.
Race: Orasian - humanoids with extraordinary capabilities.
Occupation: Druid in training.

Height: 5'5"
Weight: 146 lbs.
Eyes: Interchangeable between aquamarine and peridot, when she is feeling positive and negative feelings respectively.
Hair: Chestnut in colour, it falls to just behind her shoulder blades when unbound but is most frequently kept in a messy bun that is incredibly lazily done.
Physique: She looks fragile, but having two boys as her best friends and a childhood of exploring forests all day long has made her resilient to the elements.
Skin Colour: Naturally quite pale, but her skin currently possesses a golden glow to it.
Memorable Features: The beginnings of her druidic markings are reminiscent on her left cheek - a faded, almost henna-like image of a lily flower.
Attire:
Her druidic robes have been reinstated since her arrival upon Terra, her pendant remaining ever-present, hidden underneath her upper layers of furs. This silvery-looking pendant is about the size of a two pound coin, with five small indents in the vague shape of a star. Only one of these is filled - the lower left hole that encases the green Crystal of the Lady.

In all outward appearances, quite a normal, everyday human, excepting the small - one and a half foot long - oaken sceptre she carries on her at all times, safely secure in a loop at her waist when not in her hands.
Equipment:
Nearly all of the Lady Princess's equipment has been gifted to her by friends and allies, her only genuine possession being the Pendant of the Crystals, a family heirloom finally given to her when she came into her inheritance at sixteen, being the only surviving child of King Laurant.



Arthos and Arthan

- These are a twin set of elongated daggers gifted to Rhianna by Juroar, her friend and ally, when he decided that she needed to learn to defend herself in a way that did not rely solely upon her natural magical talents. They are named after two of the original creators of the Crystals. The blades are made from the same metal as her pendant, the handles from oak.



Blazing Sun

- Her sceptre which was given to her by the Ural family after acquiring the item from Joseph himself not two months ago. It is a Spirit Weapon, primarily created as a conduit to strengthen the bond between the spirits and wielder, though Rhianna is capable of manipulating her abilities without it. It has chosen her as its rightful possessor, in the hopes that together, they can achieve the goals set at her feet. It is made from oak taken from an ancient druidic grove in the most northern reaches of Orasis.



The Pendant of the Crystals

- This is a pendant made from a silvery metal with only one of its five indents filled with the emerald Crystal of the Lady. It has been the family heirloom on her father's side of the family for generations, given it barely days before being transported to Terra. It allows Rhianna a mastery over earth spirits that she does not hold over the other spirits directly.



Woodsteel Breastplate

- A small silvery breastplate that has the same weighting as wood, even though it has the appearance of metal.



Nature's Guardian

- A suit of leather armor which can push or pull metal away (can basically ward off swords/bullets or force them to get stuck).



Hunter's Javelin

- Controls the ability of lightning. Bonds with the wielders soul until they die. Can be summoned back to its bonded wielder, short range only.
Magic:
Her education into the druidic arts have gifted Rhianna with a connection the natural world around her that allows her to commune with the spirits that make up the very elements around us. Parlina herself possesses no ability of her own; every feat that she performs is the act of the spirits following her instruction through their mental link. Her youth and inexperience means that she communicates best with the earth spirits that the spirit Aliana and her crystal find most familiarity, though her experience with the air spirits is allowing for understanding to come easier. It is a bond of implicit trust and respect that allows her gifts to gel perfectly with the spirits.

These spirits manifest mainly in the five main 'schools' of the crystals; air, earth, fire, life/death and water. All but life have a representative spirit, but Parlina can only commune with Aliana at will presently, though this has more to do with their shared role and blood ties than spiritual affinity.
Transcendence:

Beyond the innate link between the spirits of the world and the ever-learning druid lies a power that Parlina does not realise she possesses. All the representative spirits have, given affinity and circumstance, the ability to join with Parlina in the physical world and bestow upon her a primary and personal attribute associated with their element to bolster her survivalibility, to the exclusion of all other spirit types.
Representative Spirits:
As well as being the highest manifestation of each 'school', these spirits would be what one would see should they possess abilities that allow shifting to a plane that would allow them to see the true form of the green sparks that materialise in the physical world.