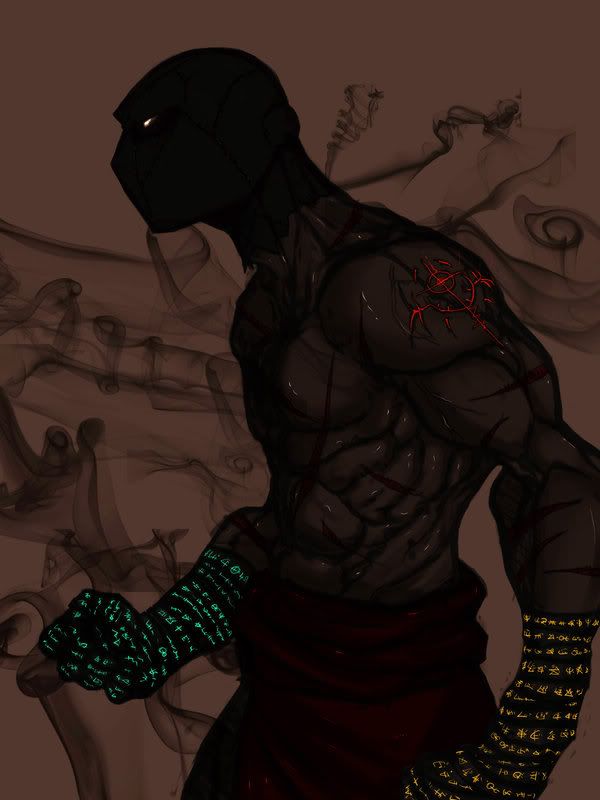 Name
: Rhemora Everto Cruor
Title/Alias
: Sanguine End
Age
: ???
Sex
: Male
Allegiance
: Himself
Tier
: High
Random Statistics
Height: 6'5
Weight: 265lbs
Blood Type: Κέρβερος
Physique: Solid, Athletic.
Iris Color: Xanthous
Natural Hair Color: Auburn.
Skin Color: Tainted, dark.
Dominate Hand: Trained Ambidextrous.
Dominate Foot: Trained Ambidextrous.
Birthday: N/a
Zodiac: N/a
Nationality: N/a
Ethnicity/Breed: The Fallen
Home World: N/a
Occupation: Harbinger of Destruction
Rank: Z
Alignment: Evil.
Rhemora Everto Cruor... A man beyond mortality who defies the will of the gods. With only his hands, he has forged his own path through history, overcoming impossible obstacles and conquering the mightiest of foes. The sins of his past weigh heavily upon his tainted soul, and in effort to attain atonement, Rhemora banished himself to the abyss... Time would pass before darkness consumed his heart- Before insanity and doubt ailed his mind... Such affliction caused the contorted warrior to ascend from his imprisonment into the realm of man once more. Convinced he was tricked into exile by his creators, only death will sate his rage, and by whatever means possible, Rhemora plans to grant it en masse.