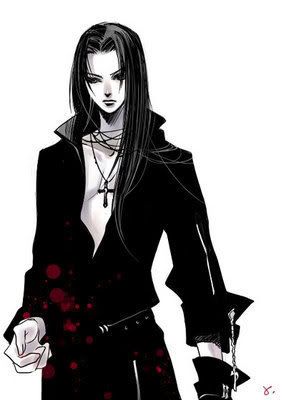 Name: Ronnie Le'Bank
Age: Unknown
Race: Vampire
Personallity: Kind, helpful, willing to talk, willing to work. Talks using Thous and thys and that kind of thing. as in "Doest thou require a drink?" He will cater to whomever he is talking to. Whatever it might be.
Scars: He has a very long triple scar from a fight he got into with a werewolf, ranging from his left shoulder blade all the way down to the tip of his right lower back.
Weapons: He carries two swords, but they are completely in a rectangular formation than the regular formation with a point to it, it has three sharp edges instead of two with a point. Used for self defense only however. He also knows a good bit of old spells that he can use to cast people out or harm them if need be. Again, he only uses these when he absolutely has to.
Special properties: He can stand in sunlight for a short while, 3 hours at the most, before starting to burn. His eyes are black with green irises instead of red.
History: Born a vampire, he grew up a very long time ago. In the time where everyone used the thees and thous and thys and that kind of thing. He tends to be a lot gentler than most vampires, and much more of a gentleman. He doesn't like hurting humans in the slightest and will only drink blood willingly given. If the human offers it directly he tries to make it as painless as possible for them. He grew up in an age where magic flourished in every corner of the world, and he even learned a bit himself. Along with forging two fairly unique swords. The one he carries on his left hip is known as Carn, the one on the right is Nodine. He prefers the way of diplomacy instead of combat. Only resorting to violence when he has to.
Now old enough that his age has been forgotten all he wants to do is to live peacefully. He also discovered a way to curb his bloodlust through a combination of sucking on both mint and sage leaves at the same time. After doing this for so long it is what turned his eyes from red.....to green.