Head of the sixth Gym; Leader of Camp Freedom; Vigilante of the free world.
"Don't mess with me; you might get burned!"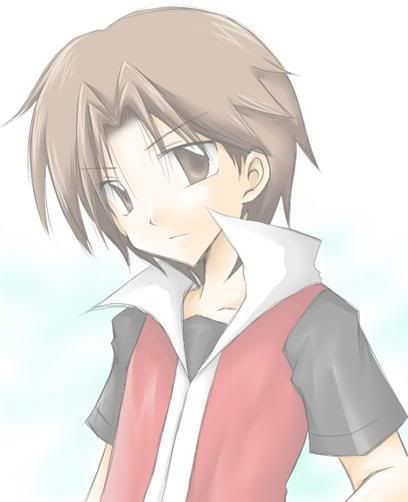 Basics

Full Name
Samuel Robert Midori
Nicknames
The Scythe; Sam
Age
Eighteen
Sex
Male
Hometown
Lavalava City
Job(s)
Gym Leader No. 6 (fire-type)
Leader of Camp Freedom
Theme Song
"Citizen Erased" - Muse
---
Appearance

Face
Sam has a serious look on his face almost constantly, rarely cracking a smile. This viewpoint is shown clearly through not only his skinny lips, but also his eyebrows, which are constantly disguised by a cover of thick, messy brown hair. This hair is so messy, in fact, that he doesn't attempt to stop its wild, sporadic revolution around his skull, particularly when heavy winds blow. His brown eyes are wide and charming, sparkling to show his approval of anything.
Body
Though a legal adult, Sam does not exactly have the stature or girth of a young man. He only reaches 5' 7" in height, and he has the proportionality of a middle-schooler. His skin is particularly pale in color. However, his lack of physicality is redeemed by his wiry build, which definitely allows him to be as agile and resilient as a scrawny weed. These qualities are reimbursed by his weapons training, which excludes firearms but extends to pole arms. Strange in this day and age, but he had to get the nickname somehow. His posture is that of a natural leader. One can occasionally find burn marks on his hands and arms.
Clothing and Equipment
Sam wears the clothing of a typical Pokemon trainer, allowing him to blend with large crowds in competitive settings. He favors a red-and-white vest with a zipper down the front and a collar, easily poppable. Beneath this, he wears a black muscle shirt, extra-small. Pity about his petite stature, y'know. Other than that, he carries his Pokeballs on his belt like any normal person.
---
Personality

Personality Information
Sam has a personality like ashes most of the time. He tends to be reserved, focused, and a bit anal about small details. He has a very calm demeanor when he wants to, making him an ideal leader of panicked people on the run from a corrupt society. He is single-minded when focusing. He is hard on himself and doesn't take the time to enjoy life the way a young boy should. When someone is in danger, he gains nerves of steel, exposing a cold fire in his belly. He is willing to risk his life for a stranger. Similarly, there is nothing which he hates more than the mistreatment of humans or Pokemon by cruel people. A side note: he is a bit of a pyromaniac. Duh.
Virtues
Selfless, dedicated, leader, focused, calm, level-headed, kind, protector
Vices
Anal, hard on self, detached, cold, angry at times
Alignment
Chaotic Good
Fears
Enslavement, death of Pokemon, death, cold weather, bindings, deep water
Quirks
When deep in thought, he likes to pass his finger through the open flame.
---
History

Childhood
Sam was born in Lavalava City to a pair of well-to-do ex-trainers. Essentially, he was raised to respect and love Pokemon with his entire being. His older sister Sarah Midori was born six years before him, allowing them to get along as nicely as brother and sister could. Also, she left home at the age of ten to become a Pokemon trainer with her Torchic. She visited rarely with stories of how amazing it was to see the world. She ended up going the route of Pokemon Coordinator, but she also sparked a desire for Pokemon in young Sam.
The best day of Sam's life was his tenth birthday, when he received a young Growlithe. Delighted, he went on a brief journey to a nearby big city; however, he quickly decided that being a traveling trainer wasn't for him. Instead, he honed his battle techniques in his very own home, constantly challenging his father (the previous Gym leader) and asking for advice, which was obliged.
Throughout his time as a youth, Sam loved training with the Growlithe and, later, his Scyther by his side. He would leave Lavalava City and go as close to the hot lake as he could without burning alive and practice a version of tae-kwon-do that he'd begun to learn. More importantly, he began take a practice sword with him and duel with his Scyther, which eventually contributed to his scare nickname "The Scythe".
Teenage Years
Upon reaching the age of thirteen, Sam was still the skinniest and shortest kid his age in town. He found himself constantly teased for this by the older boys, while girls that sprouted taller than him declined him for dates. As a result, he did not have any friends at all. Well, except for his Pokemon. He found a knack for exploring and he spent his days wandering around Lavalava City and the nearby volcanic mountains.
During this time, Sam grew up. He also found many useful items, such as a Fire Stone, which he saved until very late to use on his Growlithe. He also caught his Charmander and Torkoal in this manner. He taught himself how to fight like a fire. Fires began humbly and grew quickly to a massive inferno. Seeking to emulate this style, he practiced daily by fighting his own Pokemon. Not only have his Pokemon learned how to fight like fire, but he has as well; with his tae-kwon-do, he can take on Pokemon and human opponents of all sizes - with the exception of Pokemon cruel enough to use elemental attacks on a human boy.
However, this 'blissful' childhood could not last long.
With rumors of Team Chain spreading across the region, the sixteen-year-old's parents went away to try and stop whatever was causing such a mess. They did not return, and Sam assumed the worst.
Camp Freedom
After his parents' supposed death, Sam went cold. He had caught all the Pokemon he needed, so he challenged the former Gym Leader and won with ease, firmly claiming it as his own Gym. How rude; however, it brought an age of prosperity to the town. Sam became known for his justice in dealing with crime.
However, more and more people were fleeing to Lavalava City to avoid Team Chain; there simply wasn't enough room. Therefore, Sam organized Camp Freedom, which is basically a refuge camp in the wilderness. He spends much of his time transporting supplies (food, water, building equipment) from Lavalava to Camp Freedom, where he became known as 'The Scythe'. This camp is located far enough from the Team Chain base in Lavalava that he has to fly on his Charizard with the supplies to get there in a reasonable time. They are presumably sa
Furthermore, he has more recently started directly attacking Team Chain members. Because he prefers to use his Scizor on these excursions, he's furthered his nickname. He lives in constant vigilance in case his identity leaks out; since he lives in a small house lowered close to the lava surface, he simply retracts the bridges to and from his home during the night.
---
Pokemon and Gym Stats

Pokemon Type
Fire
Battle Style
Give the enemy a false sense of hope, and then incinerate them.
Gym Location and Layout
The Gym is a series of bridges suspended over hot lava. Don't slip. Sam waits in his house in the middle of the lake. The battle will take place upon a wider series of platforms, which are suspended at different heights. But slow down, hot shot. If you want to cool this raging badge, you'll need to prove your benevolence toward Pokemon first.
Gym Leader Team
Arcanine, Charizard, Torkoal, Scizor
Victory Prizes
Sixth Gym Badge
TM 61: Will O' Wisp
Scythe's Number
---
Pokemon
Crimson
Level 36
Male
Species:
Arcanine
Nature:
Bold
Item:
Leftovers
Ability:
Intimidate
Moveset
???
???
???
???
Personality
This Arcanine is not going to back down from a challenge. He has been with Sam all his life, so he will defend his trainer until the end. Speaking of which, he's a great Pokemon for defense. Other than that, he can be quite playful with people he knows and likes; he greatly enjoys belly rubs and hot sulfur baths.
History
Crimson was a gift for Sam when the boy was ten and the pup was just a baby. He found himself in good hands and grew from an eager puppy who couldn't get enough attention to a magnificent creature who will do anything to stand up for his master. His evolution took place at Level 35, after he had learned Flamethrower. Sam was sixteen at the time.
Battling Skill
???
Torch
Level 37
Female
Species:
Charizard
Nature:
Timid
Item:
Expert Belt
Ability:
Blaze
Moveset
???
???
???
???
Personality
For a Charizard, this sweet thing is polite and timid, making it a nice household lizard. She does have a temper, though sometimes she's afraid to use it. She would prefer to flee if things get tough in battle. While she doesn't particularly care if someone insults her, she will firmly stand up for her trainer or fellow Pokemon. However, even Sam should take care to step off if she's PMSing. After all, burns can hurt even the most hardy trainers. Torch greatly enjoys making light rain and snow turn into steam. She loves visual effects.
History
Torch was Sam's third Pokemon. He found her when she was just a Charmander during one of his training sessions by the lava lake. Instead of trying to run like a normal, sane Pokemon, she wandered over and attempted to join in the fifteen-year-old's training session. Likewise, Sam didn't try to catch her, instead allowing her to gently spar with Crimson, who was still a Growlithe. She ended up following him home, upon which he claimed her. She grew quickly into the full-grown lizard that she is today.
Battling Skill
???
Mt. Doom
Level 36
Male
Species:
Torkoal
Nature:
Relaxed
Item:
Quick Claw
Ability:
White Smoke
Moveset
???
???
???
???
Personality
Despite his uncanny name, Mt. Doom is one of the most laid-back Pokemon ever, more suited to serving tea than serving up battle moves. This Torkoal is slow and steady, not wanting to disturb peace and quiet. Doom seeks harmony with other Pokemon and with nature. He enjoys long walks with his trainer and watching the sun rise and fall.
History
Mt. Doom was almost abandoned at a young age. His first trainer was a fiery young man from Lavalava City who wanted to win the Torkoal races. Unfortunately, Doom, had other ambitions and refused to even race. As the trainer yelled at his Pokemon, fourteen-year-old Sam decided to do something and approached, offering to pay a small fee to have Doom. The other boy agreed, disgusted with both his Pokemon and Sam for wanting such a useless creature. It was because of this occurrence that Sam vowed never to let anyone abuse a Pokemon, a belief which has influenced his prerequisite for battling him as a Gym Leader.
Battling Skill
???
Blade
Level 37
Female
Species:
Scizor
Nature:
Rash
Item:
Life Orb
Ability:
Technician
Moveset
???
???
???
???
Personality
Blade really is defined by her nature. Like her master, she never hesitates to stand up for herself - often at the expense of common sense. She is easily offended and takes harsh actions to get revenge. More than once, Sam has been forced to attempt to restrain the hefty Pokemon, only to injure himself in the process. However, this also allows master and Pokemon to communicate without even speaking at times. Blade loves flying and harsh weather; however, she sometimes wishes that she didn't live on a volcano, due to her weakness.
History
Blade grew up as the egg baby of a rich man. He didn't particularly care for her, as her purpose was to sell her for money. However, no one would buy her for the longest time because of her fiery nature. Finally, Sam visited her city on his brief attempt at becoming a Pokemon trainer and bought her; he didn't think to check her personality, since he was only twelve at the time. Luckily for both, the pairing worked out great. Since then, she has become the 'sole Pokemon' of the vigilante trainer 'Scythe'.
Battling Skill
???
Slash
Level 24
Male
Species:
Kirlia
Nature:
Lonely
Item:
Fist Plate
Ability:
Synchronize
Moveset
???
???
???
???
Personality
Slash is a lonely Pokemon. Oftentimes, this Kirlia seems sad or depressed, as he is in need of a great deal of emotional support. He broods quite a bit about his past, but he is slowly recovering from this tragedy. He finds solace in combat work, particularly that with a sword. He's also grown to love heat and fire.
History
Slash was born into the hands of a good Pokemon trainer, who was delighted with him and his abilities. He quickly evolved under this trainer's influence. However, Team Chain ended up stealing him, which resulted in three horrible years of slave labor, upon which every ounce of self-worth that Slash had vanished. It was thanks to Sam (or, rather, The Scythe) that Slash even made it out alive, since his trainer was ransacked in one of Sam's raids. Since then, Sam has made an effort to make him feel comfortable around him, as well as prepare him for a future as one of the most powerful and prized Pokemon in the region.
Battling Skill
???
---
Character Sheet
Anyone may use this sheet.
Code: Select all

[center][b]References[/b]

[i]Catchphrase[/i]

[img]Picture[/img]

[b][i][size=140]Basics[/size][/i][/b]

[b]Full Name[/b]


[b]Nicknames[/b]


[b]Age[/b]


[b]Sex[/b]


[b]Hometown[/b]


[b]Job(s)[/b]


[b]Theme Song[/b]


[hr][/hr]
[b][i][size=140]Appearance[/size][/i][/b]

[b]Face[/b]


[b]Body[/b]


[b]Clothing and Equipment[/b]


[hr][/hr]
[b][i][size=140]Personality[/size][/i][/b]

[b]Personality Information[/b]


[b]Virtues[/b]


[b]Vices[/b]


[b]Alignment[/b]


[b]Likes[/b]


[b]Dislikes[/b]


[b]Fears[/b]


[b]Quirks[/b]


[hr][/hr]
[b][i][size=140]History[/size][/i][/b]

[b]Childhood[/b]


[b]Onward[/b]


[hr][/hr]
[b][i][size=140]Pokemon and Gym Stats[/size][/i][/b]

[b]Pokemon Type[/b]


[b]Battle Style[/b]


[b]Gym Location and Layout[/b]


[b]Team[/b]


[b]Victory Prizes[/b]


[hr][/hr]
[b][i][size=140]Pokemon[/size][/i][/b]

[b][url=Picture URL]Nickname[/url][/b]
[img]Pokemon Avatar[/img]
Level
Sex
Species: [url=http://pokemondb.net/pokedex/species]Species [/url]
Nature: [url=http://pokemondb.net/mechanics/natures]Nature[/url]
Item: [url=http://www.smogon.com/dp/items/item]Item[/url]
Ability: [url=http://pokemondb.net/ability/ability]Ability[/url]

[u]Moveset[/u]
???
???
???
???

[u]Personality [/u]


[u]History [/u]


[u]Battling Skill[/u]
???[/center]