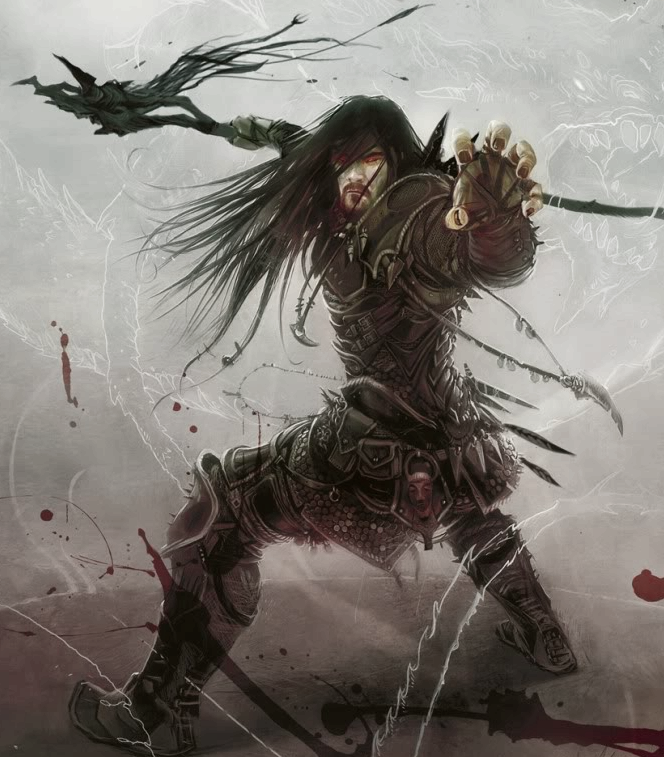 S
ayyid has the appearance of a raggedy adventurer, his long black hair draped around his shoulders that smells of heavy incense and lavender, unkempt goatee and a collection of necklaces made out of demon teeth, animal claws and other trinkets.
Sayyid Oathbreaker once served as a village shaman in the outskirts of some tribal realm, serving his people faithfully till he met the love of his life, it was only a month before they were betrothed to each-other. Before the day of the wedding, Oathbreaker decided to cast the bones and see where his relationship would go... The sorcerer fled that very night, leaving his village and escaping into the night with a broken heart and utterly petrified at what the future held for him.
Sayyid left with the name Oathbreaker and with nothing but the charms and armour upon his back.
Spells & Abilities:
Sayyid has studied many forms of sorcery and divination, a skilled seer with the guts of dragons and princes. The oracle knows how to cast simple shields, see the future and throw fireballs, just like any other mage worth his salt.
However, Sayyid has an aptitude for seeing the future and enchantment. The catch is that his magic is purely fuelled by the lifeblood of others. Guts, blood and drugs power the enchantments and give unique insight to Sayyid.
The more powerful enchantment and the more detailed the predictions get, the more blood is needed.
Charms:
A small sculpture of a face hangs from Sayyid's belt, the face is the artistic visage of some forgotten deity. The trinket gives the wearer an unyielding immunity to mental attacks, any of those who attempt to read his mind and subjected to various debauched and disturbing mental images of torture, killings and other unspeakable things.
Two necklaces swing from Oathbreaker's neck.
The first is the tooth of a shark, viciously sharp and supposedly gives the wearer the senses of said predator. The downside to such a trinket is that it also gives the wearer the weaknesses of a shark.
The second necklace is of an oversized talon. An educated guess would be that it once belonged on the paw of a mighty dragon. The truth is that it once belonged on the wing-tip of a wyvern, still amazingly poisonous since it's removal. The talon gives it's bearer the ability to secrete poison from their fingertips. The poison is highly venomous, and causes the blood to thicken and congeal slowly within the veins.