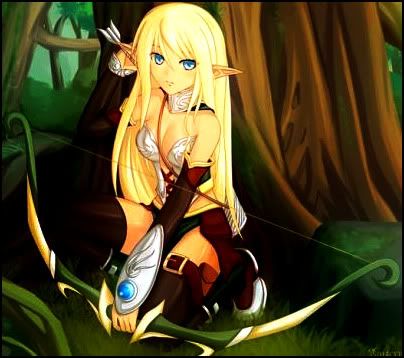 [.:|General Information|:.]
Full Name:
Serenity Noel
Alias:
Noel, Serenity, Ser, Nity
Title:
Dealer
Gender:
Female
Age:
22 years old
Species:
Human
Breed:
Elf
Personality:
Serenity has a very caring nature about her personnel, though she rarely shows it and seems to have a shell, which no one can get through. Hardly anyone knows who she is, where she is going, or why she is there, but those who do are very close to her.
Description:
She has a very slim figure, though hardly any of it is muscle except her her arms, which have to be so that she can pull back her bow. Under Construction.
[.:|Outside Relationships|:.]
Occupation:
Ranger / Mage
Position:
Rogue
Alliance:
Greater Good
Companion/Pet:
None
Owner/Master:
None
Mentor:
None
Apprentice:
None
Parents:
Unknown
Siblings:
None
Marital Status:
Single
Offspring:
None
[.:|Heath + Skills|:.]
Abilities:
[-]
Healing Wounds
[-]
Charged Arrow
[-]
Multiple Arrows
[-]
Elemental Arrow
[-]
Subjected to change
Disabilities:
[-]
Weak
[-]
Strong sense of flight
[-]
Highly affected by death
[-]
Subjected to change
Hand Coordination:
[

♦

][

♦

][

♦

][

♦

][

♦

][

♦

][

♦

][♦][♦][♦]
Feet Coordination:
[

♦

][

♦

][

♦

][

♦

][

♦

][

♦

][♦][♦][♦][♦]
Reflex:
[

♦

][

♦

][

♦

][

♦

][

♦

][♦][♦][♦][♦][♦]
Energy:
[

♦

][

♦

][

♦

][

♦

][♦][♦][♦][♦][♦][♦]
Speed:
[

♦

][

♦

][

♦

][

♦

][

♦

][

♦

][

♦

][♦][♦][♦]
Balance:
[

♦

][

♦

][

♦

][

♦

][

♦

][

♦

][

♦

][♦][♦][♦]
Strength:
[

♦

][♦][♦][♦][♦][♦][♦][♦][♦][♦]
Sense of Flight:
[

♦

][

♦

][

♦

][

♦

][

♦

][♦][♦][♦][♦][♦]
Muscular Build:
[

♦

][♦][♦][♦][♦][♦][♦][♦][♦][♦]
Mentality:
(Stable)
[

♦

][

♦

][

♦

][

♦

][

♦

][♦][♦][♦][♦][♦]
Intelligence:
[

♦

][

♦

][

♦

][

♦

][

♦

][

♦

][

♦

][

♦

][♦][♦]
[.:|History|:.]
Under construction