Gritz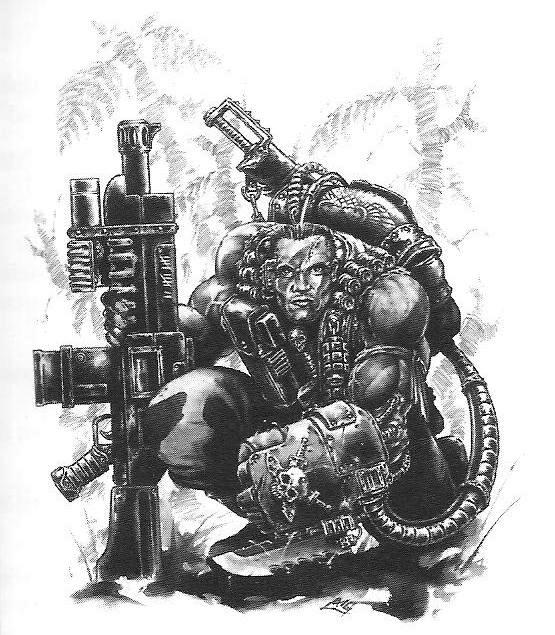 Name: Drisean Gritz
Nickname: Deathrage.
Regiment: 1st Catachen, posted on Terra
Features : A large Scar on his face.
Rank:Sergeant
Mind: Gritz has the respect of Stracken due to his Commands to his squad and the way he follows orders.
Saying: "Does He have to do everything?"
Height: 5' 11"
Weight: 125 kg
Weapons : Shot gun and power fist.
Friends: Stracken.
Sexual: Heterosexual
Sex: Male
Likes: Killing traitors.
Gritz is a Segeant in the Imperial Guard with a Shot gun. He has followed Stracken into battle for many years now and has been shot in the head with an M-16 due to a Soldier in the Multiverse. Now Gritz as a huge hole in the middle of his fore head. It was stopped about a cm into his head thanks to his Helmet. He has a large scar down the middle of his face thanks to a Space marine traitor.
Gritz is now the last member of the 1st Catachen due to another regiment calling Stracken a traitor. Gritz is now a easy to piss off man ready for anything. He was there when Stracken was attacken by the land shark and went into no mans land to get the parts Stracken needed. This was without orders. When asked by his commanders why he just states,
"I was bored sir. And Stracken needs the parts." Gritz has been on the firing end of a Commissar's bolt pistol just to be stopped by Stracken or men of a higher rank in the regiment. Gritz has been in the fight himself but has always came out safe with a bullet in his armor or on his clothes.
Gritz is into heavy metal music and feels that most of the songs suit a time and place on Terra. As an off worlder most people do not get on with him that well. On his home world (Catachen) he was a gang member who then started to kill the beasts that hunted people in the main citys. He could not look the beasts in the eyes ad it would kill him\ stun him so the beast could eat him. He knew that all to well that due to seeing a man trying to do the same thing being killed thabks to looking into the eyes of the beast. He killed the beast after tracken it for an hour. As he found it it was killing someone else so he killed it.
On that very day he joined the 1st Catachen and was promoted due to the amount of teeth and horns he had. He was given a hot shot las-carbine, a rare issue to someone who was not a Imperial Stormtrooper.