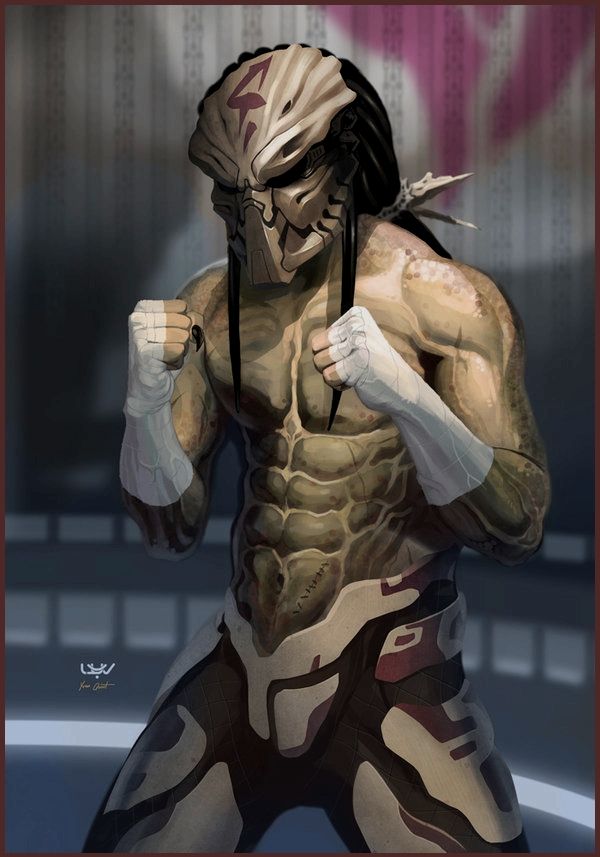 Skaarj stands at 8 foot and weighs 375 pounds. Pure muscle and rage condensed into a reptile/humanoid physiology. Skaarj hails from a desert planet somewhere in the Terra System. Skaarj knows many martial arts and trains every day, giving him a peak physical standard similar to a bodybuilder in human stature.

Translation:
"Regeneration"
Skaarj being of the lizard family has the innate ability to regenerate lost limbs at a rapid rate, from bone, sinew and flesh. This process can take up to thirty minutes to a day depending on the extent of the damage. If Skaarj was attacked by any flame-based or energy-based weapons, the process is slowed considerably, even stopped.
Translation:
"Mask"
Skaarj's culture has a deep belief in the ability of stealing someone's identity is as simple as revealing your face to someone with cruel intentions towards you. A face is a sacred thing. Skaarj has an air-tight, impossible to remove without surgery mask to protect his face from those who would seek to taint his reputation and life.

Translation:
"Physical Prowess"
Skaarj has been trained in the art of hand-to-hand combat since he was a child. Skaarj's culture trains from birth. A common insult to them is 'They fight before They walk'. Skaarj is quick, powerful and tends to fall into a rhythm of punches and kicks. A single punch from Skaarj is powerful enough to put dents in stainless steel. His kicks are even worse.