Welcome to the Kaiba Corp Duelist Data Base!
...
Please Enter Pass-Code: *******
...
Processing...
...
...
Welcome, Seto Kaiba!
...
Accessing Duelist Data for: Vincent, Sol
...
Accessing...
...
...
Success!
...
...
Viewing Pofile: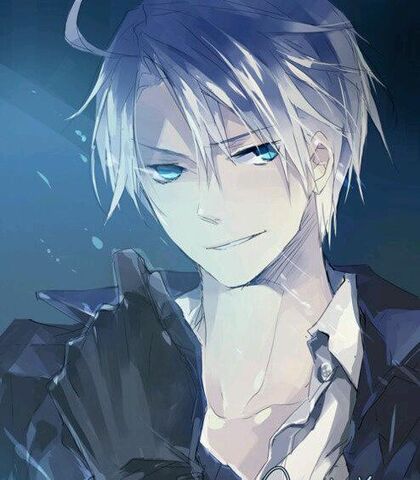 Name/alias:
-Sol Vincent
Age:
-20
Personality:
-Normally
--Calm
--Kind
--Shy
-When Dueling
--Cool
--Collected
--Thoughtful
--Overconfident
Physical Appearance:
-Height:
--6'1
-Build:
--Toned
-Hair color:
--White
-Eye color:
--Blue
-Skin Tone:
--Fair
-Clothing:
--White Overcoat
--Blue shirt
--Grey Pants
--Black shoes
-Armor:
--None
-Weapon(s):
--Fists
--Deck
-Accessories:
--Duel Disk
--Belt that holds his Deck.
Health:
-Physical:
--Healthy
-Mental:
--Stable
-Spiritual:
--N/A
Abilities:
-Physical:
--N/A
-Powers:
--Shadow Realm
---Makes any monsters he summons from his Deck become Real. Any Damage afflicted to his or his opponent's life points are taken out on their bodies as well.
----Since the Monsters are real, they can damage the surrounding area.
--Lucky
---He seems to almost always be able to summon out his ace monster.
--Spirit Sight
---He can see the spirits of monsters within the cards. He frequently reports seeing the Maiden With Eyes of Blue, though she normally doesn't talk to him, nor him to her.
----Maiden With Eyes of Blue:
(Note: Round attributes to nearest number. Ex: 8.5=9/8.4=8)
Attributes:
--Attack
---5/10
--Defense
---6/10
--Strength
---5/10
--Speed
---7/10
--Agility
---4/10
--Stamina
---9/10
--Awareness
---9/10
--Intelligence
---8/10
--Skill
---8/10
Weaknesses:
-During a Shadow Game, the monsters are brought to life by using the will power of the Duelist, if he isn't mentally strong enough, he may collapse.
Deck:
-A custom built deck centered around the Blue Eyes White Dragon.
--Card List:
---Monsters:
----Mirage Dragon, Shining Angel, Rabidragon, X2 Kaiser Sea Horse, Kaibaman, X3 Blue Eyes White Dragon, Herald Of Creation, The White Stone Of Legend, Honest, Flamvell Guard, Copycat, Guardian Angel Joan, Trap Reactor Y FI, Maiden With Eyes Of Blue, Rider Of The Storm Winds, Divine Dragon Apocralyph, Alexandrite Dragon, Spell Reactor RE, Curse of Dragon, Luster Dragon, Hieratic Dragon Of Tefnuit, Red Eyes Black Dragon, Malefic Red Eyes Black Dragon, Malefic Blue Eyes White Dragon
---Spells:
----Silver's Cry, Gravekeeper's Servant, A Wingbeat of Giant Dragon, Dragonic Tactics, Stamping Destruction, Soul Exchange, Domino Effect, Dark Hole, Monster Reborn, Lightning Vortex, Burst Stream of Destruction, X2 Fighting Spirit, Dian Keto The Cure Master, Swords of Revealing Light, One For One, White Elephant's Gift, Trade In, Malefic World.
---Traps:
----Slip Of Fortune, Memory Loss, Castle Of Dragon Souls, Damage Condenser, X2 Depth Amulet, Defense Draw, Kunai With Chain, Champion's Vigilance, Compulsory Evacuation Device, Sakuretsu Armor, Fiendish Chain, Trap Hole, Scrap-Iron Scarecrow.
---Extra:
----Azure Eyes Silver Dragon.
-Legal Card Limit:
--40-60
-This Deck (Not including Extra Deck):
--60
Card(s) and their effects are used appropriately during RP use. Before each duel, I (Scorpion01) will, personally shuffle these cards (since this deck is actually mine) to avoid God Modding with the Lucky ability I have given this Character.
Picture(s) do not belong to me, and will be taken down if asked.