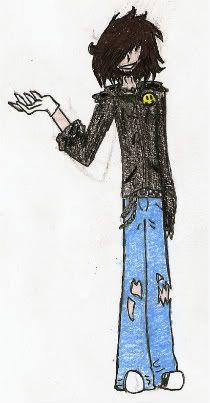 His form could not be described as intimidating - his frame slender and height only 5'6", his strength slightly greater than his visible muscle. His skin is pale, his hair wavy and roughly shoulder-length, appearing dark brown in some lights and black in others. His eyes are black-brown like his hair, but almost always hidden by his bangs. He occasionally wears a top hat to help conceal them further. He often has a very short beard, but sometimes he'll shave this if he gets the chance. His features are, if not quite handsome, not unpleasant to look at. His smile, though charming when he wants it to be, is rather chilling. His attire consists of a black zipped-up hoodie and light blue jeans that have ragged holes in the knees, both quite obviously old and dirty. The front of his hoodie is adorned with numerous safety pins and a smiley face button. The two chains at his side are from his wallet and pocket watch; the sound of these chains is often disorienting to his victims. He always wears white dress gloves and rarely takes off his black Converse high-tops.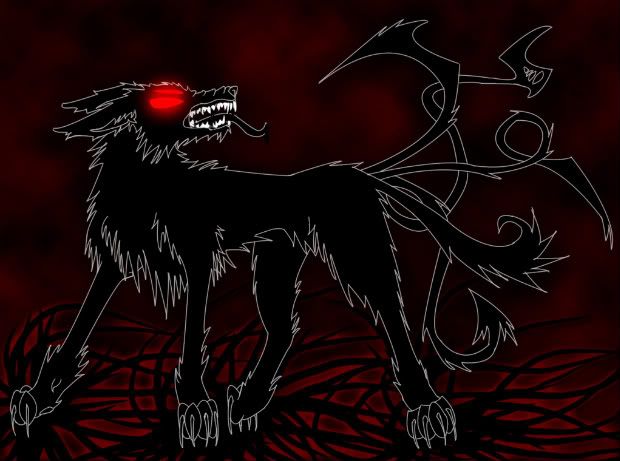 In his true hellhound form, which he rarely takes, he's a little larger than a wolf. His 'fur' is black and partially made of shadow, which gives it a sort of flowing, almost fiery quality. He has four glowing red eyes, one pair above the normal pair, and five tails; one similar to a wolf's, one ending in an arrow, one ending in a scythe-like shape, and two ever-changing in shape. His tongue is pointed and can extend out a little more than a foot in length.
Notable demonic attributes include:
- Speed: He can move so fast he becomes invisible, almost as if he teleports. Most demons only have one "super" ability, thus his other physical abilities like strength and flexibility are only slightly above human average.
- Olfaction: His sense of smell is phenomenal - well, about that of any canine's, really. Again, most demons only have one "super" sense, thus his other senses like hearing and sight are only slightly above human average.
- Blood: Demon's blood is black and semi-sentient. It repairs even extreme damage to his body very quickly, except for burns from the sun, something holy, or a wound received in a dream/nightmare. Being semi-sentient it can move on its own outside his body and even infect people, granting the host its regenerative abilities but making them violent and almost feral.
- Dream Manipulation: When a human is sleeping Syde can manipulate their dreams at will or even slip into them himself.
- Telepathy: He can communicate with others completely through thought. This is an ability demons gain with age, and as old as he is his telepathy can be crystal clear in someone's head. Though he can read minds with this, he can't brainwash.
- Darkness: All demons have the ability to take the form of a shadow, phase through solid things(as long they're not blessed or something), and turn off electrical lights/put out small fires at will.
- Sunlight: He burns to ash in sunlight, with no hope of regenerating. If he gets a burn from being briefly exposed to it, his blood can't repair it, so it will heal at human speed. A burn from normal fire, however, his blood can repair.
- Holy: Holy things such as crosses, holy water, or anything genuinely blessed burn him like sunlight. These are usually only annoying though; he doesn't mind getting a cross-shaped burn here or there. Having holy water splashed in his face, however, would be more than a nuisance.
- Sleep: Syde falls into a deep sleep during the day, almost like hibernation. He can't help it and he can't be woken and he can't dream; thus, he always has a number of safe places to sleep during the day. He's capable of falling into a normal sleep at night, but he never does this, because should he dream any damage received in a dream would damage him in reality and his blood can't repair it(i.e. if he gets stabbed in a dream, the stab wound actually appears on him and has to heal at human speed).