Name: Temperance Faridine
Age: Unknown
Race: Werewolf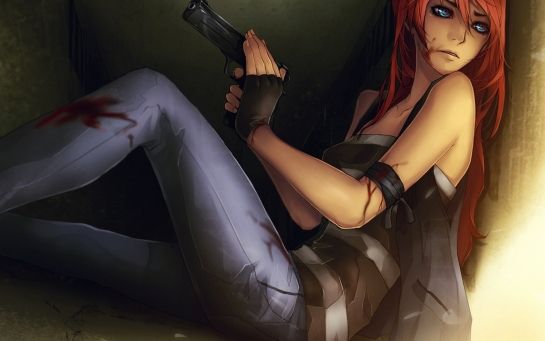 Weight: 124 lbs
Height: 5'4"
Hair: Red
Eyes: Deep blue
Weapons training: Pistols
Weakness: Silver, but much more extreme. It acts in exactly the same way kryptonite does for superman. Just getting near it is enough to send her to the floor.
History: As a kid she grew up normal, as a teen, she was fairly popular while still being smart. However that all changed when she was coming home from a small party at a friend's house late one night. Suddenly tackled and bitten by what seemed to be a very large wolf. As she was laying there on the ground, unable to fight the large bipedial wolf...someone....or something, knocked it off of her. As soon as she could she ran straight home. Unfortunately it was too late for her, she had suffered enough to at least get part of the transformation. As she got home crying and covered in blood...her parents freaked out. Her eyes and teeth were different...her voice sounded rough....strained....like she wasn't their little girl anymore. As soon as they could her parents kicked her to the curb. Branded a monster by her own family.
Now, years later, she's matured a bit to control her shifting abilities and her strength. Having to do so on her own, no one to help her. Always on the run from different packs of werewolves due to what she was. All the powers and abilities of a werewolf, even with a more extreme weakness to silver, without having to look like a total monster. They were jealous. All they would love to do is to get their hands on her and tear her apart. Limb from limb. Why should she get this when so many before her, who would have earned the right, deserve it more?