I'm going to be blunt with this...
Tempo is usually seen with light purple, lilac, or mauve colored hair. His hair reached his lower back. Bright crimson red eyes are set in center of pale creamy skin. His small face is framed by his violet bangs. His build is very thin and light; He's very short for his age, ( which is 14 ) but appears about nine on the runt side. His fangs are about two inches in length. His nails are normally long and sharpened. He will most likely be seen in denim pants and a coat lined with rabbit furs. Has not mastered any Draconic poly morphs.
Build: Lithe body frame a kin to that of a dear
Eye Color: Lust Red
Skin Color: Soft ivory.
Hair: Pale violet.
Facial Features: Large, mischievous eyes. Childish face. Seems very youthful. Looks younger than his true age. Sharp fangs give a slight touch of viciousness.
Other Appearance: Elongated sharp nails, Long soft Pointed ears that move in various direction like radars.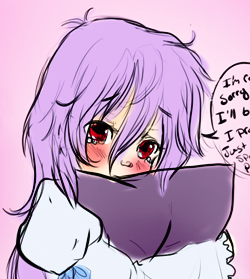 Gender: Boy
Height: 4'5''
Weight: 65 lbs.
Hair color: Pale violet, lavender, mauve and soft lilac.
Eye color: Alternates between pools of roseate, and orbs of a cool blush or sometimes appear to be Lust Red.
Skin color: Pale like the moon; cream, pale plains of creamy white, enveloped his small frame.
Build: Lithe body frame a kin to that of a deer.
Typical Attire:
Race: Other
Birthday: April 7th (picked by Charlotte and Tempo together~)
Appearance: Seems very youthful. Large, curious, feminine or elegant eyes, that seem to shine like stars, often holding a mischievous sparkle. Childish, very smooth, doll-like face. His nose is small and straight. He holds a cherub like appeal seemingly almost angelic with such soft features.