First thought to be a group of ragtag warriors that seek to free Terra from foriegn rule. It has been shown that the TLA is in fact part of the Armed forces of the Terra Nova Emipre
(warning WIP)
The men and women of the Terra Nova are a varied bunch an it is hard to nail down sometime what each trooper or marine might be but here we will try to break it down as best we can...
First the "Trooper". The Term trooper is very broad in the TLA...
Terran Trooper - this is your basic soldier. Their basic armor is based off of that of the Imperial Guard of the Imperium of man. They field many types of guns from lasguns, Plasma rifles, gauss guns, and Aschen disrupters. anything they can get their hands on really.
Mage - a spell caster some are armored but some are not depending on the type of mage they are
Cleric - A healer and protector with divine magic most often devoted to a god or goddess.
Medic - Like a cleric but heals with out magic
Heavy Trooper - more armored than other troopers and often armed with heavy weapons such has Gatlings and RPGs
Comandos -spec ops troopers and snipers
Next are The Marines. these are elite soldiers of the Terra Nova Empire armored in powerful power armor.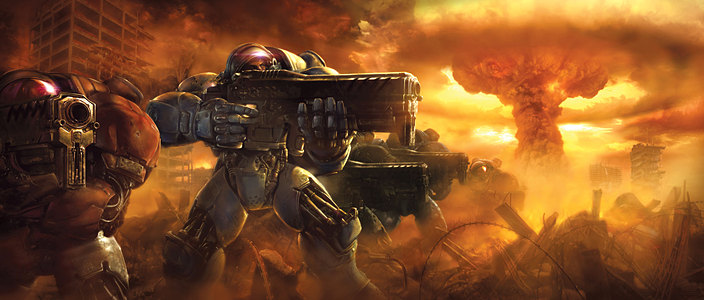 Terran Marine - the basic Terran marine normal pulled from the troopers that have preformed well. clad head to toe in power armor and carrying basic gauss rifles.
Dragoons - equipped with a jet pack these marines are death from above using their jets back to jump over walls and rain death down with their dual bolt pistols.
Firebats - clad in heavy fire proof armor these marines are a fury of flame on the front lines using their flame throwers to burn though all before them as their thick armor makes bring them down hard work.
Valkyries - Female elite healers that wear power armor and carry large shields they use healing magic and tech to heal the wounded
Next are the elites really there is only one unit that fights in this group and it is the Ghost.
Much about Ghosts is classified... if Fact Ghost don't even officially exist. They have Psionic powers and guns that can blast right though tanks. Many also carry blades of some sort. Ghosts live up to their name with their cloaking never being seen unless they want to be... ghosts have other tech and skills depending on the ghost and on their mission.
The TlA uses many types of vehicles from simple armored trucks to mighty Battle Cruisers.
All air based vehicles of the TLA other than the Banshee and older style airplanes can operate in the air, in space, and underwater.
The TLA will use any vehicles they can get.. and will use ships of other factions if they can get their hands on one. Once they get a ship from another faction they will work on ways to make their own versions of them. But no faction can rely solely on barrowing the tech of others. So here are a few of the TLA's own.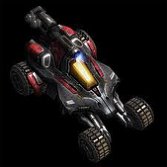 Hellion - Fast and light the first designs only had a flame thrower but the engineers of the TLA have added mounted guns and rockets to add more ranged attacks
Siege Tank - a tank that can fight as a normal tank or it can stop and enter siege mode where it will become like a cannon used for breaking down defences from afar.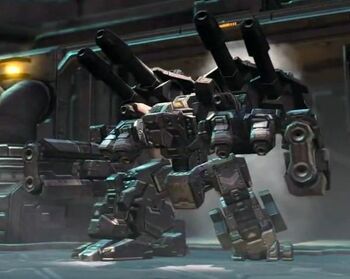 Thor and Odin - Walking mechs with gun hands and cannons on their backs. A Thor is roughly 16 meters tall. Odin is like a Thor but better armored and equipped with small tac nukes in pace of cannons.
Viking - can bee a fighter or a small mech armed with gatling style guns and missiles
Banshee - Fast attack aircraft that rains down gunfire and rockets on ground targets. Used mainly for raiding and fast strikes due to it's light armor. with it's speed and cloaking device it can quickly get out of danger.