[The 6th Order]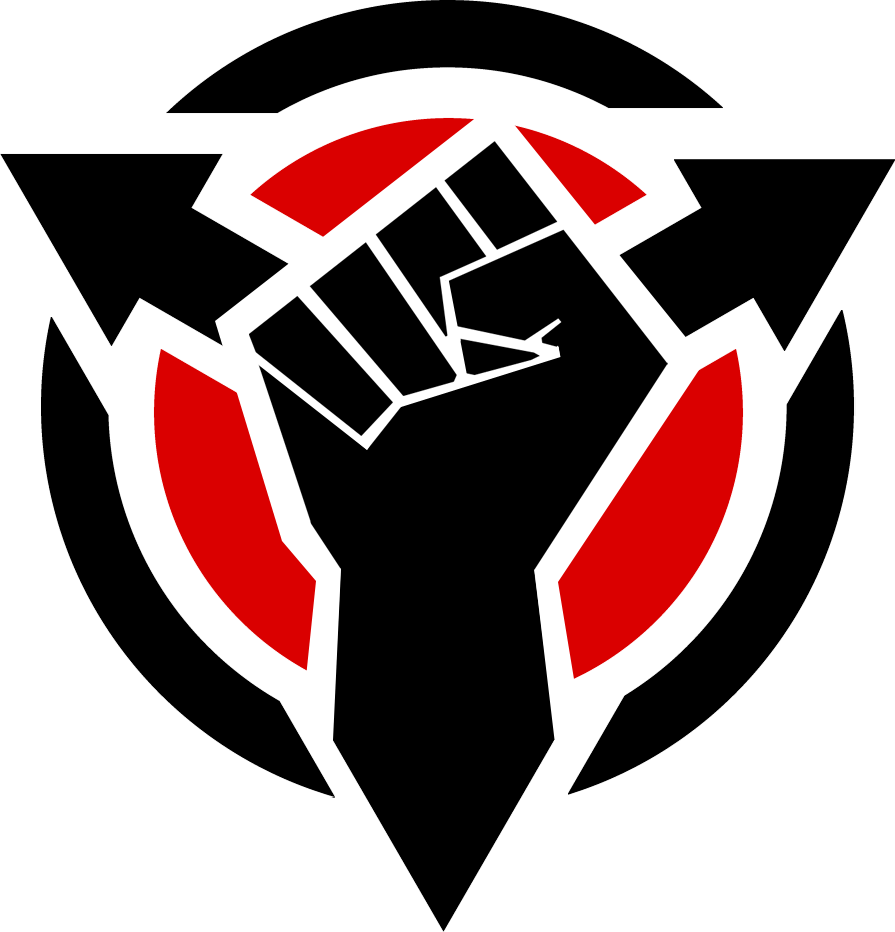 [On Our Undying Honor]
---
THE 6TH ORDER IS A DEFUNCT ORGANIZATION AND HAS SPLIT OFF INTO TWO SUBGROUPS LISTED BELOW.
||
---
COLORS
: Black, White, and Red
Homeworld
---
KEY MEMBERS OF THE ORGANIZATION
Supreme Leader - Hristofor Guryev Denisovich IV (Deceased)
Grand General - Dragomir Lubomirov Sotirov
Grand General - Vít Nováček
Grand General - Devvrat Karavadra
Grand Admiral - Leonard Staszewski
Grand Admiral - Albertus Sosius
Grand Admiral - Dirk Eskes
Grand Admiral - Georg Ruutel
Admiral - Stefan Szymkowiak
Admiral - Rokus Van Der Zwaag
Admiral - Jonas McCourtney
Admiral - Simon Payne
Admiral - Semsochi
Admiral - Svartkollr Halldorsson
Admiral - Rajmund Sopko
(More to come)
---
RESEARCH
Stolen Weaponry
: The 6th Order has an incredible knack for raiding other cultures and taking their equipment and gear, thus utilizing it for themselves. This practice goes so far as to how their starships are created, taking the best aspects of ships they've salvaged and putting them all together. There are very few weapons that are truly originally designed by The 6th Order, however one could consider their combinations of many different culture's weapons to be unique to them.
Psychic Severance
: This is a process that is inflicted upon the second class citizens of The 6th Order, using psychokinetic energy to sever their sense of self from their mind and leaving no replacement. This leaves them with a "Mindslave" which function as the working class for The 6th Order. They feel nothing, and obey without question. When someone has been turned into a Mindslave, what makes them their own person is gone, leaving a malleable husk for their new owners.
Psychic severance is also used as a form of torture, severing the target's mind from happy memories one by one, and exacerbating the most painful and depressing memories they possess. After the process is finished, the recipient is left with the memory that all of their happy and cheerful memories have been taken from them, but they have no recollection of what those memories even were.
---
MILITARY
The 6th Order's largest strengths lie in their ground troops, tactical decisions on the ground, and their complete lack of restriction when in combat. There is no hesitation in the eyes of the men of The 6th Order. Whether it is through heavy drug use or other means, their men have managed to completely disregard emotions which would hold them back in their conquest. Some men have gone through
Psychic Severance
specifically to have these emotions removed from them.
The naval fleets are the weakest point of The 6th Order, requiring lots of funds and using ships stolen from other sources. This isn't to say their battleships and cruisers aren't powerful, however their lack of funds gives them sub-par weaponry when dealing with enemies who have weapons which can wipe out planets easily. While this can prove problematic in some encounters, they rarely engage in all-out space combat due to the risk it poses.
Each Admiral listed in the
Key Members of the Organization
section possesses cruisers, Grand Admirals receiving improved cruisers and Grand Generals receiving the best of the best: cruisers which rival the strength of planet-busting enemies they must face. Admirals are usually accompanied by four battleships meant to make-up for the lack of consistent firepower in the cruiser while it unloads ships and defends itself. Grand Admirals tend to have a better armada for attacks, being accompanied by two Admirals in cruisers and twenty battleships. Finally, Grand Generals have the best defenses with the occasional Grand Admiral following them while the rest of their men get to work: their men consisting of five Admirals in cruisers, and seventy five battleships. Battleships and cruisers which are specifically outfitted to defend Grand Admirals and Grand Generals are much deadlier than the singular Admiral with his own four battleships; these specifically outfitted ships possessing improved tech, much stronger weaponry, much stronger shields, and enhanced ramming capabilities allowing each of the ships the ability to deal significant damage when colliding with enemy ships without taking the brunt of the damage. Because of this, they tend to have long and flat heads to the ship almost like a drill, giving the ships which accompany Grand Admirals and Grand Generals the title of "Drill-Class Cruisers" and "Drill-Class Battleships"
---
STRENGTH
==

TROOPS

==
Army: 1,250,000,000+ Troops
Oceanic Navy: 20,000+ Troops
Terrestrial Air Force: 40,000+ Troops
Star Fleet Navy: 84,000,000+ Troops
==

UNITS

==
Juggernauts
Highly armored power houses, juggernauts use incredibly durable power armor to take insane amounts of physical punishment in a short span of time, yet still be healthy enough to continue a fight. Their suits have medical kits and healing reagents constantly working to heal them as well, ensuring that even if they take physical punishment they'll recover quickly.
Silence Specialist
Stealth and assassination specialists of The 6th Order,
Silence Specialists
are armed with DX-80 Pistols, and use a specialized form of Slack Armor that grants them stealth benefits. It's missing some of its armor pieces, making it even lighter than normal.
Standard Soldier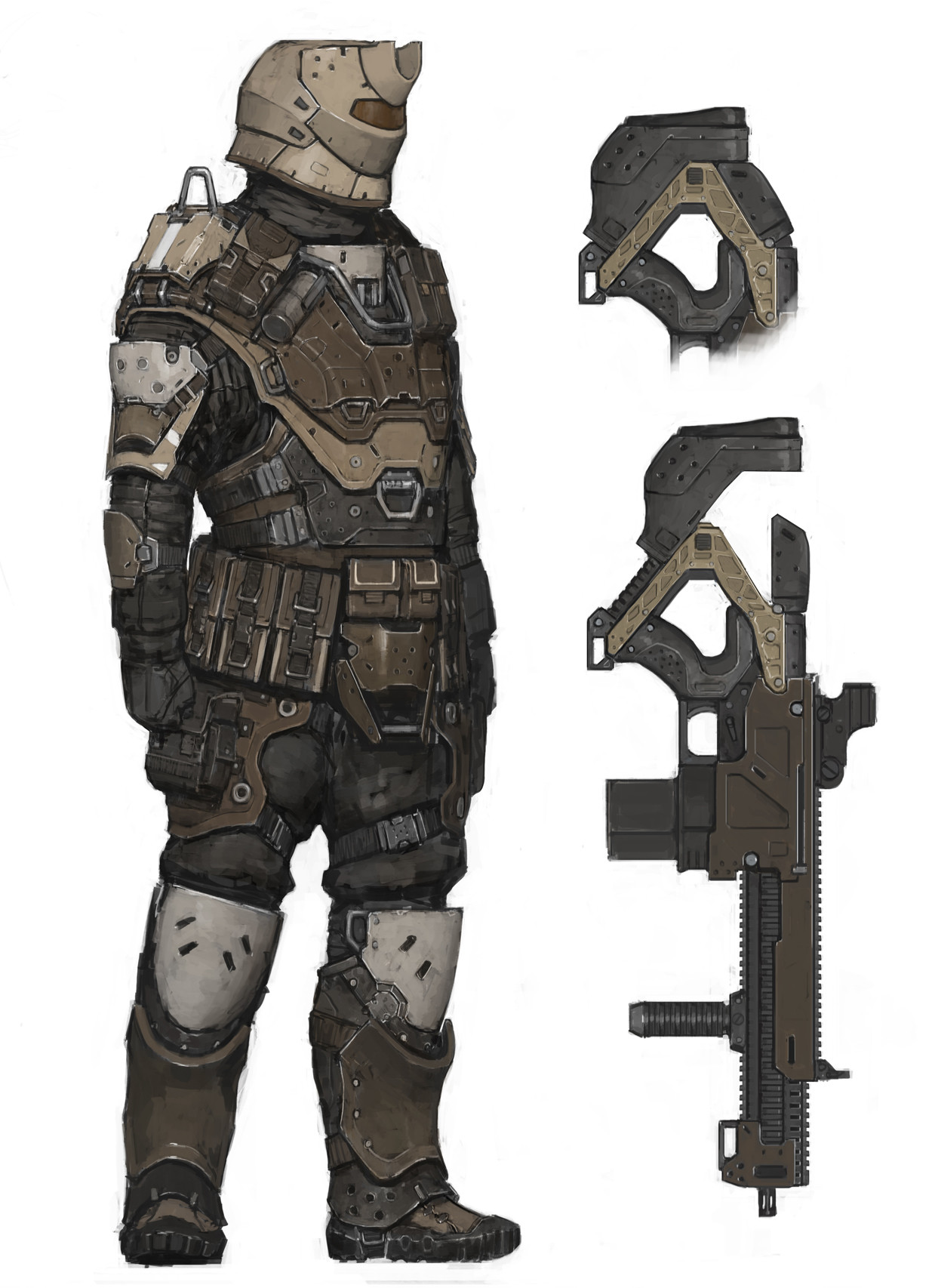 The standard-issue soldiers of The 6th Order. They come in many varieties, species, and ranks - but none are particularly specialized. They carry Davaab Rifles and Pistols as well as what's known as "Slack Armor", a biologically enhancing light armor that allows its wearer to move faster than normal while avoiding the invasion of their nervous systems as much as possible.
==

FLEET

==
"The Alpha" Space Station
Not much is known about this space station except for its apparent existence as the personal ship owned by the Supreme Leader of The 6th Order - Hristofor Guryev Denisovich IV.
Delta Station
A giant space station which allows travel between Negus-Sol and regular Sol. It also has strange magical and other supernatural powers associated with it that The 6th Order doesn't understand and is conducting further research to better understand this device. Due to this, they have claimed ownership over the gate so as to not expose outsiders to the potential dangers of Negus-Sol.
The Core
Deep within Delta Station is an incredibly ancient and powerful crystal hooked up to the massive machine of Delta Station, powering it indefinitely and paradoxically powering the crystal as well, creating a never-ending cycle of energy. This crystal is said to be the "Paradox Box", creating many temporal and dimensional paradoxes around it. When a paradox occurs, living beings must
not
interact with the paradox lest they completely erase themselves from time and space as we know it. At least, this is what the research of The 6th Order has concluded. In reality, nobody knows
where
those who experience a paradox end up. Most believe they're lost forever, either in some alternate dimension of pure chaos or in some land of unspeakable horror.
The Event Horizon
A top secret military project being worked on by The 6th Order and recently having been finished and ready for testing, this massive starship acts as one giant weapon. Its single super-massive concentrated beam it fires is made of the purest form of magical energy - arcana. This blast bypasses the defenses of both magical and non-magical beings, starships, and entities. The blast is powerful enough to tear into a star and cause a supernova, however this is in theory only. This has only been tested on planets which it has shown to destroy effortlessly. The beam takes 1 minute to charge, and 1 minute to cool-down after firing.
Tactical Command Cruisers
Tactical command carriers are the most expertly built of the starships in The 6th Order's Navy, the ship is built with a single bridge in the center while the twin engines roar to life. The engines of TCCs use
10.5 Gigaton of yield
in each of the 8 engines, powered by a nuclear reactor. The shields of this ship are incredibly powerful, enough to withstand a ram from a ship as large as the TCC (16.1 km). Weapons of the TCC include various plasma launchers, 15 or so heavy laser cannons, and hundreds of light laser cannons. Each Grand Admiral is issued a personal TCC.
Damnation-Class Cruiser
Cruisers meant to blot out the sun with their intimidating appearance and overall titanic form, these cruisers support four incredibly powerful weapons: twin graviton press guns, and twin microwave beams. The graviton press guns act similar to the Graviton-Class Allegiance Battlecruiser Hybrid's gun, however it increases the gravity to such a damaging degree that those who aren't able to function in high gravity collapse as they are pressed to the floor by the now extreme artificial gravity. The microwave beams act as a tormenting device, increasing the internet heat within the ship it hits. This can lead to engine failure due to the coolant engines being afflicted, and can lead to spontaneous immolation of crew members on-board.
Blitz-Class Cruiser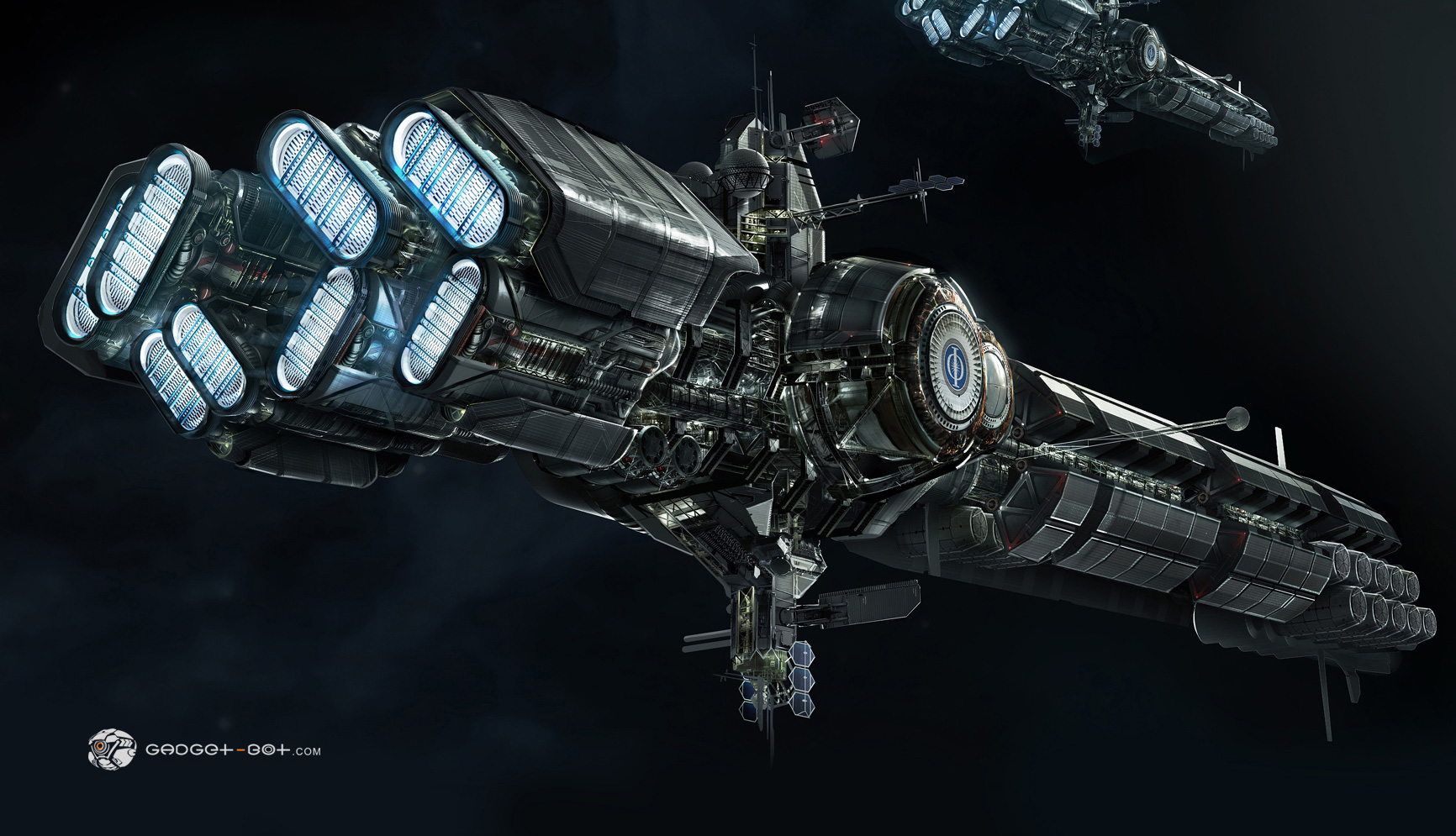 Often formed of Marines, a Blitz-Class Cruiser is outfitted with millions of IF-SF Starfighters with their weapons removed and the only power being directed to the shields and the engine - thus allowing for the marine to shoot towards the enemies' ship to board them. The cruiser itself is compact and unlike TCCs they're used more for front-line fighting similar to an EFSF Battleship. Rather than having one single and powerful weapon, the Blitz-Class Cruiser elects for thousands of light laser cannons. Though they don't do much damage individually, a swarm of laser fire will ward off most foes. These ships are built of hardened materials to prevent being rammed and shot with kinetic weaponry, though this ship cannot be used for ramming or else it'll break the durability of their armor and become susceptible to enemy ramming and kinetic projectiles.
Ardent-Class Cruiser
Serving as specialized stealth/transport ships, Ardent-Class Cruisers have a universal cloak surrounding them that jams technological scanners and makes them invisible to the naked eye. The only way to see the cruiser is through heat signatures or lifeform detection readers, revealing the various lifeforms aboard. Once spotted, an Ardent-Class Cruiser has one of two tactical options. Making a jump immediately to a safe location, or trying to 'power through' the opponent's ship with a short jump. The latter option involves an incredibly risky tactic where the Ardent-Class Cruiser makes a short distance jump and tries to land itself
within
the opposing ship. In doing this, they risk splitting both ships apart and leaving only the starfighters of the Ardent-Class Cruiser to flee and report the mission a failure. These ships, when they go unspotted, are often used to track down enemies of The 6th Order, or as a means to take the enemy by surprise before battle.
Guardian-Class Cruiser
Heavily armored and heavily shielded to the nines, Guardian-Class Cruisers are juggernauts of space combat. They can take immense punishment by being able to withstand multiple nuclear blasts to their hulls and rams from ships ten times their size. Despite this horrendous vitality, Guardian-Class Cruisers have only one means of attack with a Heavy Laser Cannon docked on the top of the ship. This cannon has been modified to deal no damage to a ship's hull, but instead the laser has been modified to disable shields and technologies similar to an EMP. Thus, the beam fired is no longer a laser but instead a concentrated EMP beam. This is used to open the enemy ship up for attacks from battleships and the likes.
EFSF Battleship
EFSF Battleships are the most common of the battleships employed by The 6th Order, at 7.5 km in length these battleships find their primary use as defenders of TCCs and the leaders of smaller crews. The engines of EFSF Battleships use
5 Gigaton of yield
in each of their 5 reactors. The shields of this ship are made to withstand rams from ships of their size (7.5 km) or smaller. The weapons of an EFSF include twin plasma launchers, and around 25 light laser cannons. Each Admiral is issued a personal EFSF Battleship.
Singularity-Class Battlecruiser Hybrid
These immense ships are outfitted with some of the best weaponry The 6th Order has for their starships. With thousands of light laser cannons, hundreds of heavy plasma cannons, and a single "Radiation Beam", these ships are a force to be reckoned with. Their signature "Radiation Beam" concentrates gamma radiation into a single beam that's fired upon a ship. Doing this shuts the ship's power off for 1 minute, and thus is only done when a hit is assured.
Graviton-Class Allegiance Battlecruiser Hybrid
Support ships with a single gravity launcher. This gravity-launcher unleashes small bead that, upon hitting a ship, increases the artificial gravity system within the ship. In a sense, this weapon acts more like a hacking system that's fired through the barrel of a gun, however it acts as much more than that. If it hits solid matter that isn't a starship (or it hits a shield), it begins sucking everything within 3 km closer to it, disorienting ships. It doesn't do any harm, however its use is to startle ship captains and shake the morale of crew while they float helplessly.
Mindfuck-Class Psi-Battlecruiser Hybrid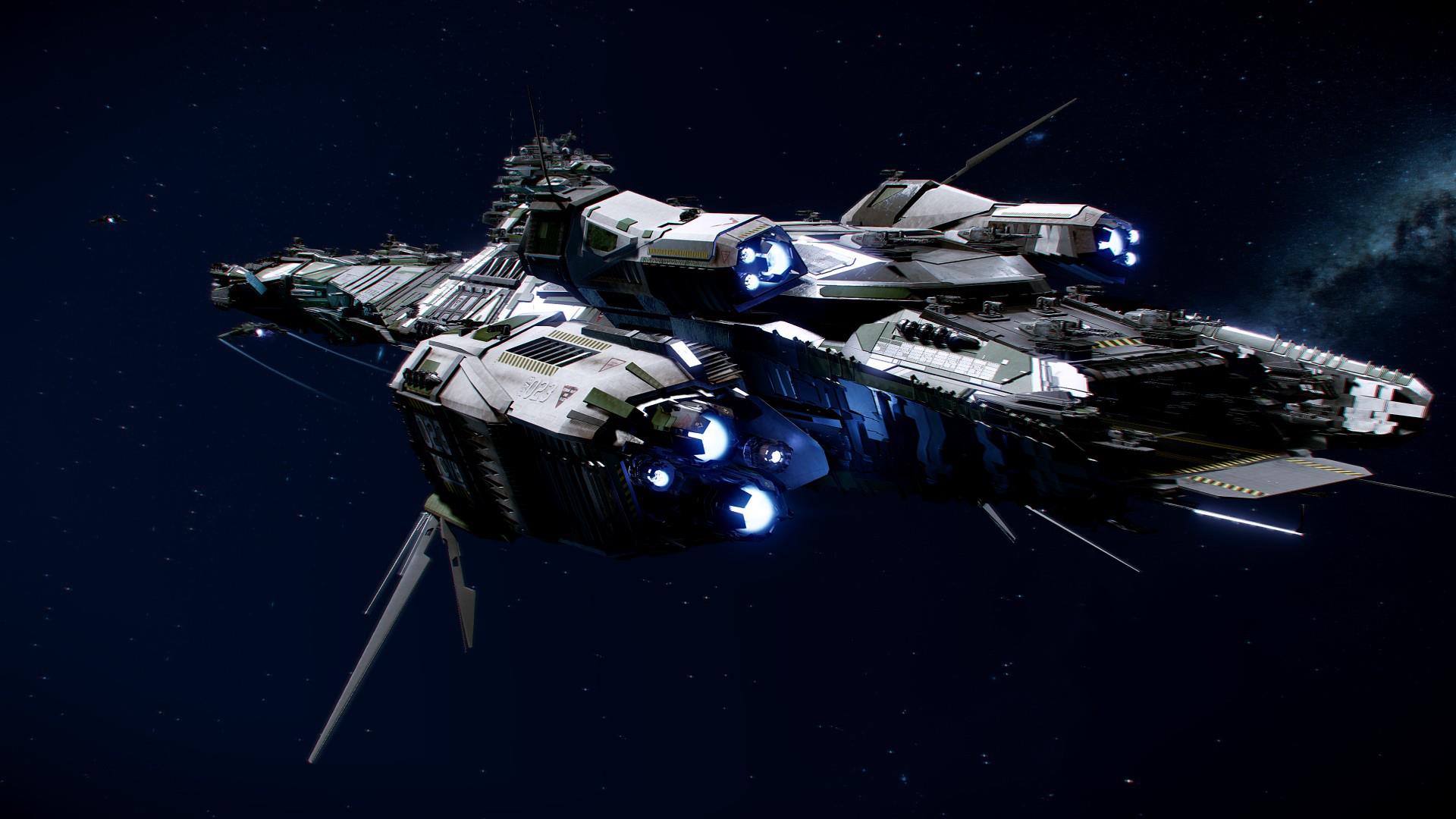 Incredibly specialized, these Psychically charged ships are dominated by psychically active people whose minds have been altered through psychic severance, making them mind slaves which do one thing: obey. These ships have a long-distance teleporter for closing the distance in combat due to their psychic influence having such short range. Being within 6 km of the ship induces hallucinations, paranoia, and dementia in non-psychics. This is used to confuse gunners and pilots into crashing, shooting their own men, and so on. Some manage to land hits on 6th Order ships despite this, but this is usually relegated to a select few a ship that's been afflicted with this. In addition, some ships are able to spread an incredibly deadly mental disorder known as Mind Reaving which sees the afflicted person's brain work in overdrive 24/7, constantly fatiguing them and leaving them with little energy to think or act. This mental disorder is curable, though it leaves its scars in the form of a psychosis that's similar to a drug flashback.
IF-SF Starfighters
IF-SF Starfighters are among the simplest of The 6th Order's ships, they contain pieces scrapped together from various other starfighters they've defeated in the past. The engines of these starfighters are made with plasma reactors, the same plasma reactor being used to fuel the shield that surrounds them
and
the single light plasma cannon outfitted on the starfighter along with its twin light laser cannons. Due to the output of the plasma reactor being spread thin, these starfighters are recommended
not
to stray too far from their command cruisers when in battle so they can restock and rejoin the battle. If they are being used as scout ships, the weapons will be disabled to direct full energy into the engines making them last twice as long as a typical starfighter and travelling twice as fast.
Tactical Starfighters
Advanced versions of the IF-SF Starfighters though much less being produced due to their difficulty to control, Tactical Starfighters are used for largely the same purposes though the energy split between the engine, weapons, and shield isn't present. Instead, three different power sources are used on the ship leading to less strain on the plasma battery. To offset this, the ship requires an expert pilot to maneuver properly and control. Only Ace Pilots are allowed to test and potentially use these tools of warfare.
A note on shields: Shield technology is the highest quality craft of The 6th Order due to ships often being used to ram, crash, and suicide bomb into other ships. Due to this, high-end shields softens the blow for the ship and can reflect damage back outwards if the damage being dealt is relatively small. This ensures pilots and entire battleships aren't destroyed in space battle, since some starfighters and even battlecruisers are sloppily put together with mismatched tech, to a point that without the shields even firefights within the ship could puncture holes in the hull and expose everyone to space. It is rare that a battleship is made this flimsily, and those that are will likely be used to detonate within the enemies' line for a final hoorah against the enemy.
==
GROUND FORCES
==
Sun Cannon
The 6th Order's most powerful ground-tank when it comes to sheer firepower, the aptly named "Sun Cannon" shoots molten rocks which radiate light like the sun, and are hot enough to disintegrate upon touch. These weapons have a limited supply of these "Sun Rocks", with each cannon ending up with 10. These are typically used for bombardment of buildings and encampments before foot soldiers and smaller tanks storm what's left.
Kuro-Class Medium Tank
Tanks mounted with a single heavy laser cannon and two smaller laser machine rifles. These tanks are used for various missions that both light and heavy tanks are needed in. Though not as effective in either area, they are able to adapt easily to take on many missions.
Pocket-Class Light Tank
The smallest of The 6th Order's tanks, the Pocket-Class Light Tank uses a single light laser cannon, and is mostly used as a supplement for armored vehicles. Pocket-Class Light Tanks are able to support up to 3 crew members.
Toppler-Class Heavy Tank
Named for their ability to topple buildings due to their rocket launcher attachment and single concentrated laser cannon which fires a continuous beam for 5 seconds, these heavy tanks are used to demolish enemy buildings and vehicles.
Adjudicator-Class Transport Tank
More of a moving fortress than a true tank, these function as mobile bases that double as powerful fortresses from enemy attacks. One of these transport tanks can hold up to 100,000 troops.
Heavy Duty Power Suit
Classified as a vehicle despite it being power armor, its massive bulk makes it a walking fortress on two legs. These power suits function as heavily armored space suits with a laser gatling gun attachment on the shoulder that fires effortlessly due to their being almost no kick back.
Low-Altitude Land Carrier
Used to carry various vehicles from a star cruiser and down to the surface of a planet, this Land Carrier houses many different types of land and air vehicles.
---
WEAPONRY
AVT-60 Microwave Rifle
A rifle outfitted with a power pack and the capability to harm living beings, this rifle was built as a torture device as opposed to a firearm to be used in combat, however these rifles proved to be so effective in causing immense pain (and thus, hesitation) that they are used in the battlefield as a means to stop an enemy in their tracks, opening them up for attacks from other units.
D-80 "Davaab" Pistol
The designs of these pistols vary and often reflect the designs of kinetic firearms, Davaab Pistols fire bolts surrounded by plasma and thus in a way makes them a hybrid of a kinetic and energy firearm. There are three settings to the pistols: bolt, plasma, and plasma bolt. The standard setting is plasma bolt, however just selecting bolt negates the plasma surrounding it and makes it purely kinetic while selecting plasma gets rid of the bolt, expending some of the pistol's internal battery to
only
fire a small ball of plasma.
YE-20 "Davaab" Rifle
Like the "Davaab Pistols", these rifles vary in design to match kinetic firearms and are similarly bolt/plasma hybrids. They have similar settings as well, however the Davaab Rifle has more that the Davaab Pistol does not have. Being able to serve as both a sniper rifle and a light machine gun, the firearm has three other settings: single, semi, and auto.
DX-80 "Punisher" Pistol
Stealth pistols that have a built-in suppressor. They are kinetic weapons, but can't be set to an automatic mode.
BT-XT "One Shot" Sniper
Sniper rifles that follow an unusual format for their ammunition. Though the Davaab Rifle works as the standard laser/plasma/kinetic sniper, the "One Shot" uses magical cartridges infused with a powerful and condensed energy. This energy, upon hitting its target, directly assaults the mind with psychokinetic force and seeks to render its target brain dead. This energy works like a parasite and the closer to the head the rifle hits, the faster it works. If the limb that was hit is cut off within minutes, the parasite won't spread to the brain.
E1-N1 "Gore Scatter" Shotgun
Outfitted and used for severing limbs through high-impact rounds, the slugs shot out by a "Gore Scatter" have enough kinetic energy behind it to tear the arms and legs off of even heavily armored foes. After hitting the armor, the round will let out a small pulse of electricity to try and electrocute the foe it just hit if they're still close. This is before it even manages to reach the ground, and all happens with in a split second of each other.
---
DIPLOMATIC RELATIONS
Allies
At War
---
Allied
Friendly
Warm
Neutral
Cool
Cold
Hostile
---
HISTORY
Originally hailing from the planet of Negus-Terra within Negus-Sol, a contingency group of rebels broke off from Negus-Terra's dictatorship which tried to rule over the planet with an iron fist. Unstable much like space beyond the planet, with The 6th Order's original founding members being from their chaotic homeworld they learned to adapt to the chaos. To persevere. They succeeded where many couldn't, and through much effort and a lady luck by their side they escaped Negus-Sol with their men still alive. Forming "The 6th Order" not too long after, Hristofor sought to eradicate all tyrants from the Multiverse. Man and God alike, if they were a tyrant he would show them his unending wrath...
After "The 6th Order" parted from Negus-Terra, it fell into chaos. An unknown temporal anomaly caused a red storm of unknown horror to be unleashed upon the planet. With this,
many were killed and those who survived had to try to make do on the streets. Lava flowed from deep within pits in the ground that burned all who were unfortunate enough to fall in,
and an unending storm of red electricity shoots out from the sky. Each 'electric jolt' causes a paradox, slowly and gradually whittling the planet down one strike at a time. Not every strike leads in people completely disappearing with some causing people to appear in walls incredibly malformed and not even resembling what they were formerly. Other such horrific examples include suffocating on land as if they were in the ocean, and inverting their flesh while keeping them wholly alive.
Those unfortunate enough to end up in Negus-Terra find their odds of survival drastically decreasing day by day...